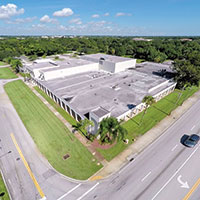 Deal for purchase of old Press Journal building collapses
STORY BY RAY MCNULTY

Moorings resident Robert Grammen wanted to do something special with the U.S. 1 property on which the now-deserted Press Journal building sits.
That's why he and his Naples-based business partner entered into a contract to purchase the 3.75-acre parcel from the newspaper's parent company, the Journal Media Group, along with the Scripps-owned, 3.88-acre lot to its immediate north, across 18th Place.
"We saw it as a very valuable piece of real estate, a combined 7.5 acres located between the two bridges with 550 feet of frontage on U.S. 1," said Grammen, a successful investor, financier and entrepeneur who moved to Vero Beach three years ago.
"We looked at different possibilities, but our general idea was to build something that would appeal to the community and bring in quality retail," he added. "There's a lot of potential there, if you do it right.
"But we couldn't figure out what to do with the back of the property."
And without being able to find a profitable use for the west end of the parcels, which back up to 9th Avenue, Grammen couldn't justify the $2.9 million price tag.
So with several weeks remaining in his 90-day, due-diligence period, he terminated the contract last month.
"Our thinking going in was: How do we do something nice here and get something back?" Grammen said. "I had a vision of what I wanted to do there. But without being able to do something with the back of the property, it became a dicey proposition.
"We couldn't get there at that price and expect to do anything more than break even."
Grammen said he and his longtime business partner, David Goduti – they've been involved in numerous commercial real-estate ventures in southwest Florida – considered using the back of the property for apartments, low-priced residential and even storage.
The Press Journal parcel is zoned for commercial use. The Scripps-owned parcel to the north, site of the closed Royal Palm TV & Stereo, is a mixed-zone block that allows residential use on the back side of the property.
Placed on the market in May, the parcels are for sale either separately or together, each listed with Dale Sorensen Real Estate broker Carl Sciara for $1.75 million.
Grammen said both the Press Journal building, which is still being air-conditioned, and the TV-stereo shop in the adjacent block would've been demolished and replaced if he and Goduti had bought the properties.
"The newspaper building wouldn't have worked for us," Grammen said. "You might be able to use it for an LA Fitness or some other big-box use, but it wouldn't have allowed us to accomplish our goal."
Grammen, 61, had business interests in Vero Beach long before he moved here.
He was a minority partner in the group that owned and operated an Ocean Drive hotel that was sold to the Heaton Companies, which subsequently developed the Vero Beach Hotel & Spa. He also was a minority partner in the ownership of the Palm Court Hotel, which was sold to Gloria and Emilio Estefan, who subsequently developed Costa d'Este.
"I love this community," said Grammen, a husband, father and avid tennis player who sits on the boards of the Laser Spine Institute and Lung Institute. "That's why I made it my home."
That's also why he was hoping to do something special with the U.S. 1 property the Press Journal abandoned in May, when Treasure Coast Newspapers moved its Vero Beach bureau downtown – to rented quarters on the second floor of the historic Seminole Building on 14th Avenue.
The century-old newspaper had occupied the U.S. 1 location for 45 years.
"It's an attractive property and has real possibilities for a commercial developer who has retailers in his pocket," Grammen said. "You can't build it and hope they come. You need to have rock-solid tenants.
"I live here and I want the best for this community," he added. "So I'm hoping a developer with some vision comes in and does something there."
Asked if he might consider making another offer if the price of property comes down, Grammen said he hasn't ruled out such a possibility.
"I very well might revisit it later, especially if I can line up some retailers and figure out how to make the back end of the property work," Grammen said.  "In the meantime, I'm going to sit back and let them see what they can do."