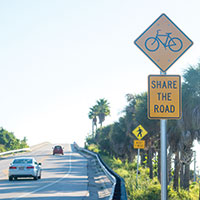 Motorists, bikers share Wabasso bridge – uneasily
STORY BY RAY MCNULTY

The "Walk Bikes Across" signs finally have been taken down.
So there's no longer any excuse for motorists crossing the Wabasso Causeway Bridge – particularly those drivers who saw those outdated signs and wrongly assumed bicyclists didn't belong on that road – to angrily honk their horns, scream obscenities at or try to intimidate riders by deliberately drifting too close to them.
"I ride a lot around here, probably 50 to 70 miles per week, and I usually feel safe," local cyclist Don Mahoney said. "But I've had more encounters on that bridge than anywhere else.
"There are some drivers who intentionally ride too close to us, then blow their horns or yell at us as they go by, and it startles you," he added. "It's impolite, it's dangerous and it's certainly not what Vero Beach is all about.
"But I think people saw those signs, which were illegal and wrong, and they were punishing us for being out there."
The yellow-and-black signs, which showed a depiction of a bicycle above the words, "Walk Bikes Across," had been posted at both ends of the bridge for years – so long, in fact, that nobody seems to know who put them there.
The bridge, which dates back to 1927, was rebuilt as a concrete span and reopened in 1970.
Though it's unknown exactly when the signs were erected, Phil Matson, director of the Indian River County Metropolitan Planning Organization and a member of the Florida Department of Transportation-sponsored Community Traffic Safety Team, said they likely predated the changes in Florida law governing bicycles and roadways.
"At the time the plans were laid out, bicycling was not a priority," Matson said. "I think it would be wise for this county to adapt to the bicycle culture."
After a year-long campaign by the Vero Cycling Club, an FDOT crew removed the signs last week.
"The signs clearly made things worse," said Hugh Aaron, a Vero Cycling instructor and the club's advocacy director. "For years, those signs have taught the community that they shouldn't see bikes riding over that bridge, so I'm glad they're finally gone. But that's not enough.
"We're talking about a very old bridge," he added. "It's very difficult to ride over that bridge. It's not wide enough for the modern world, and it's causing quite a quandary."
Aaron said Florida law requires motorists to allow at least three feet of clearance when passing a bicyclist, but the 11-foot width of the bridge's traffic lanes makes it virtually impossible to do so – even if the bicyclist rides as far to the right as possible.
At the same time, Florida law makes it illegal for motorists to cross a double-yellow line, except when necessary to avoid an obstruction. But is a bicycle traveling well below the speed limit an obstruction?
"That's the subject of much debate," Aaron said.
Although bicyclists are not permitted to use limited-access roads, such as interstate highways or turnpikes, Florida law otherwise allows bicyclists to ride in lanes of traffic, especially when no bike lane is available and when the shoulder is insufficient for safe passage.
When there is only one traffic lane in each direction, however, bicyclists can cause backups, congestion and motorists' frustration.
That's one reason why FDOT now requires plans for new and widened roadways to include wider shoulders to allow for bike lanes with more-defined buffers.
As for the Wabasso bridge, where the options are limited, Aaron isn't satisfied with the "Share The Road" signs that have replaced the "Walk Bikes Across" signs.
In fact, the Florida Bicycle Association doesn't endorse the "Share The Road" signage because it wrongly infers to motorists that they should share their lane with bicyclists, who have an equal right to the lane.
"The bicycle driver, or group of cyclists, has the right of 'first come, first served' and the full use of the lane," the FBA states on its website. "Motorists wishing to pass must yield and wait until it is safe to do so.
"Bicycle drivers usually ride in the right half of the lane to offer visibility and easier passing for motorists. But they are not required to stay out of the way – or to SHARE THEIR LANE – if it is not wide enough for side-by-side operation."
Aaron, instead, is pushing for FDOT to install signs that he hopes will re-educate local motorists using the bridge. Among them are signs that:
• Warn drivers that they are required by law to allow at least three feet of clearance when passing a bicyclist, and
• Advise drivers that bicyclists may use the entire traffic lane.
He also asked for higher railings to avoid bicyclists from being knocked over the side of the bridge and into the lagoon, as happened on the 17th Street Bridge last September.
"The only reason we haven't had a similar accident here is that a lot of people won't ride bikes on that bridge – some because it's too dangerous, some because of those signs," Aaron said.