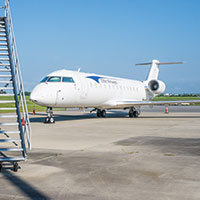 Non-stop jet service to NYC area may soon start from Vero airport
STORY BY STEVEN M. THOMAS

If things go as expected, island residents this fall will be able to drive across the bridge to the Vero Beach Regional Airport and grab a non-stop flight on Elite Airways to the metropolitan New York City area – or a one-stop flight to the Boston-Portland, Maine area.
Fares will start at only $200 for a roundtrip flight to Newark Liberty International Airport – which serves New York City as well as northern New Jersey – aboard a 70-seat CRJ700 jet built by the Canadian aircraft manufacturer Bombardier.
From Newark, the plane will fly on to Portland International Jetport – which serves not only Maine, but provides an alternative to Boston's Logan International Airport for northeastern Massachusetts residents.
John Pearsall, president and CEO of Elite Airways, says he is aiming for a twice-weekly service that will operate from early November to early January and then again from late March to late April.
"It is a very nice service," said Pearsall, whose company began operating passenger service out of Melbourne last fall. "The first bag is free and we don't charge for a lot of extras. The planes have comfortable leather seats. We are proud of the product."
Founded in 2006, Elite Airways has offices in Melbourne and Portland. With a 10-plane fleet, it currently flies three routes and is slated to launch three new routes this year, including the Vero to Newark/Portland run.
The company recently added the summertime Newark flight out of Melbourne, where it has 100 employees, including a 40-person ground crew. Summer flights leave for Newark at 9 a.m. on Friday morning and return at 9:20 p.m. on Sunday evening, $99 each way, making for an economical weekend getaway.
The planes have one flight attendant on board with free beverages. Passengers who have taken the flights say the service was "very comfortable."
"Our strategy is simple," Pearsall said. "We are trying to provide what people want in point-to-point airline service. We believe that Vero and Melbourne both are right for this type of service. If we see excellent results we will increase our flight frequency."
It has been almost 20 years since regular commercial passenger service was offered at Vero Beach Airport, which was recently renamed Vero Beach Regional Airport by the City Council in the hope of attracting just such regularly scheduled passenger service.
Eastern Airlines flew out of Vero for 40 years, from the early 1930s to the early 1970s, before shutting down what had become an unprofitable operation. Over the next several decades half a dozen other smaller airlines offered feeder service to larger airports for various lengths of time aboard small commuter planes before closing up shop.
The last flights were in the mid-1990s, when American Eagle flew out of the airport for less than a year.
There have been several attempts in recent years to restart passenger service here that have not materialized but in interviews last week, Pearsall and Vero Beach Airport Director Eric Menger sounded optimistic about the Elite Airways plan.
"We have been talking with Elite for several months and we are making good headway," said Menger. "We do not have an agreement but it looks promising. Our next step is to talk with local travel agents and get their input."
"We are making arrangements now for counter space and a security area in the terminal and should have that worked out with the airport over next couple of weeks," said Pearsall.
Elite Airways currently flies from Branson, MO, to Denver, CO, and from Branson to Houston TX, in addition to the Melbourne-to-Newark route. According to its website, flights between Newark and Rockford, IL, and between Rockford and Fort Collins, CO, will begin on Aug. 27.
The Vero-to-Newark run is slated to begin in November, presuming Elite and the local airport finalize the deal now being negotiated. If that occurs as expected, the airline will be active in eight states.
Pearsall emphasized that the Vero flights will take off on different days from the Melbourne flights so the two services won't be in direct competition.
Virgin Air manages the computerized passenger reservations system for Elite.  Flights from Melbourne to Newark can be booked at http://pwm.eliteairways.net