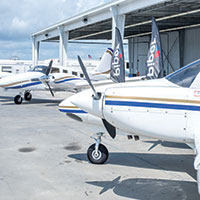 Piper layoffs completed: Total of 78 people let go
STORY BY RAY MCNULTY

Piper Aircraft Corp. completed its latest workforce reduction last week, and the number of layoffs was lower than expected as nearly 40 employees accepted early-retirement packages.
In making its jarring announcement last month, the Vero Beach-based company said it planned to reduce its payroll by 15 to 20 percent, projecting that as many as 150 of its 760 employees would lose their jobs through layoffs and early retirement.
When the cuts were complete, a total of 115 employees had left the company – 78 were laid off, while 37 opted to retire early. According to Piper spokeswoman Jackie Carlon, there also was a "small amount of repositioning" that allowed some workers to remain employed in lower-paying jobs.
She said she was unable to provide a specific number for those who stayed and accepted pay cuts.
"While the total number of workers affected was less than originally expected, a layoff of this nature is difficult and painful, regardless of the number impacted," Piper said in a statement released through Carlon.
Carlon said Piper worked closely with CareerSource Florida to host a job fair and offer employment counseling in an attempt to help those who fell victim to the layoffs. More than 20 manufacturing companies – from both inside and outside the aviation industry – participated in the workshop.
"I understand that the career fair was very well attended and successful, with several job offers pending," Carlon said. "We are awaiting confirmation on final numbers, but we are very encouraged that 23 companies were represented and interested in Piper's skilled workforce.
"At this time," she added, "our primary focus is on those affected by this action and assisting them during this difficult transition."
To what extent the workforce reduction was expected to bolster the company's bottom line, Carlon said Piper does not comment on the financial impact of employee layoffs.
"The primary reason being that, in addition to the reduction in force, we will continue to pursue other methods of reducing and controlling costs in order to preserve the health and viability of the company," she added.
Piper cited sagging first-quarter sales and economic uncertainty in the global marketplace as the reason a production slowdown and the payroll cuts were necessary.
Worldwide demand for Piper's products slowed, especially in the European, Asian and Latin American markets, so much so that the company suffered its second consecutive quarter of declines in revenues, sales and deliveries.
"We must better align production with current market demand," Piper President and CEO Simon Caldecott said when making the mid-July announcement, which came just three months after the company unveiled its new, top-of-the-line, single-engine turboprop amid great fanfare at its Vero Beach headquarters.
At the time, Piper was confronted with General Aviation Manufacturers Association statistics that showed worldwide sales of small aircraft – piston-engine airplanes, turboprops and business jets – were down more than 15 percent through the first quarter of 2015 when compared to last year's numbers.
Though GAMA's recently released, mid-year numbers have improved, they're still down. Industry airplane shipments were down 9.1 percent, when compared to 2014's mid-year numbers, and billings fell 4.6 percent to $10.4 billion.
Global sales of piston-engine airplanes, such as Piper's popular Archer III, Malibu Mirage and Seminole models, fell nearly 12 percent (526 to 464) through the first two quarters of 2015. There was a 10 percent drop in the sales of turboprops (273 to 246), such as the Piper Meridian.
"While the second quarter generally improved over the first, our industry is still being buffeted by volatile global markets and contraction within the energy sector," GAMA President and CEO Pete Bunce said.
Indian River County's largest private employer at the time of the layoffs, Piper has incentives to not unnecessarily cut its payroll.
If Piper's full-time workforce falls below 650 before December 2016, the company would be required to repay some of the $3.3 million in economic incentives it received from the state.
Piper also is in the final year of a similar agreement with the county, which would be owed $500,000 if the company's full-time workforce dipped below 600 employees.
Carlon said the layoffs did not put Piper below the requirements of those agreements.