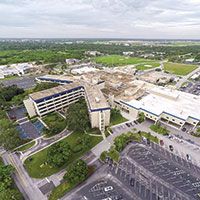 Hospital exec's ouster remains a Vero mystery
STORY BY MEG LAUGHLIN | NEWS ANALYSIS

Two weeks after Indian River Medical Center CEO Jeff Susi stunned the medical community by announcing that Chief Operating Office Steven Salyer had "resigned," nobody believes the resignation was voluntary – and nobody believes Susi's explanation for Salyer's departure.
The big remaining question is whether the residents of our community – who own the tax-supported hospital – are entitled to know what precipitated the latest bizarre event to rock the hospital?  Or is this to remain one more hushed-up Vero Beach story that never comes out?
Val Zudans, the newest member of the Hospital District trustees, at a meeting last week voiced what numerous hospital staffers and physicians have been saying: "We need to know what happened.  Would you get rid of someone who's successful – and if so, why?"
But a majority of the members of the current Hospital District board – which oversees the millions of our tax dollars directed to the hospital for indigent care – seems to have little appetite for enlightening the community.
At the District's televised monthly meeting last week, four of the seven District trustees – Ann Marie McCrystal, Allen Jones, Marybeth Cunningham and Gene Feinour – suggested they had additional information (though they did not say what) that made them think it would not be helpful to find out the circumstances of Salyer's ouster.
Really? 
What would this consist of?  This man had day-to-day operational control of our community's hospital?  If there was a problem, are we not entitled to know?
Susi, for his part, was sticking to his story.  He stepped to the public-speaking podium at the hospital district meeting and reiterated that Salyer's resignation was totally his own idea: "He decided he needed a fresh start. He asked to move on," said Susi. 
Salyer was saying nothing – and the prevailing belief was that one more huge financial settlement by the hospital with a departed executive had sealed his lips.  But why?  In the absence of information, rumors of personal issues abounded.
The surprise termination of Sayler seemed all the more perplexing because his previous employer, the parent company of Sebastian River Medical Center, had recently agreed to accept a financial settlement in a suit seeking damages for his jump to IRMC, contending he had violated a non-compete agreement.
If Indian River was willing to pay what was likely hundreds of thousands of dollars in damages plus its own legal fees to bring Sayler on board, why were they now getting rid of him?
Adding to the puzzlement was the general consensus of the medical community that things had significantly improved at IRMC during Sayler's 19 months as chief operating officer.
Among the perplexed were IRMC nurse Mary Pittman and retired oncologist and former District trustee Burton Lee.
Both spoke at last week's meetings, questioning Susi's version that Salyer had resigned  "to pursue career opportunities."
"Steven Salyer had the single, greatest positive impact of anyone in the 10 years I've been at IRMC," a tearful Pittman told District trustees.  "As a leader, he inspired confidence, trust and loyalty, and now all of that is gone. Practically no one believes Steve Salyer resigned"
"Something is wrong," added Lee.   He told the District board, where he served for years, that the medical staff as well as the nurses were "extremely upset over Mr. Salyer's leaving.
"Your board should care," Lee told his former colleagues.