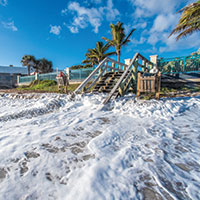 Nor'easters hit beaches harder than Vero has seen for years
STORY BY LISA ZAHNER

Local beaches have not had time to recover from a rapid succession of Nor'easters, leaving steep drop-offs, and laying bare wooden dune crossovers after this past week's rough seas.
County Coastal Engineer James Gray surveyed the damage Monday afternoon from the storms' war of attrition against the shoreline, and said after his tour that there was no need for drastic repair measures. He did say a couple of spots need to be closely monitored to make sure there is no further erosion.
"In general I observed moderate dune erosion and beach profile lowering to the majority of the county's shoreline. The most recent strong northeast wind and high surf resulted in two- to three-foot escarpment formation along the upper portion of the berm and in some areas erosion extended several feet into the dune," Gray said.  
But it wasn't this last round of gusty conditions, high seas and a full moon, per se, that made such an impact, Gray said. It was the cumulative effect of this fall's weather.
"It is important to note that over the past two months, the county's shoreline has been impacted by several storms that produced strong winds and waves higher than five feet," Gray said. "As most of the storms have been from the northeast, the majority of the conditions observed today are due to cumulative erosional stress from these storms."
The county still hopes that we'll catch a break from the weather and that some of the sand that has been washed away will once again wash back onshore.
"At this time no public beach parks are in need of additional sand or crosswalk extensions. However, there are several private sections of the county's shoreline, such as Marbrisa and northern Sea Oaks, that will need to be closely monitored as the dune has retreated in excess of 5 feet in these areas," Gray said. 
Meanwhile, City of Vero Beach officials took safety precautions to protect those who might venture out onto the chewed-up beaches at the height of the storms.
During high tides over the weekend, the waves washed up over the lower steps of dune crossovers at Sexton Plaza and Conn Beach.
"We closed three of the dune crossovers at Conn Beach due to an escarpment at the toe of the dune," said Public Works Director Monte Falls.  "That has recovered some and we may be able to open those tomorrow."