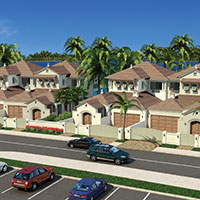 Quail project sparks development on Royal Palm Pointe
STORY BY STEVE THOMAS

Vero Beach developer Bob Nelson says the restaurant and hotel Quail Valley Club is building at the end of Royal Palm Pointe was what prompted him to launch a luxury townhouse venture 200 yards further west on the peninsula.
"I took a drive out there on Aug. 19 because I was curious to see what was going on with the new Quail project," Nelson says. "When I saw the for sale sign at 21 Royal Palm, it occurred to me this would be a great spot for a small upscale townhome development."
Nelson says the project, called 21 Royal Club, is on a fast track for completion. He closed on the property Dec. 1, paying $1.9 million, and says the existing commercial building, which formerly housed a chandelier store and years ago the old Café Du Soir restaurant, will be torn down before the end of the year.
He says no variances are needed from the city and expects a quick permitting process. He hopes to start construction next spring and have the four luxury residences complete by Sept. 30, 2016 – less than 14 months after the idea first popped into his mind.
"We were supposed to close on Dec. 15, but the developers were in a hurry so we closed two weeks earlier," says listing agent Karen Gaskill of Coldwell Banker Paradise Previews International.
Michael Thorpe, co-owner of Treasure Coast Sotheby's international Realty, who is marketing and selling the units, expects a fast sales turnaround.
"We will probably sell out within the next few months," he says. "My phone has been ringing off the hook. A number of Quail Valley members have looked at the project."
The townhomes would be a natural for Quail members, giving them access to club dining and socializing a few steps from their front doors. The new facility will also provide easy access to Quail's main River Club across the lagoon.
A custom-built 26-person launch will ferry members and guests back and forth every half hour between the River Club and the Royal Palm Pointe campus. The boat is under construction at Crosby Yacht Yard in Osterville, MA, on Cape Cod, the same boatyard that built President John F. Kennedy's iconic sailboat Victura.
"I think the Quail Valley project put Royal Palm Pointe on the map," says Gaskill. "We saw a big increase in interest in 21 after they announced their plans. It was a great lead generator!"
Nelson has 40 years of experience as a developer, mostly down the southern end of our island, where he built Visions, Paragon, Tiara Towers and other condominium communities. He has lived in Vero for two years and says he and his associates are looking at other development opportunities here.
Nelson says the other members of the townhouse development group, which shares the project name with an LLC added to the end, are Vero Beach residents who prefer not to be identified at this time. He is the project manager.
The .57-acre property has 200 lineal feet of water frontage on the canal on the south side of Royal Palm Pointe. City code would have allowed up to eight units on the lot, but Nelson says he and his associates wanted to build large luxurious homes. The 38-foot-wide townhouses are nearly twice the width of typical townhomes and will have 3,334 square feet of air-conditioned space, with another 1,100 square feet of outdoor living space under roof in the form of covered porches and balconies.
They were designed by Jeffrey L. Ray of Atelier d'Architecture. The builder had not been selected at press time, but Nelson said he has narrowed the choice down to "two of the premier builders in Vero."
The fee-simple dwellings (buyers will own the land beneath their unit as well as the building) will have lavish first-floor master suites and boat docks that can accommodate craft up to 60 feet in length.
The project brochure details several pages worth of high-end finishes and features, and Thorpe ran down a list of additional selling points. "It is new construction, which is rare and coveted, and owners can walk to six restaurants," he says. "The fee-simple townhouses offer the privacy and feel of single-family homes with the convenience of an HOA to take care of maintenance, landscaping and other details."
He says buyers may well be people who have sold large riverfront or oceanfront estate homes with big yards who are tired of dealing themselves with pool guys and landscapers.
"They will probably be people who are looking to simplify their lives in order to travel or for whatever reason and want a more turnkey, lock-and-leave situation."
Nelson says another strong point of the project is the range of options he is offering, which include a swimming pool option, an elevator option and a second-floor master option.
The two-story units all have views of a wide, picturesque stretch of the Indian River Lagoon. Unit 1, which is closest to the end of the point, has the best view and it is priced accordingly. It is being offered pre-construction for $1,995,000.
Moving west in the small complex, each unit is priced $100,000 less than its neighbor to the east. No. 2 is $1,895,000, No. 3 is $1,795,000 and No. 4, the home furthest from the lagoon, is priced at $1,695,000.
Thorpe says prices may go up 10 to 20 percent during the sales process. "There is no incentive to discount the third or fourth unit."
The land where the townhouses will be built was originally owned by John's Island developer Lost Tree Village. According to Gaskill, the sellers in the current transaction had traded a small shopping center site in Palm Beach for the Royal Palm Pointe parcel in the early 1980s, and built the building about to be torn down as a location for their light-fixture business.
A condo tower associated with Jack Nicholson's Golden Bear Realty was built on the Palm Beach property.