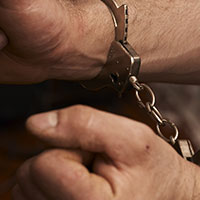 South Beach murder suspect faces death penalty
STORY BY LISA ZAHNER

A South barrier island man remains in the Indian River County Jail without bond, potentially facing the death penalty for shooting his estranged wife in her home on Nov. 3.
Last week a grand jury heard the evidence against 57-year-old Asbury Perkins, who was found at the home on the 2100 block of Seagrape Drive that he'd once shared with 63-year-old Cynthia Betts, with Betts' body, shot dead. When deputies arrived, Perkins was preparing to dispose of the body and flee, and when interrogated, the Sheriff's Office said he confessed to shooting Betts.
"On December 22, 2015 the Grand Jury in and for Indian River County returned an Indictment charging Asbury Lee Perkins II with one count of first degree murder and one count of attempted escape," Assistant State Attorney Chris Taylor said.
The charge of first-degree murder with a firearm, if Perkins is convicted, could carry the death penalty as prescribed in Florida. One month before the Grand Jury met, the court entered an "order directing examination of the defendant's mental condition."
As the couples' South Beach home had been signed over to Betts, and Perkins had incurred various business and personal debts over the past few years according to court records, Perkins has been declared indigent by the court and has been assigned Assistant Public Defender Alan Hunt as his defense counsel.
Perkins' next court date is scheduled for Jan. 7 before Judge Cynthia Cox. Perkins initially appeared before Judge Robert Pegg, but Judge Cox assumes the case as part of a judicial caseload reassignment.
Prior to the indictment, State Attorney Bruce Colton's office had charged Perkins with second-degree, non-premeditated murder, and Perkins had entered a written plea of not guilty on that charge. Taylor explained that the charge had not been downgraded from the premeditated first-degree murder charge Perkins had been arrested on, but that second-degree murder is "the highest charge the State Attorney can file in an information" without a grand jury indictment.
Betts, a long-time realtor and licensed cosmetologist who moved with Perkins to Vero Beach from South Florida, was the victim of a fatal domestic dispute, according to the Sheriff's Office.
Perkins and Betts had domestic violence issues throughout their relationship, authorities said. Perkins has previous arrests for domestic violence battery against Betts.
"Today we mourn another tragic death at the hands of domestic violence," Indian River County Sheriff Deryl Loar said in November. "We know that one in three women will be the victim of domestic violence in their lifetime. Please talk to your family and friends about domestic violence, because it is a silent killer that lives within our community every day."
In November, members of Betts' family reached out to law enforcement, asking the agency to check on her welfare. They became concerned when she failed to answer her phone. Authorities responding to the calls found Betts shot and killed.
Perkins admitted to killing Betts because she took money out of their bank account without his knowledge, according to the Sheriff's Office. He went on to tell them she continually "nagged" him.
Staff Writer Keith Carson contributed to this report