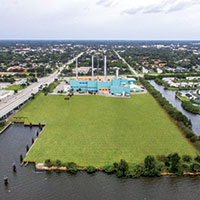 Views diverge on future development of Vero's riverfront
STORY BY LISA ZAHNER

Former mayor Dick Winger and former mayor Pilar Turner could not be farther apart in their views of how best to approach to the future of Vero's riverfront.
Be practical and do what we can realistically afford, Turner says.
"This is a wealthy city," Winger counters.  "We can do whatever the public wants. We shouldn't get confused that money is a problem. Money isn't a problem."
Winger said the city needs to establish a vision that creates "the best future for Vero Beach", even if it means going into debt $5 million to move the sewer plant (based on commissioned studies, that is a very low estimate) or $20 million to handle the Big Blue site. "We'll worry about the money later on."
Winger didn't detail how much of that money would be rolled into utility rates paid for by all of Vero's 34,000 utility ratepayers – including residents of Indian River Shores and unincorporated County areas. He suggested that electric rates would remain flat, via creative financing.
Though much energy is being spent on brainstorming what recreational amenities or commercial projects could be developed on the site of Big Blue, and its sister parcel to the south where the sewer plant sits, huge financial and logistical obstacles need to be addressed before any of these pie-in-the-sky ideas are undertaken.
Turner said she was pleased to see all the ideas emerge at a hearing last week, and said she did not want to dim anyone's enthusiasm about the possibilities for the utility sites.  But she expressed concern about unrealistic expectations.
"I guess I just want to be cautious with the public, that this is a very early, preliminary stage. These are not projects that are going to happen tomorrow or even next year," she said.
"The wastewater treatment plant – we currently have almost $19 million worth of debt on it. We're not going to be moving the wastewater treatment plant off the lagoon anytime soon," Turner said, noting that the planning process and the search for grants to move the plant should be continued.
"Even dealing with the power plant, we still have a substation, switch gear there that's going to remain on that site whether we take that building down or not," Turner said. "I think the liberation of these areas – everyone has to appreciate it is a long-term outlook that we're moving toward."
Vice-Mayor Randy Old said he'd like to see something "more formal" rather than lots of ideas being expressed. "We need to bring in our financial advisor and see what we can do," Old said. "It's a once-in-a-lifetime opportunity to really do something strong with that property."
"I certainly hope the public gets involved," Mayor Jay Kramer said. "If you've got an idea as to what you'd like to see there, we'd definitely like to hear from you. I'm trying hard to make sure my opinion, and hopefully the council opinions, don't influence that. We'd like the public to be able to make the decisions on that," adding that a follow-up meeting is scheduled for Jan. 26.