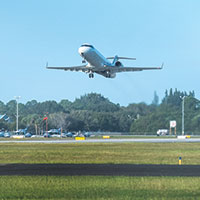 Will Elite fly more Northerners to Vero?
STORY BY PIETER VANBENNEKOM

Elite Airways kicked off the century's first regularly scheduled direct air service from Vero to the New York City area last week, and full planes taking off from Vero Beach Regional Airport made it pretty clear there is considerable pent-up demand among local residents for flights that will take them nonstop to and from the north.
But can this small airline generate similar enthusiasm among residents of New York, Connecticut and New Jersey for flying from Newark's Liberty Airport to Vero?
That remains the $149 question, because the 50-passenger Bombardier jets Elite is using made the return trips to Vero last weekend "not nearly as full," according to airline managers.  For the first few weeks, they said, most of the traffic seems to be northbound.
The challenge:  While Elite Airways has attracted considerable attention in Vero Beach – quite naturally since it's the only airline serving this community – the news of new nonstop flights from Liberty Airport to Vero hasn't reached most residents of the New York metropolitan area.
Airline managers said to stimulate demand up north, they have been relying mostly on word of mouth supplemented by some digital advertising such as Google ads. Any kind of regular advertising in the New York market is so prohibitively expensive that Elite can't even think of using it in the near future.
As a result, hardly anyone knew that an Elite jet would be available last Thursday at Terminal B's Gate 60, right between an El Al jumbo jet bound for Tel Aviv and a similarly large China Airlines jet preparing to take off for Beijing.
In the New York area they know about Tel Aviv and Beijing as destinations. Vero Beach? Hardly.
Eventually, what goes up must come down again, and after the holidays the airline expects southbound traffic to pick up with returning Vero-area residents and snowbirds. But it would be nice if the airline also could drum up some interest among winter sun-seekers interested in trying Vero Beach for a vacation.
That would solidify the airline's chances of making it.
One of the first passengers waiting to board the southbound plane last Thursday was Amit Ramaiya, a young software engineer from Brooklyn who had paid $199 for the flight. Ramaiya was born in Vero Beach and his parents still live here, so he was happy to be able to go home for holidays on a more direct flight.
"Picking me up from the Orlando airport always took an hour and a half each way when I was going home for a visit," he said. "Now it'll take them 10 minutes to pick me up, so sure, I'm excited about this new opportunity."
But he said he would never have been aware of the new service if his parents hadn't told him about it. "At first I wouldn't believe them," Ramaiya said. "They had to send me a newspaper article to prove to me that it was true."
Elite currently is also hard to find at Newark airport. There is no signage for the Elite Airways check-in counter. None of the people in red jackets wandering all over the Newark airport last weekend with big buttons saying "Ask me – I can help" seemed to have a clue about Elite Airways or where its personnel might be found.
And passengers taking public transportation from New York to Liberty Airport for a southbound flight to Vero will want to allow plenty of time.  If you miss an Elite flight – the airline currently is operating on this route on Thursdays and Sundays – you might have to buy a whole new ticket on another airline to get home.
But for now, the people at Elite are Vero's darlings because they offer a fast and convenient way to get to the New York area twice a week for prices starting at $149 or $199 each way. Free parking just a couple of footsteps from the Vero terminal is another plus.
The mood for the first flight up a week ago Thursday was universally and understandably festive. Nobody seemed to mind that the TSA people and baggage scanners hadn't arrived yet – they're supposed to be there in a couple of weeks – so everyone had to be patted down and have his or her luggage hand-searched.
The plane took off from Vero and landed in Newark right on time, to the spontaneous applause of the passengers on board.
"This is the first – hopefully 4,000 or more to follow," said Vero Beach Regional Airport Manager Eric Menger.  "This is important for our whole community."
Elite is taking reservations for the Vero Beach-Newark route through April.