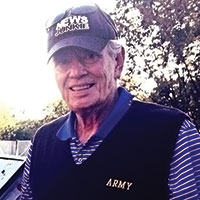 Hit-and-run victim's widow not returning this winter
STORY BY RAY MCNULTY (Week of February 12, 2015)
PHOTO: Peter Meyer of Orchid Island.
Peter Meyer's widow, Phyllis, probably won't return to the couple's Orchid Island home this winter.
"The emotions are still too raw, at this point," their daughter, Deb Cohen, said, referring to the tragic death of her father, who was killed last month in a yet-unsolved, hit-and-run accident in Savannah, GA, where he had stopped for the night while driving from Quechee, VT, to Orchid.
"The people in their community down there have been wonderful, but everything about Florida is so intertwined with my dad that it would be too difficult for her right now," she added. "Hopefully, that won't last forever. I don't think it will."
Cohen and her sister, Susan Ross, led the initial efforts to assist police in finding the driver of a speeding truck or SUV that struck their 72-year-old father, who was waiting to cross Abercorn Street near the Twelve Oaks Shopping Center as he returned to his midtown hotel from dinner, at approximately 9:30 p.m. Jan. 4.
Meyer's body was knocked into some roadside bushes and wasn't discovered until 10:30 p.m. Police found enough evidence at the scene to determine he was hit by a 1999 or 2000 Chevrolet Silverado, Tahoe or Suburban.
In addition to placing full-page ads – in both English and Spanish – in the Savannah Morning News, Meyer's daughters also sent letters to nearly 100 of the community's religious leaders in an appeal for help in solving the case. Three weeks ago, they traveled to Savannah and held a news conference at the local VFW post.
Then, exactly one month from the incident, Meyer's widow made her plea for help.
"To whoever caused the tragic accident that led to the heartbreaking loss of my husband – or if you know who is responsible – I urge you to please come forward," Meyer's wife of 50 years said in a statement released to the Savannah media last week. "Our grandchildren, daughters and I need justice and closure to try to move on and heal.
"Peter was my high school sweetheart, the love of my life, and my best friend," she added. "We were robbed of his presence too early. We had all looked forward to sharing so much more life with him."
Meyer's family initially offered a $10,000 reward to anyone providing information leading to the arrest of the hit-and-run driver. Meyer's friends and neighbors at the Orchid Island Golf & Beach Club increased that amount to $100,000.
A spokesperson for the Savannah-Chatham Metropolitan Police Department said investigators were still "following up every lead" and that the case is "still on the front burner." Cohen, though, said the longer the case goes unsolved, the more she doubts the family will ever find out who killed her father.
"The police haven't said it's a needle-in-a-haystack thing, but it is," Cohen said. "Unless somebody knows who did it and comes forward, or the conscience of the person who did it eventually catches up with them, we might never know exactly what happened.
"I believe in God, and I feel I don't need to do God's job," she added. "It's not going to bring back my dad. But I think knowing would help my mother."
Meyer was a 1964 West Point graduate who served in the Army's Airborne Rangers during the Vietnam War, received the Bronze Star and reached the rank of captain before embarking on a successful, 31-year career as an executive with Merrill Lynch.
He retired in 2000, when he and his wife began spending winters at Orchid Island. He was an avid golfer who also was a member at Quail Valley.
"The response we've received from the people in Savannah has been heartwarming," Cohen said. "They see this as a blemish on their community and seem truly sorry that it happened."