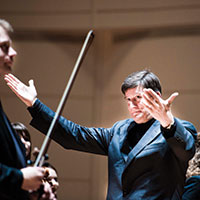 John-Edward Kelly: Acclaimed Vero musician dead at 56
STORY BY MICHELLE GENZ (Week of February 26, 2015)
PHOTO: John-Edward Kelly conducts a performance during his November 2013 European tour.
John-Edward Kelly, an internationally recognized classical saxophonist, founder of an acclaimed chamber orchestra, and in his rare free moments, a very private resident of Vero Beach, has died at 56 after a brutal battle with cancer.
He fought the disease largely for his four young children, including a son born just five months ago, said his wife, Dr. Kristin Kelly, a family medicine physician.
Kelly lived a quiet life in Vero. But his ambition to give exposure to deserving but underplayed music was global. At the same time, he ranked among the world's top players of classical saxophone. 
For his entire musical career, and particularly after he founded Arcos Orchestra, Kelly was committed to having the world hear fine composers whose work was left on the shelves because "there was a more famous horse in the field," he told a German journalist. "I wanted to do something about it."
He was also intensely concerned with the future of art music, believing that contemporary musicians snobbishly believed "we are so intelligent that the audience cannot possibly understand what we are doing," he said.
Instead, Arcos Orchestra would create a bridge with classical music that would prepare the listener's "path to unknown musical languages," though he added warily, "'interesting' alone is a long way from 'musical.'"
Arcos Orchestra was formed in 2005, mostly of New York-based musicians from Juilliard. For Kelly, it was a lifelong wish. "One of my childhood dreams was of doing my own orchestra, doing it better, making no compromises and playing the music that I believe really needs to be heard," he said in a 2009 interview with Vero Beach 32963.
The next year, Arcos served as orchestra-in-residence at Temple Emmanu-El in New York City, performing four concerts in 2010 and 2011 in what is considered one of the most beautiful synagogues in the world.
"What's remarkable about Arcos is John's uncompromising approach to presenting music that he absolutely believed in," says Marc Uys, Arcos' concert master and manager of artistic operations with the Princeton Symphony Orchestra. "He was unwavering in his principles, which is quite rare these days because it's so hard to make a success of a group like this. There's temptation around every corner to compromise our ideals in order to get ahead and that's something he resisted his entire life."
As for his command of the classical saxophone, Kelly ranked with the best in a rarefied realm: players who held to the pre-jazz saxophone and its velvety, dark tones as opposed to the brighter, harsher sound of the saxophone once keys were added and the inner chamber of its mouthpiece was modified in the 1920s to play jazz. That modern saxophone eventually became the norm even in orchestras, though it is said to lack the blending qualities of the earlier instrument.
"What people don't realize is that he probably was the greatest saxophone player that we've ever known," says Uys, speaking of those who play the original saxophone that Kelly loved.
Thomas Giles, who is earning his Ph.D. in classical saxophone performance at Florida State University who describes himself as "obsessed" with John-Edward Kelly's playing, gave a lecture on Kelly just last week.
Giles says while the typical range for saxophone is three to three-and-half octaves, Kelly could play four octaves with full accuracy, a feat remarked on repeatedly in online saxophone forums.
"Most saxophonists can't even play the music written for John," Giles says. "His work means more to me than I can express with words. He was doing things in the 1980s that people still haven't been able to do."
Like Kelly, Giles plays on a vintage alto sax, as did Kelly's teacher, Sigurd Rascher, considered among the top handful of players in the world and a pioneer of the modern classical saxophone.
Rascher "hijacked" Kelly to give up the clarinet for the saxophone while he was studying at the Cincinnati College Conservatory of Music. He had entered the conservatory at 16, raised by a mother who adored opera but having spent his youth "tortured" by a sister who played the typical teenage pop music of the day just to make him miserable. "I have spent my entire life absolutely hating popular music," Kelly told Vero Beach 32963 in 2009.
The "hijacking" took him to upstate New York, where he holed up in a log cabin with no running water and no electricity to study under Rascher.
Clearly Rascher believed in his pupil: he eventually had him take his place in a German quartet that Kelly stayed with for 10 years, performing in hundreds of concerts in Europe, North and South America and in Israel. Kelly has premiered more than 200 works for saxophone, including 29 concertos.
It was at a concert on an island in northern Germany that a young woman in the audience was so dazzled by his performance that she went backstage to meet him. "It was a moment of destiny that was very clear to me at the time, and I think it was clear to her as well," he told Vero Beach 32963. "I had to find a way to see her again."
He did. They were married at his father's deathbed in 2003.
While the spotlight shone brightly on him in his countless public performances, it was his children that put a twinkle in his eye. In an extended interview for a 2009 profile in Vero Beach 32963, he told of his second son, then barely walking at a year old, who had precociously rigged a way to get up to the refrigerator. "He's going to be a smart one," he said with pride – and not a little anxiety.
The two boys were soon joined by a sister, and then another brother last fall.
Kelly and his wife had vacationed frequently in Vero before moving here in 2007. "It's been a really strange transition to go from a place where I was very well known to a place where I'm virtually unknown," he said in the 2009 interview. "The great thing is that I have time for my family."   
Three years later, he was diagnosed with cancer.
Like the obscure music he championed, Kelly maintained a low profile in Vero, though his connections here date back to 1984, when he arrived from San Francisco to earn a flight instructor's license at FlightSafety International. While he never performed here, he was very much active in Europe, and in particular Germany, where he was founder and artistic director of the Arcos Orchestra.
Highly regarded in Europe, Arcos concerts were regular sell-outs, including at the Vienna Concert House, with 1,744 seats, and the Berlin Concert Hall with 2,440. "For me that was the most extraordinary experience," said Uys. "It was literally sold out. There was not one open seat."
Kelly last toured with the orchestra in November 2013, a year after his diagnosis when the cancer appeared to be in remission, conducting 10 mostly sold-out performances in Germany and Switzerland.
A YouTube video from that tour shows an animated Kelly passionately conducting Mozart's "Eine kleine Nachtmusik," though the concerts included Bartok, Dvorak, Shostakovich, Barber and Samuel Adler, who is on the orchestra's board.
The tour followed the death of its composer-in-residence, the famed Swedish composer Anders Eliasson, whose music it played more than any other composer. Eliasson's death, too, was premature: he was only 66. The orchestra recorded two CDs of Eliasson's music. Eliasson dedicated his "Third Symphony" to Kelly, and also wrote for him "Concerto for Alto Saxophone and String Orchestra."
Two months after the 2013 tour, Kelly was back in Jacksonville for treatment, said his wife, Kristin. The radiation therapy affected his salivary glands and then his right arm, rendering him unable to play the saxophone. "That was the worst," said Kristin Kelly. "It robbed him of the possibility of playing his instrument, which was his life. That was a big hit, in the sense of his self-esteem."
Worse, it affected his fatherly routines.  "I can't sing to my children, I can't read to my children, I can't speak with my children," he plaintively told his wife. And the constant pain and loss of sleep had made him "a grouch," he said.
That, she said, "made him stop fighting."
It was for his children, she said, that he had gone through every possible treatment to fight the particularly aggressive cancer. "It has given me a completely new view of my patients," said Kristin Kelly. Her husband was more inclined to follow homeopathic treatments, but he was told that "if he wanted to be there for his children, this was his only chance," she said.
When John-Edward Kelly sensed the end was near, he began to put his things in order. A month before he passed away, he suddenly emailed his own obituary to Kristin's phone.
"I was at work," she recalls. "The only thing I plugged in was the date. I could not have done it more beautifully. I'm glad I didn't have the responsibility."
At the same time he was preparing his obit, he was also seeing to it that Arcos would reawaken from its dormancy during his illness and stage another tour of Europe in 2016.
"He put an enormous amount of effort to make sure that it would continue," said Arcos concertmaster  Uys. "Even at a time when he must have known (the tour) was something he would not be able to do. His energy was unflagging."
 Uys called Kelly "an incredible musical mentor and an inspirational person – it doesn't matter what you're talking about. You feel lucky to be in the company of someone like that."
Saturday, as mourners filed into Vero's Holy Cross Catholic Church, they heard Uys on violin and Dane Johansen on cello play the Bach aria, "Bist du bei mir." A favorite of Kelly's, Arcos played it often as an encore.
Uys, 37, had visited Kelly and his family in Vero several times, while he was working with Sarasota Opera. He said he was overcome at the sight of Kristin Kelly entering the church with their children in tow, including the baby. "It was the saddest thing I've seen in my life."