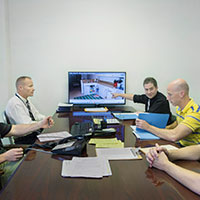 Lead detective in Duve case honored as victims' advocate
STORY BY LISA ZAHNER (Week of February 12, 2015)
PHOTO: Vero Beach Police Investigations Unit (L to R) Lt. Matt Harrelson, Det. Brad Kmetz, Det. David Farquharson.
Det. Bradley Kmetz said he's sometimes ridiculed by classmates for sticking around Vero after college to work for the Vero Beach Police Department instead of venturing out into the wide world. But when a heinous crime like the death of Diana Duve darkens his hometown – on his turf, and on his watch – it hits Kmetz deeply and personally.
Duve's death in late June was the first homicide case that the 30-year-old detective had caught since joining the force in 2007. Kmetz was on call when a terrified mother begged police to help find her 26-year-old daughter. He recalls the 72 hours he and his colleagues worked 'round the clock to try to find the Sebastian River Medical Center nurse – and her boyfriend, accused killer Michael David Jones.
"When we started to find the pings from the cell phones, we were working back-to-back shifts," Kmetz said, noting that things were changing very rapidly in the case, as the locator pings led Melbourne police to Duve's car ditched in a parking lot. "You don't know what you're going to find."
As the father of one school-age daughter with a second baby girl due in April, Kmetz said he empathized intensely with the plight of Moorings residents Bill and Lena Andrews as the tense minutes and hours ticked away with no sign of or word from their only daughter. "It's a very sad case," he said. "I did not want to give up on Diana or her family."
No resources were spared during that exhausting weekend in June, when Chief David Currey said he directed officers to invest "whatever it takes to get the job done."
Driven at first by sheer adrenaline and by grave concern for Duve's safety when there was hope of finding her alive, detectives' motivations shifted to anger and the desire for justice when the case turned into a murder investigation.
"The biggest thing when you work a homicide case is that you want the victim to have a voice, even though they're not there to have a voice," Kmetz said.  "No matter what type of case it is, victims always have a say."
Kmetz' supervisor, Lt. Matt Harrelson, who heads up Vero's Detective Division, said it was Kmetz' tenacity that solved the case and put Jones behind bars. "Homicide cases are unique in the fact that although we never get to speak to the victim, it is easy to become emotionally involved when hearing about happy times the victim shared with loved ones and these stories only serve as fuel to push harder and to strive toward apprehension and ultimate conviction of the suspect," he said.
Jones, indicted by a Grand Jury for the first-degree murder of Duve, is being held without bond in the Broward County Jail awaiting trial on violation of probation and felony battery before facing an Indian River County jury for Duve's murder. If found guilty, Jones could face the death penalty.
Ferreting out complex, sensitive and sometimes disturbing information from multiple sources is what built the more than 2,000 pages of evidence, plus photographs and video now on file in the case against Jones.
Some of those sources were victims themselves – former girlfriends of Jones who themselves had been threatened, harassed and abused. Kmetz said his approach to coaxing witnesses and victims to talk is simple.
"Our job is to get them to not be afraid, and to give them the confidence to talk to us and to protect themselves."
Last month at the Law Enforcement Awards Ceremony banquet, members of the Indian River County Victims' Rights Coalition honored Kmetz, along with other local law enforcement personnel, with the Victim Services Award for his work on the Duve case and another homicide.
It was the inaugural year for the award. Organizer Paul Zelno, a former Vero Beach reserve police officer whose wife was slain by a drunk driver in 2007, said the award formally recognizes the year-round work of police, volunteers and court officials.
Harrelson nominated Kmetz for the Victim Services award, saying, "I can think of no one I would rather have speaking and fighting for one of my loved ones, or even for myself, than Det. Brad Kmetz."