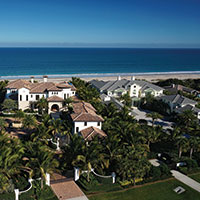 Real estate auction may set record
STORY BY STEVEN M. THOMAS (Week of February 26, 2015)
Two of the most expensive homes on the barrier island will go on the auction block at 6 p.m. on March 26, offered in a unique bidder's choice auction with no reserve, a format that is intended to create a sense of urgency among buyers interested in the properties.
There will be one round of bidding at a gala invitation-only event at the site in the estate section just south of Round Island Park, where the two ultra-luxurious homes sit side by side, and the high bidder will get to choose which house he or she wants.
The houses, known as Sandy Lane and Splendida Dimora, are currently listed at $15,995,000 and $16,695,000, respectively. Completed in 2013 by Beachlen Development Company and never lived in, this is not a distress sale.
"The auction is purely a business decision by the owner," says co-listing agent Clark French of Premier Estate Properties. "In Vero Beach, with homes like these, we are selling want, not need, and it is hard to create a sense of urgency around want.
"We have shown the homes to a number of buyers who are qualified and capable and who like the houses, and there have been offers, but nothing has quite come together.
"The fact that there are two homes for sale goes against urgency because buyers may think that even if one is sold, there will be one left. The date-certain auction creates interest, excitement and a sense of urgency. By 6:10 in the evening, one of the houses will most definitely be sold."
"If you want one of these homes and thought you had all the time in the world to make up your mind, you don't," says Philadelphia businessman Brook Lenfest, owner of Beachlen Development. "You have until March 26."
Lenfest and Concierge have the option to cancel the auction at any time before it starts if it seems there is not sufficient interest to bring an acceptable price, but once it starts it will be a true no-reserve sale, meaning the high bid will win a magnificent oceanfront estate
While the price could be far below what anyone expects, it could also set a record for property on the island sold at auction.
Lenfest says the auction solves  a  problem faced by very high-end properties in a market where similar inventory is scarce. Because there haven't been many comparable homes sold in 32963 in recent years, it is hard for both sellers and buyers to lock in on the fair market value.
"In Vero, there is not enough information to make buyers confident that the price they are paying is what they should pay," Lenfest says. "I think that has been in large part the reason the homes aren't sold yet. The auction is a perfect way for a buyer to be comfortable that they paid the right price."
"The owner chose an auction as a way to identify the value of assets that are hard to value," says Laura Brady, founder and president of Concierge Auctions, the company conducting the sales event.
"Homes worth $10 million and over have typically been marketed the same way as homes with lower price points. Sellers and brokers make an educated but arbitrary guess of the value and try to expose the property to buyers. But that process is pretty much broken for unique assets such as these houses.
"The auction allows us to place transparency around value. Buyers want to know they are not paying too much and confidence builds as the auction proceeds and buyers see the person standing next to them bidding more than they just bid."
Brady expects the bidder's choice approach to attract more buyers than would turn out for the auction of a single house, because some people will be interested in Sandy Lane, a 15,400-square-foot Barbados-inspired beach house, while others are after Splendida Dimora, a 16,120-square-foot Mediterranean-inspired home. Both houses sit on estate-size lots with 155 lineal feet of ocean frontage.
"Interest in the two homes has been running pretty much neck and neck," says French, who adds that several dozen seriously interested and qualified potential buyers had looked at the houses. He expects as many as half of that group, made up mainly of Vero buyers and South Florida residents, to bid in the upcoming auction.
Brady's company, which she says has sold more than$750 million worth of property since its inception in 2008, will work its list of high-end contacts to look for additional bidders, making phone calls and sending emails to let past bidders and buyers know about the opportunity in the estate section.
French and his partner Cindy O'Dare and other island brokers will be doing the same. The sale is being advertised locally, nationally and internationally in publications such as the New York Times, the Wall Street Journal and the Paris-based International Herald Tribune.
To get a bidding paddle, potential buyers have to put up a $250,000 refundable deposit and provide a bank letter showing they have the money to complete the purchase if their bid prevails. Some bidders will be on site, while others will participate via phone, according to French, who says the number of bidders "might be 5 or might be 15."
As is typical in auctions, the winning bidder will pay a 10 percent buyer's premium on top of the gavel price that will cover marketing costs, brokers' commissions and Concierge's cut of the deal. As listing agents, French and O'Dare will make a 2.5 percent commission if the auction is successful, according to Brady. Any broker who brings a buyer will be in for the same amount.  The successful bidder will have 30 days to close.
Sandy Lane was originally listed with French and O'Dare for $17.9 million in 2012, pre-completion. Splendida Dimora was first offered by Treasure Coast Sotheby's International Realty for $18,875,000.
 "People ask me every day what I think the high bid will be," says French. "I am absolutely convinced of the value that is there, and I have an idea based on earlier offers of what a minimum bid might look like, but there is no way of knowing for sure. That is the beauty of this auction. The market will set the price that day."
French expects the sale to break a logjam in ultra-luxury sales in Vero. He says there are approximately 10 homes on the market offered for $10 million or more, but that there haven't been sales at that price point for a while, even though the rest of the Vero market has been going great guns.
He believes a successful auction will help establish the value of the other top luxury properties and get the ball rolling.
"The auction result will set the fair market value of the other home [offered by Beachlen]," says Lenfest. "I'm expecting one or more people that attend the auction will be interested in purchasing the home that the high bidder didn't choose. We'll see, though."
The two homes, located at 2460 and 2470 South A1A just north of the county line, are open daily from 1 to 4 p.m. with an agent onsite.