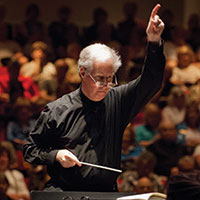 Stewart Robertson to retire from Atlantic Classical Orchestra
STORY BY MICHELLE GENZ (Week of February 5, 2015)
Conductor Stewart Robertson's current season with the Atlantic Classical Orchestra has already proved remarkable. It is the 25th year for the orchestra, and the start of a second decade for Robertson as artistic director.
It is the first official season for a new audience in Palm Beach Gardens. And ACO is gearing up for only its second recording: a CD of new works premiered by the orchestra.
But at the close of the season in April, Robertson, 66,  will retire. Symptoms of Parkinson's disease, first diagnosed four years ago, became attenuated after a recent heart procedure, he says.
Ironically, the procedure, which treated atrial fibrillation, left him with more energy than ever, he says, a very high standard for Robertson. But it seems the anesthesia caused a flare-up of Parkinson's symptoms. The progressive disease erodes nerve sheaths and can affect speech and movement.
"I really feel better than I have done in years," says a frustrated Robertson. "If it weren't for this wretched thing that seems over in one corner, the rest seems absolutely fine."
He compared it to "driving a fast car in first gear," with ACO being the car. 
For 10 seasons, audiences have watched Robertson enter the stage impishly serious, head down, bursting at the seams to begin. At 66, he keeps an intense schedule of concerts, lectures, travel, board meetings and fundraising, even taking on other conducting opportunities when ACO's schedule clears.
Of late, his life has edged into a narrowing lane of wellness, adding a dimension of unpredictability to a very public existence.
"I've been able to mask the symptoms with clever timing of medications," says Robertson. Since the anesthetic "kicked it down a couple of notches," he has had to up his medications. "Sometimes it doesn't really work morning or afternoon. It's a challenge."
Meanwhile the "fast car" is only getting faster.
"Things are really taking off" at ACO, he says.
This season includes "a couple of gangbusters": a major fundraiser in March, and the upcoming concert next Thursday which includes the commissioned work of Patrick Harlin, a doctoral student at the University of Michigan who is researching the field of acoustic ecology.
"I've been sitting here with my head in Patrick's score just trying to learn it, and boy, it's an exciting piece," exclaimed Robertson from his home last week.
Then in April, the ACO audience hears another commission, by well-known composer Zhou Tian: a violin concerto.
After that, the chamber orchestra will find a hall to record the recent commissions to release on a special CD. "I'll do that," promises Robertson.
"Beyond that, I just feel it's not fair of me to promise to do something a year down the line that I'm just not absolutely 100 percent confident that it's a certainty."
Robertson has been a fixture on the South Florida music scene since the late 1990s, when he was named music director for Miami-based Florida Grand Opera; the Scottish-born pianist and conductor focused on opera for much of his career.
In 2002 he was named director of orchestral studies at Florida International University in Miami. In 2004, he added Atlantic Classical Orchestra to his schedule and a year later, Opera Omaha, a post he left in 2008. He resigned the Florida Grand Opera post with a year left on his contract in 2009.  
In addition to those commitments, he spent his summers from 1988 to 2006 as music director of Glimmerglass Opera at Cooperstown, NY. 
His hopes for ACO were, and still are, ambitious: to create a "national or international landmark orchestra like the St. Paul Chamber Orchestra that plays at a very, very high level."
The orchestra's niche, as Robertson sees it, is to play "some unjustly neglected 19th century repertory," and to perform new music. If ACO could annually commission works "from the top echelon of American composers," premiere them with fanfare, and then record the works, the name recognition that would result for not only the composer but the orchestra could put ACO on the musical map.
Robertson's vision was quickly seized upon by Sewall's Point philanthropist Jerry Rappaport, a Boston developer who chaired ACO's board for three years until last year; he remains a member of the board.  His foundation has long supported emerging leaders in a wide range of fields, including the arts.
The Rappaport Foundation's two-year grant of $100,000 will have funded not only the composition but the recording of four works when it concludes this season.  
Robertson and Rappaport forged their friendship in the comfort of Robertson's castle in Scotland – Rappaport was the high bidder on a four-night stay there that the Robertsons offered at an ACO benefit.
"They were charming hosts," Rappaport says. "It really cemented my sense of confidence in him."
The castle has been an endless renovation project for the Robertsons, now left up to the next owner, since the Robertsons decided to sell. But not before their daughter's wedding last summer at the country church nearby. "The party went on for days," says Robertson.
The newlyweds are moving to Carmel, CA, where the Robertsons intend to live year-round now. 
As he finishes out his final season with ACO, a significant amount of Robertson's man-hours goes into his Behind the Baton lecture series. Offered through Indian River State College's Lifelong Learning Center, the morning sessions offer context for the music in the upcoming concert.
Robertson's encyclopedic knowledge of the subject shores up his ever-engaging lecture style; he has done broadcasts on music for the BBC, PBS and NPR – not to mention his spot-on impersonation of instruments, Rappaport says.
And from the beginning of his tenure, he has offered short pre-concert lectures, invaluable when it came to setting up a work that more traditional listeners might object to. With his wit and insight, Robertson could turn such a work into "a completely different piece of music" for the novice listener, says Anne Berquist, former ACO executive director, now at Opera Grand Rapids.
"It's a gift to be able to communicate to an audience and create correlations from one piece to another. He was so knowledgeable that he could refer to so many things above and beyond the music," recalls Berquist. "They always went on too long but nobody cared. They would be eager to hear more and more."
Rappaport believes it will be "a great challenge" to replace Robertson. "Stewart is not only a great conductor but he's a great musicologist and a magnificent raconteur."
Alan Hopper, the ACO's recently appointed CEO and executive director, was already having sleepless nights over the complexities of reworking ACO's infrastructure.
"It's particularly sad for me," says Hopper. "I've only got to know Stewart in the past few months. We've bonded amazingly quickly and it's very sad that we won't get to work together to see what we can do."
A committee has been organized to search for a replacement. But it won't be easy, says Hopper.
"We recognize the uniqueness of Stewart: a great musician, great conductor, great communicator, great educator and a person people like to be around," Hopper says. "I've been looking today at artists' agencies and lists of conductors. There's a lot of them. But do they all have those characteristics?"
And there's another factor, cautions Hopper. A prospective conductor must be content to confine herself or himself to the works written for chamber orchestras which number 35 to 50 musicians as compared to the 80 or 100 in a symphony or philharmonic orchestra.
"Our literature is somewhat limited. Somebody who wants to do those big Mahler or Tchaikovsky symphonies, that's not what we're looking for."
Discussions at ACO include having guest conductors for an interim period of year or two.
"Hopefully Stewart will still be available to us" in the transition, says Rappaport. His concern is for the future of the new music commissions. The Rappaport Prize runs through 2015, but could "potentially" renew, Rappaport says. He is also considering a collaboration with a Boston music organization.
"I must say this: We've met with each of the winners of the Rappaport Prize. It's been extraordinarily exciting to meet them and to see how significant it's been to the winners. It's something we look forward to continuing."
Robertson has one charge to ACO: to attract younger audiences to concerts, particularly young professionals in their 20s and 30s.  "We should be looking at shorter programs for chamber ensembles with wine and food in a more intimate setting," he suggests.
He also wonders if he's made a mistake not concerning himself more with the musical education of children. "I tended to aim my education efforts at the mature adults, the retirees," he says.
He's hoping to write biographies of two early 20th century Scottish composers. And he has a theory he'd like to flesh out, inspired by his and his wife's intensive Bible study. The working title: "The Symmetry of Salvation."
"It's a colossal palindrome: the Garden of Eden through to the end of time," he says.
If Vero was a piece of Robertson's Eden, hopefully some musical opportunity will tempt him back when season ends. Meanwhile, hearts are breaking at his departure.
"We've known since before Christmas," says Jean McMullan, wife of former ACO conductor Andrew McMullan. The two created ACO when they first came to town in 1990 and were part of the team that recruited Robertson.
She said the Robertsons called to get together, not saying why they wanted to visit. "That's so typical of them, to make sure that no one we knew told us first."
"It's just incredible," says Jean. "The lump in my throat is still there."