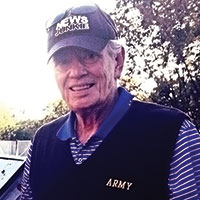 $100,000 reward for info on Orchid man killed in hit-and-run
STORY BY RAY MCNULTY (Week of January 22, 2015)
Two weeks after Orchid Island winter resident Peter Meyer was buried on the grounds of the U.S. Military Academy at West Point, his family is continuing its efforts to find the driver who killed him in a hit-and-run accident earlier this month in Savannah, GA, increasing the reward for information to $100,000.
Not only did Meyer's daughters place full-page ads in the Friday and Sunday editions of the Savannah Morning News last weekend, but they also sent letters to the community's religious leaders in an appeal for help in solving the case.
"A terrible tragedy occurred in Savannah two weeks ago, and we are praying that you can help our family find peace and closure," Meyer's daughters, Deb Cohen and Susan Ross, wrote in the letters, which described how their 72-year-old father was struck by a truck or SUV and knocked into bushes on the night of Jan. 4 as he returned to his hotel from dinner.
In their letter, Meyer's daughters also wrote: "We feel the end of his life was cruel and not befitting of someone who was a decorated war veteran, family man and model citizen ... Our father was killed by someone's recklessness."  The letter closed with a request for prayers and leads.
"This weekend, as you are leading worship within your faith communities, we respectfully ask that you mention this tragedy to your congregants and urge individuals and the community of Savannah to 'do the right thing" by contacting police with any information they have about this terrible event."
The family initially offered a $10,000 reward to anyone providing information leading to the arrest of the hit-and-run driver.
Meyer's friends and neighbors at the Orchid Island Golf & Beach Club have increased that amount to $100,000.
Cohen said that, as of Monday afternoon, police had no suspects.