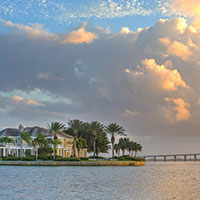 2014 banner year for million-dollar-plus home sales
STORY BY STEVEN M. THOMAS (Week of January 15, 2015)
Last year was a banner year for luxury real estate on the barrier island with 174 homes selling for prices ranging from $1 million to $8 million.
Top agents and brokers say the red-hot market is due to a much improved economy, high buyer confidence and the desirable lifestyle for which Vero Beach is increasingly known. And, realtors add, total sales of million-dollar-plus homes – which are climbing towards the half a billion mark – are expected to be even higher this year.
"It without a doubt speaks to the quality of life, the lifestyle and the amenities our community offers," says Dale Sorensen Jr., managing partner of Dale Sorensen Real Estate Inc., the largest brokerage on the island, which handled 62 million-dollar-plus transaction sides, acting for either buyer or seller, for a total of $123,940,659 in luxury sales last year.
"We hardly go a day without hearing from one or more of our out-of-town buyers raving about how much they love Vero Beach."
"An important part of the market story is the positive perception of Vero Beach versus other competing markets," says Clark French, broker associate at Premier Estate Properties, a boutique agency that handled 44 transaction sides totaling $116.25 million in luxury sales in 2014.
"Many of our buyers consider markets such as Naples, Palm Beach and Jupiter as well as Vero," says French. "In years past, those markets often 'won' the comparison and buyers purchased there. Now, though, Vero's overwhelmingly superior lifestyle has more buyers choosing us. Our natural beauty, limited development, culture and dining scene, and great people have made us the top choice statewide for affluent buyers."
Million-dollar sales were robust up and down the island, with by far the largest number in John's Island, the renowned 1,300-home community that recently was ranked as the 7th best residential country club in the United States.  Fifty-three of the 174 luxury sales were in the sprawling ocean-to-river community, with John's Island Real Estate Company handing most of the transaction sides.
"There was a lot of pent-up interest, because 2013 was such a quiet year after the disappointment of the election," says John's Island Real Estate Broker Bob Gibb. "The firmness of the stock market, the strength of our economy and the dollar are other factors [driving the market]. There are a lot of things that have played into it, and it certainly feels very good."
Sales were robust in the exclusive Windsor community on the north island, as well, with onsite brokerage Windsor Properties handling 25 transaction sides for a total of $71.7 million in sales.
Orchid Island Golf and Beach Club, The Moorings Yacht and Country Club, Seagrove, Castaway Cove and Riomar were other communities that saw a high volume of million-dollar deals, demonstrating that Vero's barrier island has become a magnet for high-end buyers around the state, country and world.
Shrinking luxury inventory and higher home prices are two cylinders that drove the million-and-up market in 2014. Reduced inventory helped push prices higher and motivated buyers to move more quickly for fear of missing out on the home of their dreams.
"Homes that were $500,000 are now a million," says French's partner, broker associate Cindy O'Dare. "Prices are getting back up there close to what they were at the peak of the boom. This is the best year we have had since I have been selling real estate in Vero Beach."
Regardless of the factors behind the luxury sales boom, island agents expect it to continue, and perhaps accelerate, in 2015.
"We think 2015 will be even better," says O'Dare. "There is a lot of confidence in the market right now."
Marsha Sherry, broker at The Moorings Realty Sales Company agrees. "Last year 50 percent of single-family homes that sold in The Moorings sold for a million or more, and 70 percent of waterfront single-family sold for a million and higher. I would predict that figure will be much closer to 100 percent in the coming year."
"I met more buyers this year who had placed their northern homes on the market – or sold them – than in prior years when they were concerned about the economy and couldn't quite make the jump," says Grier McFarland, a top agent at Dale Sorensen Real Estate. "Based on this newfound confidence, I expect 2015 to be much more fluid, with more relaxed buyers bringing cash into the market and making major lifestyle changes that heretofore they had put on hold."
"I do believe strongly that the trend will continue, simply because of the supply and demand," says Sorensen. "With inventory levels down well over 50 percent since their peak levels and demand increasing, the market is certainly poised and positioned to continue its recovery in 2015.
"When I went to college at SMU in Dallas, Texas, back in early 1995, when kids from all over the country asked me where I was from, very few if any had heard of Vero Beach," says Sorensen. "Now, Vero Beach is no longer a hidden treasure.
"You can look over the past five years alone and see articles in many leading worldwide publications focused on Vero Beach and our amenities.  In addition, you cannot underestimate the attention Gloria Estefan has brought to our community through her involvement here, not only as a hotel owner but a resident. Truly this attention probably came at a time when we needed it most."