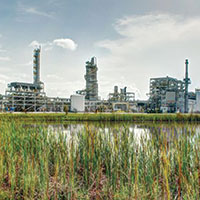 INEOS Bio plant shut; produced excess deadly gas
STORY BY SAMANTHA ROHLFING BAITA (Week of January 15, 2015)
The $130 million INEOS Bio plant on Oslo Road, adjacent to the county landfill, has been shut down for the moment, stymied by a puzzling excess production of hydrogen cyanide, the same gas that was used in Hitler's infamous World War II extermination camps.
Actual biofuel production has been spotty since the plant opened with some fanfare in 2013, and it doesn't appear that INEOS ever really got hoped-for production going for any length of time.  It has also taken quite a while to figure out what the problem was.
A permit for a scrubber that was supposed to solve the problem was requested from the Florida Department of Environmental Protection around the middle of last year.  It has been in the house since then, but not operational.
What has brought ethanol biofuel production to a halt has now been identified as the lethal impact of hydrogen cyanide on microscopic bio-organisms. The level of hydrogen cyanide produced when feedstock – mainly yard waste and other plant material – was converted to gas turned out to be toxic to bacteria, a fatal flaw since the bacteria are needed to convert the gas into ethanol via a fermentation process.
The plant was built with tens of millions of dollars in state and federal subsidies and has been supported by hundreds of thousands of dollars in county grants and tax credits.
A Biofuel Digest article about the Vero Beach plant describes hydrogen cyanide: "Better known as prussic acid, hydrogen cyanide (HCN) was used as a killing agent in gas chambers on condemned prisoners; also used in the First World War by the U.S. and Italy, and featured infamously in mass concentration camp killings in the Second World War under the brand name Zyklon B."  
In this case, however, the amount of HCN is lethal only to the bio-organisms, and exists in completely contained circumstances, says spokesman Dan Cummings, from the Chicago office of INEOS, a global manufacturer of petrochemicals.
Indian River County contracted with INEOS Bio to receive its vegetative waste, and has realized a significant per-ton cost savings over previously contracted mulching operations. Of the company's current HCN issues, County Administrator Joe Baird says, "We're not concerned. They're so heavily regulated by state and federal, and it's all just part of the process."
If problems are resolved and the plant resumes operation at its anticipated capacity, it will produce an estimated 8 million gallons per year of ethanol from a biomass feedstock consisting of vegetative yard waste and clean woody construction and demolition debris.  
Here's what's supposed to happen: after a gasifier converts the feedstock into a synthetic gas (syngas), bacteria metabolize the syngas into ethanol. The ethanol is then distilled, dehydrated, denatured, stored and, finally, loaded into tanker trucks for shipment offsite.
Here's the dilemma: The gasification of vegetative matter produces hydrogen cyanide (HCN) in the syngas. The higher the gasification temperature, the lower the levels of HCN, which is good for protecting the sensitive bio-organisms; however, higher temperatures can also result in equipment problems and high maintenance costs.
To remedy the problem, INEOS decided a wet scrubber was required to remove HCN from the syngas, thus allowing the bio-organisms to do their job.
The FDEP concurred. In an evaluation last summer, the agency stated, "Although the facility is officially operating, very little fermentation or production of ethanol from the production fermenter has occurred, primarily because of the sensitivity of the bio-organisms in the fermentation process to high levels of HCN in the syngas. As a result, installation of a HCN scrubber is essential."
The scrubber, says Cummings, was installed last fall but is not yet operational, and no re-start date has been given. "For business and commercial confidentiality reasons, we don't give a time frame," he explains, "though we expect to be producing in 2015. It's new technology, and we're working to upgrade and optimize the technology. We've spent millions of dollars upgrading the facility over the past year." 
In addition to ethanol, the plant is also supposed to be producing 6 megawatts of electricity per year.
While ethanol production is delayed, the vegetative feedstock brought in from Indian River and Martin counties' solid waste districts and private sources is being utilized as landfill cover, and provided to local golf courses and to some area non-profits as potting soil. Additional material will be stockpiled until the bio-fuel operation can re-start.
On the positive side, Cummings says no layoffs have occurred or are planned, as the company attempts to retool and resume production.
"We currently have 68 full-time employees and have had up to 20 contractors at the plant over the past year," says Cummings. "Two-thirds of the full-time employees were hired from the Treasure Coast region."
Past county funding and tax breaks were awarded due to, and future county funds are dependent on, INEOS maintaining its promised employment levels.
If and when ethanol production resumes, the state will require emission tests to make sure hazardous level of hydrogen cyanide are not being released into the atmosphere.