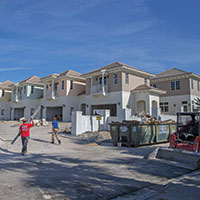 Central Beach gets new townhomes
STORY BY STEVEN M. THOMAS (Week of January 8, 2015)
Photo: Five oceanfront units being completed next to The Gables.
Two new townhome projects with a combined retail value of approximately $14 million will be completed in Central Beach in the first half of 2015, according to project developers.
"We are 95 percent complete, inside and outside, and people should be moving in early in February," says Vic Lombardi, owner of Water's Edge Development, the aptly named company building five spectacular oceanfront units south of Humiston Park next door to The Gables.
The 3,200-square-foot, $2.25 million West Indies-style homes hit a sweet spot in the market and the project, called East End, sold out before any walls went up.
"I could sell five more if I had them," says Lombardi. "I am lucky to have had a project like this."
David Haynes, managing partner and mainspring of the group developing the Townhomes on Ocean nine blocks north of East End, expects his project to wrap up in about five months.
"We should be having a party by June first," he says.
Haynes and his partners bought the .44-acre lot on the west side of Ocean Drive across from the Village Spires condominium towers for $680,000 in May and spent the summer and fall on planning and permits. The project sprang out of the ground in December and Haynes says the two-story concrete block shells will be complete in another month or so.
Two of the four units are spoken for and two are still for sale at $699,000, a bargain price for new luxury construction across the street from the ocean with water views from the top floors.
"That is a great project in a great area," says Vero Beach director of planning and development Tim McGarry. "If I hadn't already bought a big house I would have been really interested in one of the units myself."
"One of the big decisions we made was to put the units in two buildings instead of one, so each condo has windows on three walls," Haynes says. "It was more expensive, but it keeps the center units from seeming like tunnels. We also made them as wide as possible for the site, with 22-foot-wide living rooms."
The 1,800-square-foot, 3-bedroom, 3-bath condos will have covered porches and balconies in front, facing Ocean Drive, with covered balconies, sun decks and two-car carports in back, for a total of 2,700 square feet under roof.
"All the materials and finishes are high-end and the landscaping will be beautiful," Haynes says. "I think people will love them."
Haynes is a realtor with Treasure Coast Sotheby's International Realty. The townhomes are being built by his brother Don Haynes, who operates Don Haynes Development Corp. in Cocoa Beach.
"It has been fun," says David Haynes of the project so far. "The city has been very supportive. One of the few problems we have run into is getting enough concrete. There is so much going on right now that our concrete guy has had a hard time getting us the concrete we need to pump when we needed it."
The East End project, which was marketed and sold by Premier Estate Properties broker associate Clark French, a partner in the venture, was the first multifamily oceanfront building to break ground in town on the island in more than six years when equipment started rolling in December 2013.
The 1.5-acre oceanfront building site was purchased for $1.55 million in 2011, according to public records, but the actual cost may have been a bit more since deals of this type typically have off-contract expenses in fees, commissions and closing costs.
The 3 bedroom, 3.5 bath units are finished with the finest materials, with clear hardwood trim, tumbled marble flooring and large gourmet kitchens. They have to-die-for beach views extending for miles to the north and south. Expansive family rooms on the first floor on the ocean side have glass end walls and patios to take full advantage of the superb location.
Huge master bedroom-bath suites occupy the space above the family rooms, with 7-foot-deep covered balconies overlooking one of the most popular beaches in Vero.
The townhomes have detached 2-car garages on the land side with an additional bedroom and bath above. Walled private courtyards with spas or swimming pools separate the garages from the townhomes. Counting garage space and guest suites, the units are 4,000 square feet under roof.
"They are built on piers with concrete block construction and concrete floors, including the second floor," Lombardi says. "The roof is concrete tiles and of course everything is up to the latest storm codes with high-impact glass."
Wrapped around the rock-solid core are a wealth of charming West Indies design details supplied by project architect Gregory Anderson P.A., including a variety of entryways, balconies and color combinations that make each home unique while maintaining a pleasing unity of overall style. Each unit is set back approximately eight feet from the one next door to maximize ocean views and help the homes feel more like single-family residences than condominiums.
"When you say townhouse, we all have the perception of narrow, tightly connected units, but these feel like very spacious single-family homes," says French. "The width of each property is 30 feet, and the family rooms that overlook the ocean are 28-feet by 20-feet with 12-foot ceilings. That is big!"
Besides West Indies architecture and Central Beach locations the two projects have other commonalities. Both parcels are zoned RM 10/12 residential multifamily and units in both are deeded like single-family homes, with buyers owning the land beneath their units.
"In a condominium setup, the condominium association owns 100 percent of the property and individual owners buy shares of the corporation," French said.  "At East End, families own their own unit – the land, walls and roof. The homeowners association owns the common area."