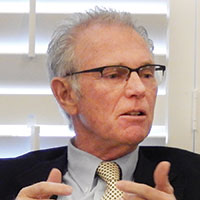 Michael Ochsner returns to Shores Town Council
STORY BY LISA ZAHNER (Week of January 1, 2015)
Photo of Shores Town Councilman Michael Ochsner
Former Indian River Shores Town Councilman Michael Ochsner has been appointed to fill Tom Cadden's seat on the council until the March 10 election.
But, Ochsner said, at this time he does not plan to run for a four-year term on the council, leaving Cadden's former seat up for grabs. Ochsner said he looks forward to returning to the Town's Finance Committee, as he had to temporarily step down to take the interim council post. He also devotes substantial volunteer time to his church, Calvary Chapel Vero Beach.
"Tom Cadden is a great guy and a good man and I'm honored to try to fill his seat. He has quite a legacy," Ochsner said after the Dec. 18 meeting where he was sworn in.
"I'm honored that they selected me and I'll continue to hold up my pragmatic conservatism. At least right now I don't plan on running in March, but that may change," he said. "I like being in service to the Town.
Indian Trails resident Linda Bolton also hoped to be appointed to Cadden's seat, and though not nominated at the last council meeting, she was politely encouraged from the dais by Mayor Brian Barefoot and by Councilman Tom Slater to run for office in March.
A member of the Town's Planning, Zoning and Variance Board, Bolton helped spearhead efforts to incorporate the Village of Wellington in Palm Beach County and then served on the council and as vice mayor. Potentially more interesting to local voters is the fact that Bolton is a former president of the Indian River Neighborhood Association, and a self-described conservative Democrat.
Though she's still on the fence about whether or not to run in March, Bolton said she feels her experience may make her the right person at the right time to serve the Shores.
"I threw my hat in the ring because the Town of Indian River Shores right now needs people good in negotiations," Bolton said. "I have a strong skill set that I could bring to the town."
As a certified mediator, she said she feels her deal-making abilities could come in handy as the Town winds its way through an ongoing dispute with the City of Vero Beach about electric rates and the Town's rights after its 30-year franchise agreement with Vero expires in November 2016.
"The Council could also use some diversity," Bolton said of the all-male board. Realtor and John's Island resident Frances Atchison, who served eight years from 2005 to 2013, was the most recent woman on the council. The last female council member before Atchison was Barbara Holmen, who served from 1993 to 2001.
Diversity on the Shores Town Council typically comes down to a balance of John's Island residents and non-John's Island residents. Currently, three members, Mayor Brian Barefoot, Councilman Tom Slater and Councilman Dick Haverland, live in John's Island, with Vice Mayor Jerry Weick residing in Bermuda Bay and Ochsner hailing from The Estuary.
Bolton's Indian Trails address is not far from Cadden's Sea Colony home at the north end of the Town – in the 20 percent of the Town already on the Florida Power and Light electric system.
In her role on the Planning Zoning and Variance Board, Bolton also said she was disappointed at how the Town Council set aside the Board's recommendation that the proposed two-story office building on the Spectrum site not include retail uses. The council, at the behest of the developer, voted to allow limited retail on a case-by-case basis.
Though the Shores is virtually built out, Bolton said her experience doing the detail work of the Planning board would give her broad knowledge from which to make sound judgment calls about zoning and variance decisions that rise to the level of council approval as the remaining vacant land is developed and as older homes in established neighborhoods undergo major remodeling that may change the footprint of structures on existing homesites.
In addition to the open seat created by Cadden's retirement, Councilman Dick Haverland is also rounding out his first four-year term and is up for re-election in March. Candidate packets are available at the Shores Town Hall and the qualifying period to submit those completed packets is noon Jan. 12 through noon Jan. 16.