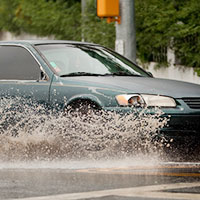 Vero moving steadily toward imposing a stormwater tax
STORY BY LISA ZAHNER (Week of January 22, 2015)
With Mayor Dick Winger leading the charge to impose a $500,000 stormwater utility tax on Vero residents, the City of Vero Beach has taken the first step to creating a stormwater utility by hiring consultants to conduct the obligatory study prior to implementation.
Winger says he can't imagine anyone opposing the extra fees, which would fund Vero's efforts to reduce the runoff of stormwater and damaging nutrients into the Indian River Lagoon. 
Vero currently collects about $4 million annually in property taxes. To raise an additional $500,000 each year from ad valorem or property tax assessments, the City Council would need to endure the political consequences of voting for a 12.5 percent tax increase.
A stormwater utility tax, however, would allow Winger and his colleagues to slip this one in under the radar.  It would appear as an estimated $3 to $5 per month ($36 to $60 per year) line item on utility bills of Vero residents (out-of-city utility customers would not be charged) would apply to both vacant and improved residential and commercial property,
The amount of the fee would be guided by satellite mapping technology showing how much impervious surface is on the property. Green space would not be taxed, but the footprint of the home or business, plus any patios, pool areas, driveways or other paved surfaces, would be taxed according to a formula.
Nonprofit organizations that don't pay property tax also would be subject to the tax. Whether or not government-owned property would have to pay the stormwater fee is an open question. During council discussions, it was noted that school districts often balk at paying the fee and petition to be exempted.
When the city began to look at a stormwater utility in earnest this summer, Councilwoman Amelia Graves expressed her support for the idea. "Everybody impacts the lagoon, not just the people who pay property taxes," Graves said.
Some of the proposed solutions, which are already being implemented as much as city budgets allow, include baffle boxes and a porous paving material made from recycled car tires called Flexi-pave.
As Winger has stated many times, the revenue generated from the stormwater utility tax would allow the city to complete nearly two decades worth of projects in five to six years, front-loading the benefits to the lagoon.
Money from the general fund that is now being meted out on these stormwater projects would theoretically be freed up to take better care of the city's roads – another priority of Winger.
The Utilities Commission was set to review the staff's Request for Proposals for a firm to pitch options to Vero for how it should set up its stormwater utility. Then next week the City Council has scheduled a meeting to discuss the stormwater utility, and give the public an opportunity to weigh in.
Councilwoman Pilar Turner has urged her fellow council members to insist on the utmost in transparency as the city moves forward with plans to increase revenues in this way.
Vice Mayor Jay Kramer, who initially raised questions about the new tax, said many of his concerns were addressed when he found out that the stormwater utility activities would be carried out by existing public works employees.