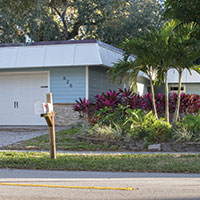 Weekend renters bring crime spree to Central Beach
STORY BY LISA ZAHNER (Week of January 29, 2015)
Dahlia Lane and adjoining streets in Central Beach were terrorized last week by just the kind of undesirable short-term renters Vero wants to keep out of its residential neighborhoods.
Neighbors say there were eight or nine – maybe more – young people from the Miami area staying at 626 Dahlia Lane weekend before last.
Not only did they host a couple of wild parties, one of which prompted a noise complaint to police from neighbors at 4:30 Sunday morning; they also broke into several cars, stole a purse, two smart phones, some personal documents, at least one credit card and possibly even a car, which was taken for a joy ride, crashed and abandoned in St. Lucie County.
Three of the burglarized cars on Bougainvillea Lane and Flamevine Lane were left unlocked, but the thieves smashed a window of a locked car on Hibiscus Lane, according to a neighborhood crime watch alert sent out by Vero Beach Police Public Information Officer Anna Carden.  And the owner of the car stolen from Eagle Drive had apparently left a key in it.
The rash of crime in the usually quiet enclave didn't really fit together until the owner of the home reported a theft to the Vero Beach Police Department Monday evening. On their way out of town, the renters apparently stole two flat-screen televisions and an Apple converter box – worth a total of $1,000 – from the home.
When police arrived to investigate and file a report, landlord Matt Martise couldn't provide his tenants' names or physical descriptions because he'd had no face-to-face meeting – or even a phone conversation – with them.
"The victim said he had rented out his house for three days to some subjects. Martise said that the subjects had left today around 1300 hours. Martise said that he used an internet company, airbnb.com to secure the rental. Martise said that he never met the renters," Officer John Grenzenbach wrote in his report.
That has been one of the many problems in tracking down the perpetrators, according to Lt. Matt Harrelson, who heads up Vero's Detective Division. "We are still working leads. There are several issues," Harrelson said. "The homeowner has gotten nowhere with them (airbnb.com) and we have had no success in reaching them for information either."
The automobile the renters were driving was a leased vehicle, which Harrelson said requires a subpoena to obtain the driver's personal information. The subpoena has been served on the rental company, and Det. Brian Kerensky, who is assigned to the case, is waiting for a response.
"The names we have are from the call for service the night prior due to a noise disturbance. Both names provided are out of Miami and have no criminal history," Harrelson said. "As far as the stolen car recovery, we can only make a reasonable deduction that it was stolen and dumped by the same group from Dahlia but we have no concrete evidence to prove this. The car was loaded with fingerprints on top of fingerprints, but again the two names we have no criminal history and therefore no fingerprints on file for comparison."
The home is listed for $145 per night, with a one-night minimum. It is booked solid for most of February, all of March and the first two weeks in April, but was available Jan. 31 through Feb. 5. The listing says it accommodates four people.
"Lovely 2/2, 1350 sq ft, renovated, 1 block to beach, dining, groceries, markets, theater, docks, park, river, shopping. Great golf courses just a few minutes away. The best of Vero is all within 10 min. Daily price includes everything," it reads.
Under "house rules" the listing says, "Relax, have fun, and let us know if you need something."
The website says that Martise joined the service in December and has three homes listed on airbnb.com, including the Dahlia Lane house. He also has a four-bedroom pool home on Holly Road in Central Beach which goes for $225 per night, and a Plantation-style estate on 69th Street which he rents out for $450 per night. Two of his renters from last month left positive feedback about their host, saying he was an accommodating and responsive host.
According to the police report Martise filed on the stolen TVs, the Dahlia Lane house – where officers combed the scene for evidence – had been "trashed." The renters apparently fully enjoyed their stay in Vero, as was evidenced by numerous used condoms strewn about, and bodily fluids that were discovered via alternate light technology used by crime scene investigators.
Physical evidence found inside the house then linked the vacationers to a series of crimes reported the previous day, according to public records.
"I noticed several McDonald's breakfast containers lying around. Patrol Officer McFarland had a past auto burglary, case number 2015-0144, Wendy Bassini, in which a stolen American Express card was used to purchase several McDonald's breakfast meals. Martise moved a sofa cushion, underneath was Bassini's American Express card from the auto burglary. I located Bassini's Classic Car wash VIP card in the garage," the police report states.
Officers then dug through the garbage bags and located Bassini's purse, two stolen checks and several other miscellaneous items – some tied to reported crimes and others to yet-unreported vehicle burglaries. Among the items found were two pairs of sunglasses, some auto documents, an iPhone case and sim card, and a blue duffel bag of clothes that was found, of all places, on the roof of the house. They also found some Walgreens receipts from the time period of the rental.
Police photographed the scene, secured and catalogued the evidence and have been working to match up the items found with crimes and victims. They requested surveillance footage from McDonald's and Walgreens from the time on the receipts found to try to get some physical description of one or more of the tenants. The McDonald's footage revealed another vehicle may have been used by the renters, but the recording was not clear enough to identify a tag number.
Detectives are still trying to piece together enough evidence to obtain arrest warrants, with the large number of people reportedly staying in the house proving a problem in pinpointing exactly who did what and when. All but one of the tenants was reportedly a 20-something Latino male. There may have been at least one female in the group over the term of the rental, as neighbors recall seeing a young woman at the home.
The one person who at this point will be held accountable is the owner of the home. After reviewing the police report, which included the owner's statement that he had rented the home to strangers via an internet service and didn't even have their names, a phone number or any identification, Vero Beach 32963 forwarded the police report to Vero Beach Planning Director Tim McGarry.
"Based on the police report and the owner's admission of renting out the property for short-term rentals, the property owner will be given a warning citation to cease and desist," McGarry  said.