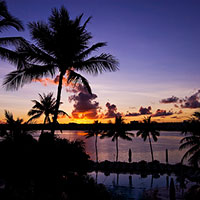 Island doctor saves child's life on Guam
STORY BY RAY MCNULTY

After two days of delayed flights, missed connections and even a typhoon warning, Dr. Patricia Zambelli had finally checked into the Hilton Guam Resort and Spa, where she was relaxing by the hotel pool in the late afternoon, knowing she would begin a month-long medical mission in the morning.
"I was at the pool for less than 30 minutes," Zambelli, a Vero Beach anesthesiologist who lives in Castaway Cove, said via email.
Then came a scream she'll never forget – from the mother of Jisu Lee, a 5-year-old Korean girl who somehow had escaped her mother's view and fallen into the pool, where she was found floating face-down.
Zambelli jumped up and ran to that section of the pool, where the girl's seemingly lifeless body was being pulled from the water as the distraught mother looked on.
"She was blue and had no pulse or respirations," Zambelli said of the incident that occurred two Saturdays ago, just hours after she arrived at the hotel. "Knowing that this was a respiratory issue, I just wanted to get oxygen back into her and allow her heart to restart.
"So in between CPR," she added, "I kept trying to clear her mouth and get the water out of her lungs."
Several minutes passed before the girl managed to cough, forcing what Zambelli described as a "large amount of water" out of her lungs and airways.
Zambelli then continued helping the girl breathe until an emergency medical services team arrived – nearly 25 minutes after the child was found – then accompanied her and her mother to Guam Memorial Hospital.
Just hours later, Zambelli began work at that same hospital, where the girl fully recovered and was released.
Zambelli said she first came to Vero Beach in 1998 to cover for a "fellow physician on maternity leave," then "fell in love with the community and never left."
Except, that is, to help those in need.
She was part of a team of physicians who traveled to Haiti in 2010, six days after a devastating, 7.0-magnitude earthquake rocked the Caribbean nation, killing more than 230,000 people, injuring 300,000 others and displacing 1.5 million residents.
"That was truly a mission," Zambelli said. "It was a remarkable experience to assist the people of Haiti in that dire time."
A longtime Vero Beach Lifeguard Association board member who worked as a lifeguard on the New Jersey shore while in college, Zambelli also is an advocate for CPR and water-safety education.
"My sister had a near-drowning episode when I was a teenager, and it left an indelible impression on me as to how quickly things can happen with a child in the water," she said. "CPR and basic water safety should be something everyone is aware of and trained in.
"You never know when your knowledge and skills can save a life."
Certainly, Lee's mother would agree.
Zambelli said the Korean woman was "very appreciative" of her efforts to save her daughter's life – a rescue that earned a headline in Guam's Pacific Daily News.
"All the people here have been great, from the hotel staff and management to all the hospital personnel," Zambelli said. "Everyone here is very grateful for the way it turned out."
As for her own feelings, Zambelli said: "I'm glad that my actions helped avert a tragedy."