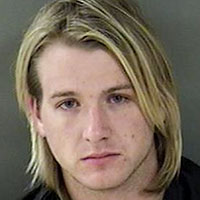 Dustinn Keeling arrested, this time for driving drunk
STORY BY RAY MCNULTY

Less than two years after Circuit Judge Robert Pegg generously accepted a plea bargain that offered a second chance at life, Dustinn Keeling was back in the Indian River County Jail on Sunday, shortly after being stopped for speeding on State Road 60 and charged with driving drunk.
Keeling, 24, who as a youth schmoozed his way into trusted positions within local Republican Party circles before being arrested in July 2012 for scamming two local non-profit groups and a family member out of nearly $50,000 dollars, also was charged with violating the conditions of his probation.
Somehow, though, Keeling, now a bartender, was able to post bond – $1,000 for the DUI and $7,500 for the violation of his felony probation – and was released from jail only 10 hours after his 1:10 a.m. arrest. 
Sheriff's Office spokesman Sgt. Eric Flowers said the bonds were set by Circuit Judge Cynthia Cox during a first-appearance hearing Sunday morning.
"I'm not sure how that happened, but I guess we need to revoke his bail," said Assistant State Attorney Christopher Taylor, who prosecuted the 2013 case against Keeling, who apparently now uses his first name, Phillip. "We'll file a motion and it'll be up to the judge."
Pegg, who accepted Keeling's no-contest plea to 11 counts of grand theft, forgery and writing worthless checks, sentenced him to two years in jail and 12 years of probation in November 2013. He also agreed to withhold an adjudication of guilt, which meant Keeling, if he successfully completed his probation, would not be considered a convicted felon.
If Pegg grants the state's bail-revocation motion, Keeling would be sent back to jail and held without bond, pending a hearing on his probation violation charge. Under Florida law, defendants are not entitled to bond when accused of violating the terms of their probation.
Having his bail revoked, however, could be the least of Keeling's worries. If Pegg finds Keeling guilty of violating his probation – a conviction on the DUI charge isn't necessary – he could reconsider his decision to withhold an adjudication of guilt and convict him on some or all of the 11 felony counts he faced in 2013.
Such a verdict likely would send Keeling to prison.
"That could happen," Taylor said, "if the judge determines the defendant violated his probation."
The Sheriff's Office initially arrested Keeling on July 3, 2012, alleging that he stole more than $20,000 from Vero Beach's Haiti Clinic, a charitable organization that provides medical assistance to citizens of the impoverished nation, and more than $6,000 from the Sebastian-based North County Republican Club.
Prior to his arrest – despite his youth, absence of a college education and lack of any significant employment history – Keeling served as president of the GOP club and on the board of the clinic, using his charm and wit to put himself in position to control and tamper with the flow of funds.
A month later, Keeling also was charged with writing worthless checks to his aunt, reaching a total of $20,550.
Facing a stiff prison sentence, Keeling had his Vero Beach attorney, Andy Metcalf, negotiate a plea deal that included making restitution to the club, the clinic and his aunt. Keeling's willingness to right his wrong convinced Pegg to withhold the adjudication of guilt sought by the state.
Steve Milesic, who owned the Marble Slab Creamery where Keeling once worked, put up $32,000 to reimburse the injured parties and told Pegg that he was confident Keeling would pay him back.
At his sentencing hearing, Keeling told Pegg he regretted his actions, which, he said, were caused by excessive drinking and "wanting a lifestyle that wasn't mine."
Taylor said the long-term probation was designed to address Keeling's "life pattern as a con man" by keeping the "threat of prison" over his head.
It appears the threat didn't work.
According to the arrest report, Keeling was traveling eastbound on State Road 60 – near 66th Avenue – at 12:40 a.m. Sunday when Sheriff's Deputy Chris Luther clocked him at 69 mph in a 45-mph zone and stopped him for speeding.
Luther wrote that he could "immediately smell a strong odor of an alcoholic beverage emitting from within the interior of the vehicle." He stated he also saw a bottle of beer "with condensation on the outside" in the center-console cup holder, as well as two unopened bottles of beer on the passenger seat.
There were also two more beers on ice in a cooler on the passenger-side floorboard, the report said, as well as "several other opened and unopened bottles of beer" on the front and rear floorboards on the passenger side of the car.
After Keeling consented to and failed a roadside sobriety test, Luther arrested him for DUI and took him to jail, the report stated. There, Keeling refused to take a breathalyzer test.