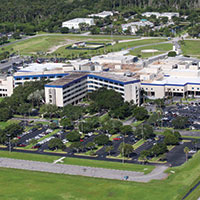 Hospital District trustee resigns over terms of agreement
STORY BY MEG LAUGHLIN

The battles between Indian River Medical Center and the Hospital District over indigent care funding may be over for the moment, but a district trustee resigned last week expressing unhappiness with where things now stand.
Jim Seaton, a retired hospital executive from Polk County who moved to Vero Beach in 2012, stepped down less than six months after replacing Burton Lee as a Hospital District trustee in January.
"The new Indigent Care Agreement is full of weaknesses that greatly concern me because we have tremendous responsibility as holders of the hospital lease but limited authority, and I can't in clear conscience continue on the District board," he said in a letter to District chairman Tom Spackman.
In his letter, Seaton cited an appellate court decision from 2000 which said it was up to District trustees as representatives of the taxpayers to decide the amount of taxpayer dollars that go to the hospital. But he said that the District had recently "negotiated away its authority" in the new agreement.
"As a trustee, I agreed to be responsible for how the taxpayers' money is spent, but under the new agreement the authority of the trustees has been wrongly limited," he told Vero Beach 32963. 
Seaton took Lee's seat after Lee, who supported Seaton, resigned for health reasons. Seaton said he wanted to address how the millions in taxpayer dollars the hospital gets from the District are spent: "The hospital is an asset owned by the community which is costing taxpayers a lot of money," he said.
Further, said Seaton, he also became a trustee "to bring more equity to how the different agencies are treated" when it comes to District funding.
The District helps fund indigent health care in the county for eight nonprofits, including Indian River Medical Center. 
The other seven agencies make a case for funding from the District each year and the seven District trustees decide what amount each agency gets.
With the hospital, however, lengthy negotiations have been involved, which Seaton said violated the 2000 court decision and put the other agencies at a disadvantage.