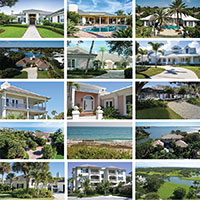 Million dollar sales set record pace
STORY BY STEVEN M. THOMAS

Real estate brokers up and down the island say the season just ended was the best ever, and nothing better  illustrates the strength of the market than the number of homes sold for $1 million or more so far this year.
The Vero market is tiny in terms of population and number of homes but it consistently rivals and often surpasses Palm Beach, Beverly Hills, Malibu and the top ZIP codes in Naples and Sarasota in the number of $1-million-and-up homes listed for sale.
By late June more than 125 homes priced above a million dollars had changed hands in the 32963 area. Another 30 or so million-and-up properties were under contract, either pending or contingent.
John's Island Real Estate led the trend with more than 100 transaction sides in less than six months on the sale of 56 million-dollar properties in the island's signature community, almost as many million-dollar sales as the company had in all of 2014.
The 56 John's Island sales include 30 homes priced between $1 million and $2 million, 10 priced between $2 million and $3 million, 12 between $3 million and $5 million and 4 that closed for more than $5 million.
"Sales in 2014 were right back at the level we saw during the boom," says John's Island broker Bob Gibb. "It was the second best year we have had. If we can sustain the pace, 2015 will set a new record and be our best year ever. Inventory is a lot lighter and there is such urgency that as soon as we list a home, it sells."
Partners Cindy O'Dare and Clark French, broker associates at Premier Estate Properties, are enjoying a record year of their own.
"This is the best year I have ever had," says O'Dare, who has sold real estate for decades.
French/O'Dare sales in 2015 included listing the Beachlen Development home known as Splendida Dimora that was auctioned for $9.8 million in March, listing and selling Sandy Lane, a Beachlen Development sister property that closed for $9.3 million in May, and selling 5 townhomes priced at more than $2 million each at the East End development in Central Beach, along with numerous other multimillion properties.
O'Dare says interest stirred up by the auction of Splendida Dimora is one reason high-dollar sales have been so strong. Promoted and conducted by Concierge Auctions, the sale was advertised nationwide and internationally and attracted more than 400 inquiries from the kind of people who have millions to spend on a second or third home.
"We are still selling properties to buyers who found out about Vero because of the auction," O'Dare says.
Over the past two years, French and O'Dare have sold more than $250 million worth of homes priced at $1 million or more on the island.
Dale Sorensen Real Estate has had a powerhouse year in the $1-million- and-up category as well, led by broker Matilde Sorensen, who sells many of the most expensive homes on the island. Over the past two years, the company has had the most million-and-up transaction sides of any company outside of John's Island, listing or selling 112 properties worth $214 million.
"It was a positive season, as to both the number of sales transactions and sales prices," says Matilde Sorensen. "Buyers are plentiful and properties are scarce, the lack of inventory is causing prices to rise ... I am very grateful for the wonderful people I have had the opportunity to work with and a fabulous support staff that has made all possible."
Windsor Properties, Orchid Island Real Estate, Norris & Company, Treasure Coast Sotheby's, Alex MacWilliam and The Moorings Realty Sales Company are other Island agencies that sell significant numbers of homes valued at $1 million or more.
"It has been an incredible season for us, way up over last year," says Gena Grove, co-owner of Norris & Company. "We are gaining market share, and we could not be more pleased."
"We have had a great season," says Moorings broker Marsha Sherry. "I think a series of bad winters up north has had a lot to do with it, and those baby boomers we have been waiting for are finally starting to retire. As markets have improved up north, they have been able to sell their homes there and buy here.
"I also think that Vero continues to be discovered. More and more people are finding out about the wonderful lifestyle here, especially at the Moorings Yacht and Country Club!"
O'Dare and Gibb both cite high taxes in California and New York as important factors causing wealthy people to sell homes in those states and buy in Vero where they can get much more for their money and taxes are much lower.
"I think tax advisors are telling people to sell their primary residence and set up domiciles in more tax-friendly states," agrees Sally Daley, owner of Daley and Company Real Estate, who calls the season we are coming out of "extraordinary."
"I have never seen anything like this in 12 years in the business," she says of the market so far in 2015. "We have listed properties and had three offers within 72 hours. An agent in my office was trying to get a house in Castaway Cove for a client recently and there were 10 offers on the property!"
Despite the volume of sales and number of high-end properties sold, island brokers do not think the market is in "bubble territory."
"I think we are in a very healthy market with a long period of steady growth ahead of us," says O'Dare.
"My gut feeling is, it is not a bubble," says Sherry. "We have had slow, steady price increases and we are seeing most sales go to end users, not speculators buying properties with the idea of flipping them."
"I think we are seeing a legitimate increase in value," says Grove. "Our little community has grown beautifully and we have a lot to offer. Vero Beach has been discovered!" 
The only cloud on the horizon for realtors is a lack of high-end inventory, which, if it persists, could start to cut into sales volume.
 "Our inventory in the $1 million-plus price range is down approximately 15 percent [since last year at this time]," says Sorensen. "My advice to buyers is to buy now before the season as the inventory is not increasing and there will be less to choose from at higher prices.  Likewise, sellers should not wait to list until the traditional 'season' starts. 
"Because of the low inventory, serious buyers are actively looking now and it is best to list while there is less competition. Properties are selling closer to their asking price."
The hope is that with prices rising and homes selling briskly more buyers will emerge and put their oceanfront and riverfront homes on the market, restocking the high-end island inventory and allowing the real estate business to maintain its positive momentum.
"We need listings!" says O'Dare.