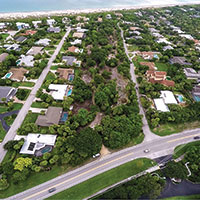 New street of luxury homes set for South Beach
STORY BY STEVEN M. THOMAS

Construction is slated to begin in December on a new luxury home subdivision just south of Castaway Cove and The Dunes that will bring some much-needed inventory to the island market in 2016.
Exotic vegetation is being removed and one of the planned homes has already been sold at the 5.3-acre site that stretches from A1A to the Atlantic Ocean, according to project developer Dolf Kahle.
The single-street subdivision, which will be known as Sandy Lane (there is a story behind the name), will include eight Windsor-style homes and one on the oceanfront. The homes not on the ocean will range in size from 2,900 square feet to 4,200 square feet and be priced between $1,695,000 and $2,195,000.
"That is the price for a turnkey home, including the pool and all the landscaping," says Kahle, a broker associate at Premier Estate Properties and former board member at St. Edward's whose family has been developing property in Vero Beach for two decades.
Moulton Layne is the project architect, responsible for the overall community site plan and the design of the individual homes. Vic Lombardi of Water's Edge Development will be the builder.
"My elevator speech about the project is that it is Windsor meets Gracewood Lane," says Kahle.
Gracewood Lane is another single-street subdivision half a mile further south where both Kahle and Lombardi live. It was developed 18 years ago by Kahle's family and serves as a model for what he has in mind at Sandy Lane.
Windsor, of course, is the renowned north island community known for its West Indies-style architecture, where Moulton Layne has designed a number of homes.
Kahle believes the quality and consistency of the architecture on Sandy Lane will be a major selling point.
Lombardi and Premier Estate Properties broker associate Clark French agree.
"Not knowing what your neighbor's house will look like or how long it will be before it's built or how long construction will take is an inhibiting factor for buyers," says French, who with his partner Cindy O'Dare will co-list the new homes along with Kahle.
"We eliminate that. As soon as Dolf has the permits, homes will be coming out of the ground and buyers will feel confident in knowing that their neighbors' homes will be designed by the same architect as theirs. The whole neighborhood will be new, and buyers will know how the entire street is going to play out."
"That kind of consistency adds value in every way," says Lombardi, who expects to be building two spec homes and the oceanfront house, which is under contract, by the end of the year. His company is known for fine craftsmanship and timely project completion. Water's Edge built the East End townhomes in central beach last year and will be building the Surf Club townhomes north of Jaycee Park when those go up in the near future.
The property where Sandy Lane will be built was a single-family horse property until 2004. After being damaged by hurricanes Frances and Jeanne, two homes and two barns on the property sat empty for years, sometimes used as illicit party spots by island teenagers.
In what turned out to be a smart gamble, William "Bill" Becker, president of Peace River Citrus, bought the vacant property for $2,625,000 in 2010, in the trough of the real estate recession. In December 2014, he sold the land to Kahle for $3.9 million, netting a $1,275,000 profit, less carrying costs, in four years.
The houses and barns have been demolished and much of the non-native vegetation removed. Kahle says he plans to save all of the native trees, moving them to accommodate the site plan when necessary.
He expects to have permits and be putting in the road and infrastructure in October, with the first home foundations poured before Christmas.
As on Gracewood Lane, houses will all be on the south side of the street and there will be a 25-foot deep landscape barrier on each side of the property that will buffer the neighborhood from adjacent streets.
"It will have a very private feel," says Kahle. "We have also developed a rhythm – alternating where the driveways are. The garages are detached and set to the back of the house in that carriage house style. Buyers can have guest quarters above their garage if they want, but they don't have to. By aligning the driveways we have allowed for more open space between the houses in the back where the pools and courtyards are."
The concrete block homes will have open, innovative floor plans and high-end finishes encased in traditional Anglo-Caribbean architecture. Features will include icynene insulation, mahogany entry doors, high-tech security systems, elaborate hardwood millwork, stone or hardwood floors in public areas and kitchens equipped with Subzero, Wolf and Bosch appliances.
Two-car garages, swimming pools and extensive landscaping with automatic sprinkler systems will also be part of the builder package. All of the homes will have deeded beach access.
Kahle says he chose Moulton Layne to do the community plan and architecture because he had "the best professional experience I have ever had" when the firm designed his Gracewood Lane home 10 years ago.
"Our vision for Sandy Lane reflects a lifestyle of comfort and privacy combined with a sense of community," says David Moulton. "We are very excited and grateful to have had input on the entire project as well as the architecture. Sandy Lane is truly a unique opportunity on Vero's barrier island."
Kahle says the subdivision's name has three connotations.
"It is meant to evoke the idea of a sandy pathway to the beach. At the same time, it refers to the luxury resort in Barbados with the same name, which is a place a lot of people on the island know that has similar architecture."
The third inspiration?
"Sandy is my mother's name," Kahle says.
French is excited about the sales prospects for the project. "We have an absolute dearth of new oceanside inventory on the island, so besides being a very special project with a great team behind it, it comes a very good time. We think it will be well-received."