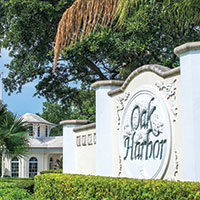 Oak Harbor looking to mount comeback
STORY BY STEVEN M. THOMAS

When Oak Harbor opened in 1996, the developer's aim was for it to be the retirement community of choice for well-to-do Island residents downsizing from large homes in John's Island, The Moorings and other beachside enclaves.
It got off to great start with large single-family homes selling briskly for as much as $760,000 to people attracted by the country club ambiance and healthcare amenities. 
The community was hit hard by the real estate recession, though, with some homes losing half their value, and other rival retirement communities came along to compete for the island clientele.
"When I started to focus on it in 2010, there were a lot homes for sale and property was moving very slowly," says Jim Knapp of Alex MacWilliam, Inc., who has become the dominant agent in the community, with a hand in 75 percent of Oak Harbor sales in 2014. "Property was selling at a substantial discount and no one was really working to add value and get prices back up."
Despite the body blow delivered by the housing crash, the community was never distressed, but it lost enough luster that owner Carl Icahn put it up for sale.
Los Angeles-based Dylan Investment Properties snapped it up.
 "We felt like there was a lot of money left on the table," says Dylan Investment acquisition manager James Stevens. "There is good development potential we think will add value."
With 201 condo units, golf cottages and estate homes already built, there are only 32 building lots left in the community, but Stevens plans to double the size of Somerset House, Oak Harbor's assisted living facility, add memory care services and possibly build a skilled nursing establishment.
He is adding new membership levels, too, including an attractive dining membership debuting this fall that will be open to people who do not live in Oak Harbor.
With an elegant dining room reminiscent of a classic four-star hotel and a culinary team led by Chef Dean Evans, three-time winner of Vero's Top Chef Competition, the eating club concept is likely to prove popular.
The cost is reasonable, too, with a $2,400 initiation fee and $200 a month in dues.
"That includes associated social activities and entertainment and use of the private dining room," says club general manager Arthur Spilios, who has been at Oak Harbor for 16 years.
A small family company with experience acquiring and upgrading medical office buildings and nursing homes, Dylan Investment is actively expanding its portfolio in Sunbelt states attractive to retirees.
"We look for a strong demographic with higher income, and Vero Beach fit that profile," says Stevens, who wants Oak Harbor to again be the preferred retirement community for island residents.
"We plan to make Oak Harbor another thing about Vero Beach that people will brag about. It will be a beautiful place they can come and be comfortable for life, with a continuum of care."
He has a strong base to build on, with what Oak Harbor already offers. Besides the upscale, 42,000-square-foot clubhouse with lecture rooms, library, fitness rooms, swimming pool, cocktail lounge and several dining venues, the club has a 9-hole golf course, where members can play unlimited rounds and pay no cart or greens fees. There is tennis, croquet and bocce as well.
Residents get free transportation in and around Vero Beach and have a registered nurse on call 24 house a day who can be summoned by the push of a button when needed.
Because of the club's small size, there is an intimacy Spilios says is very attractive to members. "It may sound like a cliché, but when a member walks into the cocktail lounge before dinner, their drink is waiting, because the bartender knows who they are and what they drink. Same thing with our valets. The car is there before the member takes out the ticket."
Knapp says the change in ownership is a great thing for Oak Harbor. "It is very exciting. The community is now moving forward again with an outstanding developer interested in upgrading and extending the community.
"Property values are up sharply. The three-bedroom condos are selling this year for 100 percent more than last year, and I recently exceeded the $600,000 threshold on a home sale. Golf cottages that were selling for $175,000 to $200,000 are now selling for $250,000 or more."
"We think there is a lot of potential to add value to the community," says Stevens, whose company plans to own Oak Harbor long-term, not just improve and resell it.
"We could hold this for 20 years," he says.
Alex MacWilliam is representing the developer in the sale of lots and new homes that will be built at Oak Harbor. Stevens and Knapp both say they expect new construction within 12 months, but all the development details have not been decided on.
"We will probably be offering a design/build package," says Stevens. "Though if someone wants to buy a lot and build a home, we are open to that."