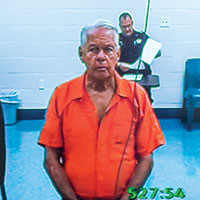 Sexual battery case pits legal legends versus Vero Beach Police Department
STORY BY LISA ZAHNER

Attorney Charles Sullivan Sr.'s defense team has tried to cast aspersions on the Vero Beach Police Department's investigation which led to the felony sexual battery charge against the 82-year-old, but Police Chief David Currey says the case was handled strictly by the book.
"I've never seen a case move this rapidly and this reckless," said attorney Andy Metcalf, who has taken on many high-profile Vero criminal defenses solo, but who this time around is working second chair to former State Attorney Bob Stone.
"How fast this happened, it (the investigation) couldn't have been thorough and based upon what we know already, it wasn't thorough," Metcalf said.  "There was a rush.  Based upon what I've seen so far, it was very cursory at best."
"He's had a, really, an ongoing dispute, or a dislike with the Vero Beach Police Department, because he's tried many cases against them and he's been very successful in doing that. We don't know all the reasons why we're here, but we're gonna find out," Stone added.
 Currey said he not only stands behind the investigation, but also by the detectives who handled the victim's complaint that she suffered months of unwanted sexual advances culminating in the June 12 assault that led her and her husband into the police station lobby on June 19.
Police obtained a probable cause warrant six days later on June 25. After, police said, initial attempts to serve the warrant were unsuccessful, Sullivan turned himself in to the Indian River County Sheriff's Office on June 25. He posted $25,000 bond and was released Friday morning.
Currey said of the officers involved in the investigation, "I'm proud of our people and the work they do."
With regard to defense attorney Stone's vague yet ominous-sounding allegation that Sullivan has had "an ongoing dispute or dislike with the Vero Beach Police Department," and that he "tried many cases against them," Currey denied any connection between Sullivan's past defense of people charged with crimes by Vero Beach police and the handling of a complaint that literally walked in the door.
Currey has served on the Vero Police Department for 26 years and worked as former Chief Don Dappen's deputy and as a detective. When asked if he was aware of some long-standing dispute with Sullivan, Currey said, "Not to my knowledge. If they want to get into something like that, they need to give specifics."
Still, Stone and Metcalf seem bent on blaming police, and also on discrediting the alleged victim not only by basically saying she lied about what happened, but also by alluding to money as a possible motive for the accusations.
When asked by a TV reporter what the alleged victim's "motive" might be to fabricate a sexual assault, in detail, Stone responded: "Motive's always hard to determine. That's something she'd be best to answer – not me. Mr. Sullivan has amassed quite a bit of wealth in his practice. I'm not saying that's the motive, but that's something you can consider."
Metcalf and Stone also touted their client's distinguished legal career and exalted status as a "pillar of the community," as Metcalf called Sullivan Sr.
Stone says he and Metcalf are conducting their own investigation of the case – a probe they  predict will clear Sullivan, while revealing deficiencies, or worse, in the police work. The problem, Stone said, is that "somebody else has been doing the investigation, and we haven't had any opportunity at all. From here on out, we're going to aggressively investigate this case.
"There's some very serious charges against Mr. Sullivan, which he categorically denies," said Stone, who held the press conference at the Vero Beach offices of Stone and Stone on Friday. "Based upon what we know, he's right in denying the charges."
Although in later years the elder Sullivan's law practice branched out into other specialties, Stone said in the early days of his practice in the 1970s and '80s, Sullivan was widely known for being a formidable criminal defense lawyer who represented clients as far away as Miami and Jacksonville.
While Sullivan was helping some notorious defendants walk free, Stone was, ironically, heading up the Governor's Commission on Organized Crime and demanding more resources to fight Florida's drug, prostitution and money-laundering industry.
But unlike the Vero of 30 or 40 years ago, the cast of characters this time around – at least on the law enforcement side – does not read like a colorful Good Ol' Boys yarn.
Most of today's officers at the Vero Beach police department were either not born yet or in grade school when the octogenarian Sullivan enjoyed his famous winning streak of defending accused drug dealers and others. Currey, barely 50 years old himself, was a teen-ager living ten states away back then.
Currey grew up in Baltimore and New Jersey and came to Vero in 1989 after graduating from Stockton State College and serving seven months in the New Jersey Air National Guard.
Lt. Matt Harrelson, who heads up the Detective Division that investigated Sullivan and brought the charges to the State Attorney, is also not a home-grown Vero boy. The 41-year-old with 20 years on the job was born and raised in Louisiana and came to Vero after graduating from Harding University in Arkansas, relocating when his father, an ordained minister in the Church of Christ, got a pastoral assignment in the area.
Currey truly doubts his officers, particularly 30- and 40-somethings who make up the Detective Division, could even remember the big or contentious cases Sullivan tried in his heyday. And even if they had heard the lore, the idea that Sullivan was somehow targeted by the Vero Police Department because of a decades-old, still-festering grudge, he said, is simply not accurate.
"We investigated this case in the same manner as we would any other case," Currey said. "We turned it over to the State Attorney. We took it to a judge to obtain a warrant. The judge reviewed it and signed off on that warrant. And you have to remember we have a victim to think of. We'll just keep taking the high road and doing the right thing like we always do."
Prosecution of Sullivan's case has been moved from Vero's 19th Circuit to the 18th Circuit which covers Brevard and Seminole counties. The switch took place in response to a request by State Attorney Bruce Colton to Gov. Scott citing potential conflicts of interest. The victim is a former employee of the State Attorney's Office.
Stone said this does not necessarily mean the case will physically be tried in a Brevard courtroom. Instead, prosecutors could be imported to prosecute it in Indian River County. That assumes Sullivan could find a judge in Vero who doesn't also have a conflict.
When asked about the move to the 18th Circuit, Stone said he would have been equally fine with it staying in the 19th Circuit.  "I don't care who prosecutes this case.  They can bring in Marsha Clark."
Stone's professional connections reach well into Brevard County, as he joined a powerhouse Cocoa Beach law firm after resigning as State Attorney in 1985.
Both Stone and Sullivan are held in high regard in the Vero Beach legal community for their courtroom prowess.
An Oct. 9, 1985, Palm Beach Post article pointed out how far back their relationship goes.
When Colton was named to succeed Stone as State Attorney, reporter Pat Plarski wrote:  "Colton said he does not intend to be as controversial as Stone, who twice has been the subject of FBI investigations ..." One of the investigations, Plarski reported, was "for allegedly fixing cases for clients of his friend, Vero Beach lawyer Charles Sullivan."  Plarski went on to say Stone was cleared in both instances.
Now Sullivan, 82, and Stone, who's pushing 80 – both sporting full heads of white hair and a combined century or so of legal experience – prepare to wage war against the Vero Beach Police Department and against a middle-aged female secretary to clear Sullivan's name.
Sullivan's arraignment is set for Aug. 10, before Judge Robert Pegg, but that schedule may change as a new prosecutor assumes the case.