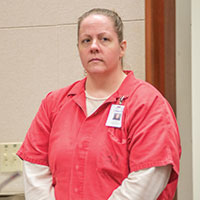 Trial of home nursing aide Albrecht in death of elderly patient now underway
STORY BY MEG LAUGHLIN

Jury selection went "better than expected," according to Judge Robert L. Pegg, at the opening of the manslaughter trial of Gina Albrecht, the home health aide accused of causing the death, by neglect, of an elderly Indian River Shores resident left in her care.
At the end of the first day of the trial on Monday, 42 prospective jurors out of 78 questioned were told to return for more questioning to determine their suitability for the jury. Indications were that the trial would be fully underway by the middle of the week.
Pegg had repeated to every single prospective juror what the case was about as they entered and left the courtroom, one after another.
"The state contends that Gina Albrecht was a home healthcare aide or caregiver to George May and neglected him to the extent that he actually died. The defense, of course, hotly contests this," Pegg patiently repeated 78 times, adding that the state also alleges that Albrecht used the identity of May's deceased wife to write checks in her name.
All told, Albrecht faces nine felony counts: one for manslaughter of an elderly or disabled adult, four for criminal use of an ID and four for forgery. 
Of the 36 prospective jurors excused on the opening day, 12 were dismissed because they said they had read about the case in Vero Beach 32963 or Vero News and didn't know if they could be impartial. Two more said they had seen a report on TV. Ten said they had work conflicts that made it impossible to serve on a jury for two weeks, which is the expected time the trial will run.
Five said they had already made extensive vacation plans; three had family problems, while three more had health problems themselves. And, finally, one prospective juror said she worked for a home healthcare agency and was friends with a witness.
Pegg introduced prospective jurors to assistant state attorneys Lev Evans and David Dodd and to Bobby Guttridge, Albrecht's defense attorney, as well as to Albrecht herself, who smiled sweetly at each juror, even waving at some.
But when Pegg described the manslaughter, criminal use of an ID and forgery charges against her, she looked away with a decided frown, even slightly shaking her head "no" a few times.
On Monday, of the 42 prospective jurors selected to return, 21 said they knew nothing about the case, while 12 said they had read about it in Vero Beach 32963 or Vero News but would decide solely based upon the evidence presented in court.
Four said they had heard talk about it among friends and family, and two said they had seen a report about it on TV, but that they had formed no preconceived conclusions. Two said they had health problems that they believed they could work around, and one said he had seen Gina several times in the medical supply store where he works.
After the 42 were selected to return, the prosecutors told Pegg they wanted to show a CAT scan and MRI of May's brain showing dementia in their opening argument, as well as Albrecht's certificate of attendance in a class about the vulnerability of those with dementia, which, they alleged, "taught Gina Albrecht how to do the crime."
Further, they said they would present information on how Albrecht hid her personal and business relationship with May because she knew it was not allowed with patients. And, they would also present a $500 check written by George May to Albrecht for an "essential massage," which they said would show how "she seduced him to drain his money."
Also, prosecutors said they would present business records from May's bank account, asset summaries, IRA and credit card depletion information, May's last will deeding his home to Albrecht, life insurance changes in her favor, and photos.
These include one of May's van entering the gate at his home in Marbrisa after Albrecht took the van, but told police she had quit going to the house and could not have known that he was dying of dehydration and starvation.
Also, they said they would show photos of May's possessions in Albrecht's home.  
Pegg told the prosecutors to describe the information in their opening argument but to show it when they submitted it as evidence during the trial and possibly refer back to it at closing. 
While Pegg and the attorneys talked about how the trial would proceed, Gina Albrecht, appearing strikingly calm, doodled on a pad.