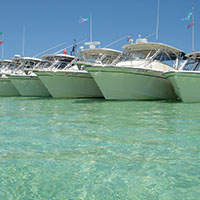 Vero's Grady Bunch having a great time on trip to Bahamas
STORY BY RAY MCNULTY

The plan was simple enough.  Get past customers out on the water more often. Show them how much fun they could have on their Grady-White boats. Make sure they enjoy themselves so much that they tell their friends, who then become new customers.
That was Bruce MacIntyre's thinking back in 1988, when the Vero Marine Center owner created the "Grady Bunch" and began organizing cruises to destinations as far away as the Florida Keys, St. Augustine and the Bahamas, as well as day trips to area beaches and local waterfront eateries.
Little did he know then that this group, which he started as a way to promote his business, would somehow form a family that would grow to more than 50 such clubs across the country – all operating under the Grady-White banner – and spread to Canada, Puerto Rico, Central America and other places where the company has dealerships.
Now, there's even an annual "Grady Fest," sponsored by Grady-White and held at different U.S. locations.
"The Grady Bunch," said Brian Cunningham, MacIntyre's business sidekick for 25 years and one of his closest friends, "is one of Bruce's crowning achievements."
MacIntyre died last November at age 78, but the "Bunch" cruises on with Cunningham having taken the helm of the local club, which he said has more than 200 card-carrying members – not all are still active boaters – who pay annual dues of $50.
This week, in fact, the Vero-based group is back in the Bahamas, where 44 fun-seekers on 11 boats are enjoying the last monthly trip of the club's cruising season.
"The Bahamas trip is our grand finale," said Cunningham, co-owner of the Vero Marine Center. "We try to vary the trip each year, and this time we're doing something we've done only twice before."
They're splitting up.
With Cunningham in the lead, the "Bunch" left the Vero Beach last Thursday morning, headed out to sea through the St. Lucie Inlet – one twin-engine, Grady-White boat following the other across the Atlantic at 30 mph – and arrived in West End three hours later.
After stopping for the night, the conga line of boats proceeded to the Abacos, where the group spent three days on Man-O-War Cay and three days on Elbow Cay. From there, four of the boats were to head back to Green Turtle Cay, while seven boats cruised on to the Exumas and Berry Islands, with overnight stays planned for Highbourne Cay, Staniel Cay and Chub Cay.
The boaters then are scheduled to reunite at Port Lucaya on Grand Bahama Island for one final night before embarking on their trip home next Wednesday (July 22).
"My boat loves to go southeast," Cunningham said the night before the group's departure. "It's not as much fun going west."
The boaters on the current Bahamas trip were somewhat unusual: There were no first-timers.
"I can't remember the last time that happened," Cunningham said. "Normally, we have at least one. But we'll have some first-time passengers on the boats. We've got people ranging in age from 4 to the early 70s. That includes a lot of kids and grandkids."
In the interest of safety, "Bunch" rules require that the boats remain in single-file formation as they make the crossing to the Bahamas. The larger boats usually lead the way.
And if someone gets out of line?
"They hear it," Cunningham said. "Everybody gets on their radios and tells them to get back in line. We have a very good group, and the buddy system is very much in play. Everybody looks out for each other."
Once in the Bahamas, however, group members are on their own.
Some go fishing. Some dive and snorkel. Some sit on the beach or stay around the marinas. Most will go into town and sample the local flavor.
Last Friday, as the Bahamas celebrated its Independence Day, the visitors from Vero gathered for dinner at Man-O-War Cay's Dock & Dine Restaurant, which opened specially for them.
Only on rare occasions has a "Bunch" boat experienced mechanical failure on the trip. When that happens, Cunningham said, another boat will stay with the troubled vessel to make sure no one is left stranded.
Next year's schedule isn't yet set, but once the "Bunch" returns next week from the Bahamas, it won't venture out again as a group until November.
Cunningham said the group welcomes new members – the only way to become one is to buy a Grady-White boat from the Vero Marine Center – just as it did when MacIntyre founded the club 27 years ago.
"He got people out there on their own boats, doing something many of them would not have tried on their own," Cunningham said. "A lot of them have gone on to become very active boaters, all because of Bruce and the Grady Bunch."