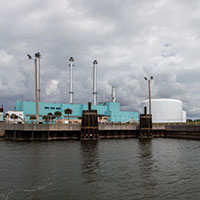 Vero's risky policies bolster Shores electric lawsuit
STORY BY LISA ZAHNER | NEWS ANALYSIS

Two lawsuits – one already filed against Vero Beach, and a new one threatened – topped the list of developments in the Vero electric saga so far in July.
The City of Vero Beach predictably asked Judge Cynthia Cox to dismiss the Town of Indian River Shores' lawsuit, and the Orlando Utilities Commission – less predictably – threatened to sue Vero for its new scheme to buy electricity on the open market.
Those who cringe at the thought of the Vero Beach City Council and its hired consultants speculating in the commodities market briefly hoped the OUC threat might save Vero from itself by quashing the current efforts to exit the OUC contract, pay up to $50 million in penalties and go fishing for deals on bulk power.
But Vero's attorneys responded to OUC on Monday, taking a hard-line approach and asserting the city's right to seek proposals for alternate power supply contracts. In fact, Vero took issue with OUC's letter, alleging that the letter itself might constitute tortious interference in the city's matters.
Bottom line, the city says it cannot be found in breach of its contract with OUC unless and until it ceases to purchase wholesale power from OUC under the current agreement.
But the challenge by OUC could also be seen as further proof that, as the Town of Indian River Shores alleges in its lawsuit, the City of Vero Beach has demonstrated it has no business operating an electric utility.
When the Shores sued Vero, City Manager Jim O'Connor warned his bosses on the City Council that, during active litigation, anything they say going forward could be used against them in court. O'Connor probably should have amended that to include the caveat that anything they do could also be used against them by the Shores' legal team from Holland and Knight.
In a convoluted scheme to ditch the 20-year-long bad deal the Tom White and Sabe Abell-led councils got Vero into, the Dick Winger-led council on June 16 voted to put out a request for proposals for wholesale power to replace that now being provided under contract by OUC until 2029.
That $2 billion contract – a document which council members from 2007 and 2008 can't consistently say with any certainty that they read before approving it – carries with it an exit penalty of up to $50 million.
The contract was then kept sealed from public scrutiny for nearly two years, and finally unveiled about 90 days before its Jan. 1, 2010 effective date. It was only then that ratepayers discovered the punishing escalator clauses and the whopping penalty, which was deemed the "poison pill" that would forever prevent Vero from getting out of the electric business via a sale to FPL.
The fact that FPL was the second-ranked bidder which was not selected by anti-sale Vero staffers and Boston consultants was also shielded from the public from 2007 to the fall of 2009.
By the time the media and the public got the facts, it was too late to reverse the massive mistake.
Fast-forward to last fall. Vero's utilities counsel Robert Scheffel "Schef" Wright – who took over the city's legal representation because the Florida Municipal Power Agency refused to deal with Vero's more adversarial attorneys John Igoe and Rick Miller – began talking to OUC officials about Vero's options.
OUC offered an alternate plan in October that was stacked against Vero and, after Vero Beach 32963 pointed out the many flaws in the deal, Wright was sent back to negotiate better terms.
He brought back a slightly improved scenario in November, and that's where things stood at year end with the new council rounded out by Winger-endorsed Randy Old, who replaced Craig Fletcher after the November election.
Consultant Bill Harrington was brought in as a rate expert and somewhere along the line, Winger's plan for going out to the open market for power began to gather steam. Winger touted his decades of experience as a commodities trader in soybeans, peanuts and rice and said electricity is just another commodity to be traded.
Winger said Vero's rates are high because the power the city buys is so much more costly than what today's market would bear, and argued that Vero cut lower its rates if the utility could just buy wholesale power at something close to the going rate on the open market.
Meanwhile, the Auditor General's report blasted the FMPA for high-risk hedging and speculating in not only the market for natural gas, but also on interest rates. That unwise speculation has resulted in high rates from massive losses passed down to Vero electric customers.
Still, Winger's idea of reducing the high rates caused by FMPA's risky speculation with even more risky speculation by Vero – somewhat akin to trying to cure a hangover with the proverbial hair of the dog – took hold among Winger's loyal followers on the City Council.
Winger even went back on his pledge not to run for re-election so he could see this market-based plan through.
Wright and Harrington, who serve at the pleasure of the City Council, took their marching orders from the Mayor and his flock on the dais. That led to a vote in June to put out an RFP for short-term wholesale power agreements.
Just as the Shores' attorneys prepare to go to trial on claims that Vero has mismanaged its electric utility to the detriment of ratepayers outside the city limits, the July1 cease and desist letter from OUC would seem to bolster the Town of Indian River Shores' case.
"The City should not carelessly proceed forward with its RFP process based on the faulty assumption that the City's liability exposure to OUC is limited to $50,000,000.00 under Section 8.3(f)(iii). OUC reserves its right to seek any and all alternative legal remedies against the City if this matter is not resolved amicably and expeditiously," OUC warned.
Then, in the next paragraph related to "tortious interference," OUC states, "If the City elects to continue on with its RFP process and enters into a replacement contract with another vendor, OUC will also hold the City's replacement vendor liable for the full measure of OUC's damages to the full extent permitted by Florida law. Hence, in the interests of fairness and open government, the City should provide a copy of this letter to all prospective RFP respondents."
OUC Vice President and General Counsel Christopher Browder then made it clear that the letter was no idle threat. "If it is the intent of Vero Beach to go forward with the RFP, then OUC hereby engages the 'Mediation Procedures' outlined in Section 10.2 of the Energy Supply Contract," at which point Browder named three candidates for mediator.
Within thirty (30) days the City "shall, in writing, serve upon [OUC] a notice of acceptance of one of the three mediators provided or offer three alternate mediators for consideration," and OUC reserves its contractual "right to seek a temporary or preliminary injunction from a court of competent jurisdiction prior to the mediation."
The City Council has not had a chance to discuss the OUC letter as a body, as it did not meet on July 7 to accommodate staff vacations. The council is engaged in budget workshops this week, with the next regular council meeting scheduled for 9:30 a.m. Tuesday (July 21).