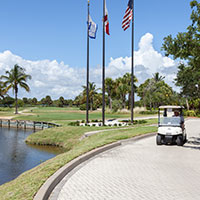 Hawk's Nest sale to Moorings advances
STORY BY RAY MCNULTY (Week of June 4, 2015)

Members of The Moorings Yacht & Country Club have overwhelming approved the acquisition of Hawk's Nest Golf Club and, at a special meeting Monday, authorized their Board of Governors to proceed with the due diligence process in hopes of negotiating a purchase agreement before summer's end.
In an email sent to members after the meeting, Moorings president Joe Vargas announced that 81 percent of the club's membership participated in the vote and 85 percent of the ballots cast were in favor of the acquisition.
"Upon successful completion of the due diligence," Vargas wrote, "we plan to close on September 1, 2015."
The special meeting was held three days after Hawk's Nest members decided to sell their 28-year-old club to The Moorings, rather than to the San Diego-based Heritage Golf Group, in a vote that required only a simple majority.
Sources familiar with the Hawk's Nest vote said 96 percent of the club's 144 members cast ballots. None, though, would disclose The Moorings' margin of victory.
If the deal goes through – and sources say there's no reason to believe it won't – Hawk's Nest members will immediately become members at The Moorings. Whether Hawk's Nest will get seats on The Moorings' board is expected to be discussed during coming negotiations.
"The people who wanted the Heritage Group are disappointed, and some of them have said they'll leave and explore other options," one Hawk's Nest source said, speaking on the condition of anonymity. "But I think that's just a gut reaction to the vote.
"It makes no sense to leave," he added. "You're not going to get your money back, and you'd have to pony up for another club. I'm sure if the vote had gone the other way, the people who wanted The Moorings would be just as unhappy. But the bottom line is: Hawk's Nest members are better off now.
"Remaining an independent club was not a sustainable option."
Sources said Hawk's Nest is carrying debt of slightly more than $2 million and has lost more than 100 members since its pre-recession heyday.  Despite a recent appraisal that placed the value of the 300-acre property at $5.5 million, a downward trend in the golf industry throughout the nation's economic malaise has made stand-alone clubs a dicey proposition.
Stand-alone clubs, such as Hawk's Nest, are struggling to attract and retain younger families, which tend to prefer full-service country clubs, such as The Moorings, which also offers a yacht club, tennis complex, swimming pool, fitness center and spa, as well as the only executive-style layout designed by renowned golf-course architect Pete Dye.
"That's just the way the industry is going," another knowledgeable source said. "A lot of the Hawk's Nest members wanted those other amenities offered by The Moorings."
The Moorings' $2.5 million offer would pay off the debt and provide additional reserves to fund improvements to Hawk's Nest, which opened in October 1987 and has operated as an equity-member-owned club since September 1993.
The offer will be funded by 25 Moorings members – selected via lottery – each putting up $100,000 in exchange for an exemption from all club dues for life.
The Moorings board initially expressed interest in acquiring Hawk's Nest in early April, primarily because it believes a full-length, championship-caliber layout is needed for the club community to remain competitive in appealing to younger executives and retirees less apt to be satisfied with the club's 18-hole, par-64 "short course" that spans only 4,434 yards.
"Hawk's Nest needed to do this, but, really, so did The Moorings," one source said. "Hawk's Nest members wanted the amenities, but The Moorings needed a full-length golf course. If The Moorings didn't get Hawk's Nest, I don't know what their options were.
"This deal adds a lot of value to a membership at The Moorings."
The nationally recognized Heritage Group's bid included a promise to put the Jim Fazio-designed course at Hawk's Nest in the same lofty conversation with Florida's five-star best.
The Moorings' chances of acquiring Hawk's Nest dramatically improved when one of the three groups to submit bids withdrew its offer just days before the golf club's vote began.
Not only did the group – Donald Gervais and Ronald Rossi, both members of the Hawk's Nest board, and fellow member David Smith – back out of the bidding, but it also threw its support behind The Moorings.  All three are also Moorings members.