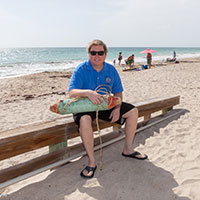 Island surgeon gets rare honor from Swimming Hall of Fame
STORY BY RAY MCNULTY (Week of June 18, 2015)

For eight summers, starting when he was only 16 years old, Vero Beach orthopedic surgeon Peter Wernicki worked as a lifeguard on the busy beaches at the New Jersey shore.
"I grew up at the beach," he said. "So to get paid to be there every day, I couldn't have a better job."
Little did he know then, however, how much those summers in the sand would shape his life – a life that, 40 years later, has earned the recognition of the International Swimming Hall of Fame.
On Friday night, at a black-tie affair in Santa Clara, CA, Wernicke will receive the Hall of Fame's 2015 Paragon Award for his global leadership in aquatic medicine, water safety and drowning prevention.
The award is presented annually to one person worldwide for his or her contributions to advance water safety. Last year, it went to Bob Burnside, the former Los Angeles County lifeguard who became the first president of the United States Lifesaving Association in 1964 and developed the then-revolutionary "Burnside Rescue Can," the red plastic buoy now considered standard equipment for beach lifeguards.
"It's the highest award I've received," Wernicki said. "It validates all the time and effort I've devoted to water safety."
In some ways, his longtime leadership roles with the American Red Cross, USLA, International Lifesaving Association (ILS) and 30 years of work to improve water safety in general has been a second career.
The American Red Cross, in fact, has described Wernicki's tireless efforts to reduce drownings as "exceptional contributions towards saving lives."
He currently serves as:
• Aquatics Chair of the American Red Cross Scientific Advisory Council, which researches, analyzes and presents evidence-based studies and data used to update the organization's health and safety programs.
• Medical Advisor and Executive Board member of the USLA – the association of professional, open-water lifeguards in the U.S. – helping to write the USLA textbook and develop the national lifeguard certification program. He also has served as the on-site physician for the USLA's National Championships and as the U.S. team physician at numerous international competitions, including the Goodwill Games.
• Chairman of the ILS Medical Committee, presenting at and helping organize each of the federation's bi-annual Drowning Prevention Conferences held around the world since 1997. He was chosen to be the keynote speaker at the 2011 conference in Vietnam. He also serves on the ILS's Rescue and Anti-Doping Commissions.
"I've devoted a lot of time to this over the past 30 years, but I don't have kids, I don't play golf and I don't have a boat," said Wernicki, 56, who lives in the island's Seaview community and has been chosen by his medical peers as a "Top Physician" in Orthopedic Surgery every year since 2004.
"My wife and I like to travel, so we try to combine our travels with these different meetings and conferences," he added. "I loved lifeguarding and I enjoy medicine. This is where they come together. I get to do what I enjoy and, at the same time, give something back."
In addition to serving in various leadership positions – even in his youth, he became a lifeguard instructor and competed in ocean lifeguard events – Wernicki has been published extensively in scientific journals and has authored numerous chapters in Red Cross and USLA manuals, as well as the World Handbook on Drowning.
He has been interviewed often and quoted on water safety on national TV, on radio and in publications such as Men's Health, RedBook, the New York Times and Washington Post. He appears frequently on the Weather Channel.
"It's mostly around the warm-weather holidays – Memorial Day, Fourth of July, Labor Day – and they'll ask me about how to be safe at the beach, at the lake or around the pool," Wernicki said. "I'll talk about rip currents, the effect of weather conditions, just public safety stuff."
As far as he's concerned, every little bit helps, especially with drownings being the second-leading cause of accidental deaths among children in the U.S. And there is danger close to home.
In conjunction with the 100th anniversary of its water safety program, the American Red Cross last year identified the 50 U.S. cities in 19 states with the highest drowning rates and embarked on a campaign to reduce the number of drownings in those communities by 50 percent.
Gifford was on the list, which wasn't surprising: According to a Red Cross survey, only 69 percent of blacks said they could swim, compared with 84 percent of whites.
"Statistics show that there are a lot of non-swimmers in the African-American and Hispanic communities," Wernicki said. "They're just not as exposed to the water as white people, and the Red Cross wants to do something about it.
"We've made a lot of progress in drowning prevention the past 100 years, but there are still too many kids who drown in a backyard pool," he added. "There's still a lot of work to be done."
And Wernicki plans to continue doing it.
He hasn't been a certified lifeguard in many years, but he still swims in the ocean every chance he gets. He likes to surf and has begun cruising on a stand-up paddle board. Oh, and he still keeps one of those red buoys handy – just in case.
Most of his non-orthopedic efforts, though, remain focused on the bigger picture of the science of water safety and drowning prevention, whether it's through writing, researching or overseeing the latest projects.
"This is my donation to history," Wernicki said. "I've always loved the water, and I believe that, in some small way, I'm helping to save lives by advancing the science of water safety."