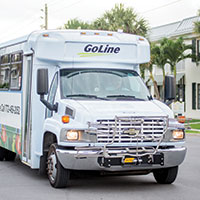 Shuttle for workers hopefully will end Ocean Drive parking problems
STORY BY MEG LAUGHLIN (Week of June 4, 2015)

The escalating war between Ocean Drive merchants and Central Beach hotel and restaurant workers who occupy most of the parking spaces in front of their shops may be about to end with a $40,000 peace offering from the Heaton Companies.
The Heaton Companies, it was learned, recently put up the entire local contribution needed to launch a GoLine shuttle that will ferry Central Beach employees between a parking area in Riverside Park and their jobs seven days a week.
The free "Beachside Circulator," scheduled to begin service July 1 after County Commission approval, will run from 6 a.m. to 6 p.m. daily circling from a parking area in Riverside Park to Jaycee Park, then south along Ocean Drive to Flamevine Lane, and finally back to Riverside.
The shuttle, which will cost $160,000 a year to operate, is mostly funded by the Florida Department of Transportation, with the stipulation that 25 percent of the money for the first year – $40,000 – had to be provided by private business, said GoLine administrator Karen Diegl.
Heaton Companies – developer of the Vero Beach Hotel & Spa, Cobalt, Heaton's Reef, Old Oak Lane, and Tarpon Flats on north Hutchinson Island – decided to put up the entire $40,000 after hotel general manager Duncan Clements approached George Heaton, according to Heaton's director of marketing Kym Kuharski.
According to Kuharski, Clements thought it would be a good move to provide the money needed to improve the relationship between Central Beach merchants and the hotel, whose employees were using parking spots retailers wanted for their customers.
"We're very excited that we can help solve the parking problem on the beach," said Kuharski.
"The agreement is a wonderful public-private partnership," said Deigl.
The agreement provides that in exchange for the $40,000, the bus will be wrapped in a graphic advertisement "selected by Vero Beach Hotel.
To start, a 16-foot GoLine shuttle, which holds 12 sitting passengers and five standing, will circle the route, along with a 31-foot shuttle, which holds 24 sitting passengers and nine standing. With both buses running, passengers at the four to six stops along Route 16 can catch a bus every 15 minutes.
The agreement states that one of the stops must be at Vero Beach Hotel & Spa. The other stops are expected to be at Jaycee Park, near the Holiday Inn, near Costa d'Este Hotel, and on Cardinal Drive. 
Deigl said if the Beachside Circulator is as big a success as expected, a larger trolley bus will replace the two smaller vehicles next year.
"We're so thankful Vero Beach Hotel stepped up and made this possible," she said.