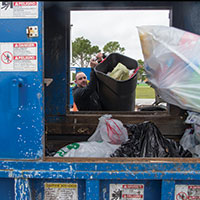 County weighs extending trash pickup at curb
STORY BY LISA ZAHNER (Week of March 12, 2015)

Barrier island residents, upon hearing that the County Commission is set to vote March 18 on whether to extend mandatory refuse collection to all of Indian River County, may well say, "Why should I care? I already have curbside pickup."
But in addition to paying roughly $15 per month for their curbside pickup, island residents – as well as mainland residents who live in planned and gated communities – pay an $80 a year solid waste assessment to subsidize five "convenience centers" for country residents who choose to drop their rubbish off at no cost.
Staffing and operating these convenience centers costs an estimated $2.25 million annually.
Recovering the cost of operating the convenience centers from residents who prefer "free" trash disposal to paying for refuse pickup would require user fees of $8 and $10 per visit, according to county staff.  Chances of the country imposing charges that high seem highly unlikely.
Imposing mandatory refuse collection for residential customers and closing the drop-off centers would appear to be the fiscally and environmentally prudent thing for the County Commission to do, but political pressure to keep the centers open is massive, and relentless.
Anytime the solid waste staff proposes closing even one of the facilities, the people who load their trash into a vehicle and drive it to the drop-off centers show up at meetings in force and plead to keep the centers open. They jam the county's phone lines and flood commissioners' email in-boxes with correspondence.
Absent any pressure from taxpayers largely unaware that they're underwriting these "free" convenience centers, commissioners cave in to the will of the constituents in the room and postpone the inevitable.
This time, however, the county has a daunting recycling mandate looming over its head, and that $2.25 million a year would go a long way to revamping the way Indian River County handles solid waste.
The U.S. Environmental Protection Agency has instructed the Florida Department of Environmental Protection to enforce a mandate on Florida counties to recycle at least 75 percent of their solid waste stream by 2020. Indian River County currently recycles roughly half that, or 38 percent.
The county already missed an interim goal of 50 percent in 2014, and a plan is due this summer explaining to state officials how Indian River will comply with the 75 percent goal over the next five years.
Utilities Director Vincent Burke put the challenge out to waste haulers this winter to come up with some innovative solutions when they bid on a seven-year contract on the county's business, as the current franchise agreements with Waste Management and Republic Services (Treasure Coast Refuse) expire on Sept. 30.
"For the first time in its history, Indian River County has gone out to solicit competitive bids for these services," Burke said. New players like WastePro have been aggressively courting business in recent years, making the climate a lot more competitive.
Bids were opened on Feb. 20 and are still sealed. Though Burke said he couldn't reveal the rates contained in the bids, he did say the approaches proposed, plus the economy of scale that would be achieved via mandatory collection, could net substantial savings across the board for county residents.
It's not likely the county's recycling rate will miraculously double by maintaining the status quo. Next week's hearings are the first step.
If commissioners fail to mandate trash pickup for the next seven years of the franchise period, the county will need to keep some or all of the convenience centers open, meaning the $2.25 million spent annually to run the centers will not be available to modernize recycling.
Chairman Wesley Davis says he feels the county is experiencing its "awkward adolescence" where it's emerging from its rural, agrarian heritage.
Indian River County's populace is growing increasingly eco-conscious and even environmentally assertive, and reducing Indian River County's need to build another mountain of trash at the landfill by recycling more of the waste stream would seem to be in that vein, even if it means charting a new path.
The changes necessary to reach the "75 in 5" recycling goal would require an integrated approach, with all the various elements working in synergy, said Utilities Director Vincent Burke, who oversees the Solid Waste Disposal District.
As it stands now, any resident can put recycling bins out at the curb and get them picked up at no additional charge, but the first step to making it to "75 in 5" would be to increase curbside recycling via mandatory curbside trash collection, Burke said.
Another component would be to make recycling easier with single-stream recycling where all recyclables could be placed into one rolling container. On top of that, a public-private partnership for some type of waste-sorting or composting facility in the county could expand the types of materials accepted for recycling, said Burke.
Food scraps and other vegetative waste could be captured and recycled once a facility is in place to process them. As less volume ends up in the trash can and more in the recycling bin, trash pick-up could even be reduced to one day per week, further saving residents money.
With mandatory curbside trash pickup, the monthly rate could be annualized and billed on property tax bills, saving paper and envelopes and stamps and time writing checks each month or each quarter. That savings would be passed down in the rate, as waste haulers wouldn't have to deal with billing, receiving and accounting for those payments.
County staff and engineering consultants will present a summary of the bid responses and their recommendations during the March 17 Board of County Commission meeting, which begins at 9 a.m., but no vote will be taken that day.
Commissioners are scheduled to vote to accept a bid or bids and to choose service, recycling and billing options at a 9 a.m. meeting on March 18 at the County Administration Complex.