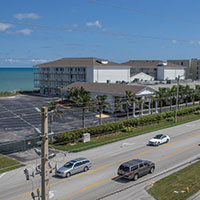 End of era: Luxury townhomes to replace old motel
STORY BY STEVEN M. THOMAS (Week of March 19, 2015)
The Surf Club Hotel, long a white elephant on Vero's upscale beachfront, was sold on Friday for $7.95 million to a local development group headed by well-known island builder Vic Lombardi.
The hotel is now closed, and Lombardi and co-developer Clark French plan to tear the four-story building down in April and build 11 luxury townhomes on the prime 2.56-acre oceanfront site north of Jaycee Park.
The 3,200-square-foot West Indies-style homes with guest houses and private garages and swimming pools will be similar to the well-received East End townhomes Lombardi built last year next to The Gables condominiums.
Coincidentally, that project sold out on Friday as well, with owners paying an average of $2.32 million, according to French.
Pre-construction prices for the new townhomes will start at $2.5 million and, given current demand for new oceanfront construction and the proven appeal of the product, will likely creep up during construction to $3 million or more.
"The people who buy first will probably get the best deal," says French, a broker associate with Premier Estate Properties. He, his partner Cindy O'Dare and fellow Premier broker associate Kay Brown will be exclusive listing agents for the new homes and will handle marketing.
The project will require approvals from the city, county and state and French expects planning, design and permitting to take eight or nine months. "Construction will start near the end of the year, with completion near the end of 2016," he says.
"Given the demand we saw at East End, it made sense for us to continue with the same type product," says Lombardi, whose company Water's Edge Estates LLC will be the general contractor for the development. "We have reassembled the same professional team. Schulke, Bittle & Stoddard will be the project engineer and Gregory Anderson will be the architect, same as at East End."
Built in 1972, the 108-room hotel was purchased in 1986 for $3.2 million by Jon Bates, who was the seller in Friday's transaction. During the real estate boom, the property was listed for sale for as much as $24 million, but there were no takers.
Despite its superb location, the hotel, at one point a Best Western and later  called the Vero Beach Inn before becoming the Surf Club, struggled over the years and was classified as an economy/limited service property by Loopnet.com, a commercial real estate information website.
Bates leased the property in 2009 to Palm Beach Hotelier Jim Clarke who had plans to revitalize and upgrade it. Clarke spent an undisclosed amount of money on a cosmetic makeover but never completed the upgrade and pulled out a year later, dumping the property back into Bates' hands.
A number of potential buyers have looked at the property in recent years, most with the idea of restoring and upgrading the hotel, but Lombardi and French saw a different possibility.
"There comes a time when a building is functionally obsolete," French says. "There is only so much you can do with new carpet and drapes."
Tearing the old structure down and building a new hotel did not make sense either.
When Bates bought the property in 1986 it included a 1-acre lot on the opposite side of A1A that he sold for $2 million in 2008, reducing the size of the parcel to 2.56 acres.
"With the loss of that land and current building codes that have been revised since the hotel was built, you would only be allowed 28 or maybe 32 rooms in a replacement hotel, and that might not have been economically viable," French says.
The townhomes, on the other hand, seem like a winning proposition. There are very few new homes or home-building opportunities available on Vero's oceanfront and Lombardi says demand for the East End units far exceeded supply.
"We could have sold those five homes several times over," he says.
At the time of sale Friday, the 70,000-square-foot hotel was listed for $11 million. The seller had been represented for many years by Beverlee Pulling, a broker associate with Treasure Coast Sotheby's International Realty.
"I think it was a good deal and mutually beneficial for everybody involved," she says of the transaction.