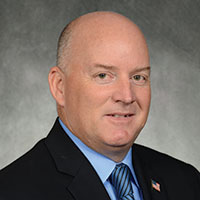 Mark Rendell: Taking schools 'to the next level'
STORY BY MEG LAUGHLIN (Week of March 26, 2015)

Going into last Thursday night's school board meeting to choose a new district superintendent, in-house candidate Bruce Green appeared the favorite for the job.
Mark Rendell, the deputy superintendent in St. Lucie County, was expected to place second in the vote to succeed retiring superintendent Fran Adams, according to supposedly well-informed teachers and education activists attending the meeting.
Charles Searcy, elected to the school board last fall and a huge proponent of Indian River County assistant superintendent Green, was believed to have the influence to sway fellow board members Dale Simchick and Shawn Frost, also elected last fall, to join him in a 3-2 vote for Green.
It didn't happen. Simchick and Frost ultimately joined school board holdovers Claudia Jimenez and Matt McCain, the chairman, in choosing the more experienced Rendell, with Searcy ultimately joining them to make the selection unanimous. 
Rendell, who has a master's and doctorate in education from taking night and weekend classes while working as a teacher and then as a principal in Brevard County, was the first of four finalists interviewed several days before the Thursday night selection meeting in one of four grueling five-hour marathons.
Rendell impressed the five school board interviewers with detailed accounts of how he improved student performance in Brevard County, St. Lucie County, North Carolina and Virginia where he had worked over the past 25 years.
Former school superintendent Michael Lannon, who had been Rendell's boss in St. Lucie County, wrote in a letter to Indian River school board members: "In my 45 years as an educator ... I have rarely seen a person with the drive and professional knowledge, coupled with a deep respect and love for children, as Dr. Rendell possesses."
Along with numerous strong recommendations, Rendell also impressed school board members with his answers to questions on subjects they care a great deal about: raising the district grade from a C to an A; getting the district out from under a desegregation order by narrowing the achievement gap for minorities; improving teacher morale; dealing with struggling principals; and communicating successfully with the community and charter schools.    
To raise the district's grade, Rendell said he is dedicated to student literacy – reading and writing – because it's at the core of education and vital to students' moving ahead. He described looking at 42 schools as St. Lucie County deputy superintendent and finding "42 different writing plans." To standardize expectations and strengthen the writing program, a district team retrained fourth, eighth and tenth-grade teachers in writing instruction. As a result, the district saw a 10-point improvement across the board on the FCAT.
As for removing the desegregation order, Rendell said the key to narrowing the achievement gap between students of different ethnic backgrounds was "to ensure access." In St. Lucie County, students were allowed to go to any school they wanted, as long as space was available. Opening the schools to everyone increased competition for students and improved the schools, he said.
Allowing students to take classes in the academically challenging International Baccalaureate program even when they're not enrolled in it also helped give minorities increased access to rigorous courses. "We saw a boom in enrollment of African American and Hispanic students in these classes," he said.
He also figured out how to get more kids in dual enrollment classes at Indian River State College by getting school buses to take them and bring them back. "My proudest moment was seeing that a majority of them were minority students," he told the board.
Another way to close the achievement gap for minority students was motivating those who didn't plan to go to college. He told of a student at Titusville High, where he served as principal, who planned to be an auto mechanic and had no interest in math or college. But after taking a single math course, he decided to go to college to become an engineer who designed cars.
"Sometimes, it only takes one class," he told the board.
On improving teacher morale, Rendell said: "I believe you listen and ask questions. Then, you've got to act." He told the board that in his mind there are only two kinds of employees in a school system: "Those who teach and those who support those who teach. We don't have room for anyone else."
As a lieutenant in the Army, which he entered after graduating from James Madison University in Virginia with a political science major, he said he learned that "leaders eat last," and that remains his philosophy as a district leader with teachers.
"It's important to make sure teachers know that the superintendent has their back," he said. 
Last year, he negotiated for management with the teachers union in St. Lucie County at a time when teachers had not received a salary increase or a step raise for five years. The negotiations concluded with a 2.6 percent increase in salary and a step raise. But teachers won't get a raise this year unless there is additional money.
On struggling principals, Rendell told the board that he believed principals should "be all about instruction." If they're not performing well, he said, he believes in coming up with a "game plan" for improvement. But if it doesn't work, he said he prefers getting rid of them rather than transferring them to another school. "I'm not a believer in moving a problem around."
As for improving communication with the community and charter schools, Rendell said that "written communication is one of my fortes." He also said as a past assistant superintendent and now deputy superintendent in St. Lucie County he frequently goes to schools to talk to principals and teachers face-to-face.
He told the board that if he were selected as superintendent, he planned to adopt two classrooms a year to stay better connected with teachers and students.
"I have a fear of becoming disenfranchised from the classroom," he said.
On the other end of the spectrum, he told the board, he makes it a point to speak at community meetings like Rotary Club, Chamber of Commerce, and Lions Club to tell them about curriculum and new programs in the schools.
"We changed the image of Port St. Lucie High by going out to the community and communicating," he said.
As for his charter schools, he told the board about working regularly with the principal of a kindergarten-through-8th-grade charter school in Titusville.
"I'm a great believer in the free enterprise system," he said.
He concluded his interview by saying he believed what separated him from the other candidates was being a deputy superintendent after years as a teacher, assistant principal, principal and assistant superintendent in Virginia and North Carolina, as well as in Brevard and St. Lucie Counties.
"All of this gave me a 360-degree perspective that made me see better," said Rendell, who has been married to wife Heidi for 24 years and has three children, 17, 15 and 12 years old.
At the end of the superintendent selection meeting last Thursday, when it was clear that four of five school board members wanted Rendell, Searcy, who had wanted Green, said he would support Rendell, making the choice unanimous.
"He has the skills to take us to the next level," said Searcy.