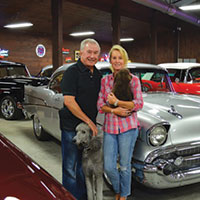 Auto museum latest idea for old diesel plant
STORY BY MICHELLE GENZ (Week of May 28, 2015)

Results of Tuesday's scheduled mediation between Vero Beach city officials and developers leasing the historic diesel power plant won't be known for a while.  But in the meantime, a new use is being proposed for the space – this time by a man with extremely deep pockets, the urge to make a fresh start in a new hometown, and the need for a very large garage.
George Shinn, a relative newcomer to Vero and the controversial former owner of the Charlotte Hornets, once packed a basketball arena with 24,000 spectators for 364 straight games. Now Shinn believes he can pack the diesel plant with people coming to see his $10 million car collection.
"I've got $10 million worth of gorgeous cars, and they're parked in places where nobody can see them," Shinn says. "I've got the memorabilia, I've got that neon car stuff. I want to put a little coffee shop in there and turn it into a classic car museum. We would do an incredible job, I'm telling you."
Shinn says the space could be used for fund-raisers with celebrities he knows, similar to events staged at his 10,000-square-foot car barn near his home in Franklin, Tennessee. "We raised a quarter of a million dollars for the Tennessee Baptist Children's Homes," he says.
Shinn has talked to City Manager Jim O'Connor, as well as Barbara Hoffman, the volunteer head of the Cultural Council that only a year ago wanted to see the power plant transformed into an art center. After much fanfare and countless hours donated to the cause, that plan was shelved when it became clear the financially strapped council would have to come up with millions of dollars on its own to buy and restore the building.
"Barbara Hoffman is just tickled to death about this idea," says Shinn. He says the museum concept would serve the galleries of the nearby downtown arts district by bringing visitors into the area.
Shinn says he also spoke with Phil Barth and David Croom, the prominent Vero builders who have a 45-year lease on the property with the city.
Barth and Croom sank $1 million into the building, clearing it out and replacing windows and the roof starting in 2005. They intended to turn it into a complex of shops and restaurants. Work stopped on the project a few years later when hopes of finding tenants fizzled in the real estate crash.
In arrears on rent to the city, Barth and Croom were sued and in turn counter-sued the city over delays in environmental clean-up. The builders' attorney, Buck Vocelle, says his clients cannot comment on Shinn's idea while still involved in litigation.
Meanwhile, what Vocelle says is the first formal mediation effort to settle the lawsuits was to have taken place Tuesday. Results of that meeting are confidential; if a resolution was reached, it would have to be approved by City Council before details could be made public.
Such a resolution could clear the way for the city to dig into its file of interested buyers for the property. Shinn's car museum is at least the fifth proposed use to surface since the problems with Barth and Croom arose. Along with the arts center, other suggestions were that it be turned into a craft liquor distillery, a craft brewery, or a restaurant.
Shinn says he is not interested in sub-leasing from Barth and Croom. Barring any resolution reached in Tuesday's mediation, Shinn says he'd like to sit down with the two builders, city officials, the media and the public to air his idea.
"Obviously talking to them (Barth and Croom), I understand there's some differences. They want this and they want that. But that's what happens when you confront people and you sue them. People back off and don't want to work with you.
"Let's all sit down and invite the media and let me make a presentation," he says. "The city's going to have to spend some money to make this happen, but it shouldn't be a lot because I'm willing to put a lot in."
Shinn's net worth has been estimated at $100 million.
He says the city would need to move the remaining two-story diesel generator out of the plant and clean up any toxins under it. Apart from those expenses, Shinn says he expects no further taxpayer contribution.
"The environmental issues are ours to begin with, so we understand that," says O'Connor, who initially hoped Shinn would be able to lease the property from Croom and Barth.
That's not going to happen, Shinn says. But if the city works out its legal issues, Shinn's engines will be revving.
"It could be a lease, a lease purchase or an outright purchase. I've seen the appraisal and it's worth $500,000. If that's the purchase price, I'll buy it. And I'll probably put another million in it, at least."
Shinn says he wants to partner with the city because "to me the city is the one that's going to benefit," he says.
"I look at that in a very similar way to back when I got the team as a franchise in Charlotte. I had to get the city to build the arena – I couldn't afford to put up the money to buy a franchise and build an arena. The city was benefiting enormously."
"The other guys are not going to have to eat crow but they ought to be willing to settle for something less than they're asking for," says Shinn, referring to Barth and Croom's countersuit against the city.
"I can talk to these guys. I can say, look, you guys make your money in this city. You don't want to hurt your reputation. And if you have the media there, they can't write about what jackasses they were. Let's just lay it all on the table. Who cares?"
Barth built the oceanfront home Shinn bought recently on the north barrier island.
"We would do an incredible job, I'm telling you," says Shinn. "I've just commissioned a guy to come up and do a video of the building so the powers that be in Vero can see what kind of quality and what an asset this would be to the city."
To supplement his collection on display at the would-be museum, Shinn's friend Rick Hendrick has promised to rotate cars in and out on loan. Hendrick is one of the largest car dealers in the country and owns Nascar racing teams. He met Shinn when he sold him a car early in his career; Shinn went on to invest in a dealership and Hendrick in turn invested in the Hornets.
"We're like brothers," says Shinn. "Rick has agreed if I get this thing done, he'll let me have some cars, move them around down to this museum. I'm loaded with ideas and things. It would be a tremendous asset to the community and we really want to step up."
Such enthusiasm is legendary. Shinn, who turned 74 earlier this month,  was described by then NBA commissioner David Stern as "a little jumping bean" when Shinn met him in New York to pitch the sports-starved Charlotte as a potential home for an NBA expansion team. He bought the Hornets for $32.5 million in 1987.
Charlotte built a stadium for the team, but ten years in, Shinn wanted a new one with more luxury skyboxes. A referendum failed, and the city agreed to build one only if Shinn sold the team. Instead he moved the team to New Orleans in 2002-2003. He finally sold the team back to the NBA in 2010 for an estimated $300 million.
That was a year after his diagnosis with prostate cancer and subsequent surgery.
The George Shinn Foundation funds efforts to educate men about the importance of early detection of prostate cancer. By and large, however, it is involved in evangelical Christian causes.
Shinn's own God-fearing public persona took a serious hit when the married Shinn admitted to various infidelities, including a two-year affair with an employee, a Hornets dancer. The revelations came out in a civil trial brought by a woman who said he kidnapped her, took her to one of his homes and demanded she perform a sex act.
The trial was broadcast nationally on Court TV to then record-breaking audiences; Shinn's wife filed for divorce in the wake of the allegations. The jury dismissed the claims, but Shinn's admission of oral sex with the alleged victim as well as two other affairs severely tarnished his image.
Shinn and his current wife, Denise, discovered Vero six years ago on a drive up from Jupiter.
Their stays in Vero have lengthened since then; they only just returned to the estate in Franklin, Tennessee after a six-month stay here this season.
He'll be back in mid-June, he says, hoping to announce a deal still in the works to buy the Lemon Tree café on Ocean Drive.
As for the diesel plant, the lawsuit must be settled and all proposals for the plant must essentially be put out to bid, says city manager O'Connor, reviewed and decided upon by the City Council.
"He would create a destination which is something we would like to have," says O'Connor. "It would tie right in with 14th Avenue. You can't just have a bunch of office buildings and a couple of restaurants. You've got to have a point that draws people there. If you have a car display, then you have art display and then you have something else, you have a reason to go to that point and stay at that point."
"As soon as we get it ready, I can have the cars here within days," says Shinn. "I don't like to sit on my rump."