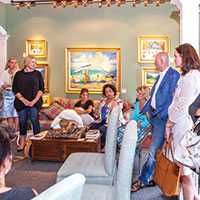 Beachside retailers press city over parking spaces
STORY BY MEG LAUGHLIN (Week of May 7, 2015)

In some ways, it seemed like an unusual take-charge rebellion of 20 Central Beach retail store owners last Thursday evening at Stringer Gallery. The scene was more reminiscent of an opening exhibition at a gallery than of a spontaneous coming-together of angry merchants – which it was.
Gallery owners John Stringer and Caesar Mistretta greeted everyone at the door with large crystal goblets of chilled chardonnay and ushered participants to cushy sofas and chairs, where they sat in designer finery under mellow lighting.
But despite the tone of laid-back civility among these owners of high-end beach stores – ranging from Cooper and Co. to Gaston Private Jeweler and Mays and Hoffman – they were anything but mellow. 
They were there, they said, because they are fed up with losing customers because of the lack of available parking in Central Beach.
First off, they formed a new retail association to meet their needs. How would this be viewed by the existing Oceanside Business Association, to which some of them belong? The consensus was that trying to solve their retail problems did not mean that they were anti-OBA, and, while they wanted that known, they planned to move ahead with their own association.
Penny Chandler, Chamber of Commerce president, told Vero Beach 32963 days after the meeting that she thought the OBA had "done a good job working with city officials and the chamber to tackle the parking issue."
But, she conceded, there was not a "simple or single resolution." However, in the meantime, she said she hoped everyone would keep in mind that "we have what many communities would consider a great problem: Our beachside is thriving."
The essence of the parking problem, said the beach retailers who met last week, is mostly caused by hotel employees at the Driftwood, Vero Beach Hotel & Spa and Costa d'Este taking the available parking spots on the street, then moving their cars every three hours, as required, to new parking spots.
"Our clientele is of a certain age and if they have to park two blocks down, they'll leave," said Debbie Zafiris, owner of Ocean Drive Jewelers.
"Parking has been a problem for ten years and it's only getting worse. All employees should park off-site, including me," said Lisa Davidson, owner of Exclusively Coastal.
The group spoke with optimism about a new Go-Line shuttle that will circle every 15 minutes between Riverside and Central Beach so that hotel employees and others can park at Riverside and take the shuttle, leaving parking spots in Central Beach open.
But they worried aloud about how many employees would take the shuttle, if beach-goers would use it and when it would begin.
"While we do have a verbal agreement from an owner on the beach to give $40,000 to pay the shuttle expenses not paid for by the state, we don't have anything in writing yet, making it too soon to name the donor or say when the shuttle will begin," Go-Line administrator Karen Deigl told Vero Beach 32963.
At their Thursday evening meeting, the beach retailers discussed other possibilities: Could they get city officials to put "Customer Parking Only" signs in a few slots on each block? Could they get police to strictly enforce what the signs said? Could they get more handicapped spots because of the average age of many of their customers?
City manager Jim O'Connor said several days later that they would get the "Customer Parking Only" signs, but that police enforcement was a problem.
"The challenge is how to tell who's a customer and who is not," he said. 
The beach retail shop owners also discussed what stand they would take about events ranging from the Farmer's Market to weekend bands that fill up parking spots.
"We need to peacefully co-exist," cautioned Betty Cochrane, the owner of  the store Irish Treasures.
Led by Mistretta from Stringer, Melinda Cooper from Cooper & Co. and Nancy Cook from Twig, the group agreed to kick in $100 each to get the new retail association up and running.
"It's good to see this grassroots effort moving along," Cooper told the group.
"If we get behind our options as a group, maybe the city will reconsider some things we want," said Cook.
When Mistretta concluded with "this is just the start," the room broke into applause.
Later, O'Connor also applauded the focused effort of the retailers. "We'll be happy to work with them," he said.