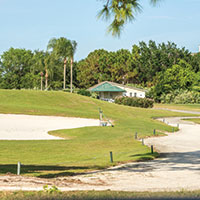 Moorings members back purchase of Hawk's Nest
STORY BY RAY MCNULTY (Week of May 14, 2015)

As Hawk's Nest Golf Club members decide this week which of three offers to accept for the purchase of the 300-acre property, residents of The Moorings, which has put in one of the three bids, already have expressed rousing support for the acquisition.
"We have been informed by the balloting committee that we now have a quorum and an overwhelming positive response in all four membership categories – full, golf, tennis and social," Moorings president Joe Vargas wrote in an email to the club's members last week. "To date, 90 percent have responded favorably."
Members at The Moorings began voting two weeks ago and will continue to do so this week. If its bid is chosen as the winning one, the club will embark on its due diligence in June, Vargas wrote.
Hawk's Nest members, meanwhile, began voting on the bids Monday and are expected to conclude balloting by the week's end.
Competing with The Moorings in the bidding are the Heritage Golf Group and a three-man team of Hawk's Nest members who want to take over the club's operations just long enough to rebuild its withering membership and bolster its financial health, then sell it back to the members.
According to knowledgeable sources who spoke only on the condition they remain anonymous, two of the three members of the Hawk's Nest group serve on the club's board and also are members at The Moorings.
All three groups made presentations to Hawk's Nest members last month.
A potential fourth bidder contacted Hawk's Nest general manager Bob Gruber two Mondays ago, but, apparently, the sale process was too far along for the company to sufficiently explore the club's financial position and decide whether to make an offer before members voted.
"I have no idea if it's something we'd be a candidate for," said Billy Knight, director of acquisitions for ClubCorp, the Dallas-based company that owns or has long-term leases on 160 golf clubs, including Firestone Country Club in Ohio, Mission Hills Country Club in California and The Woodlands in Texas. "I've never seen the property.
"That said, from what we've been told, it certainly sounds like something we'd look at," he added. "That's why I called the GM and told him we might be interested. He said he'd pass the information along. But I think we were probably getting into the game too late.
"If something falls through, maybe we'll get in next time."
Knight said he was contacted about the Hawk's Nest opportunity by Bermuda Bay resident and American Airlines pilot Paul Rancatore, one of ClubCorp's 430,000-plus members.
Sources said Hawk's Nest is carrying a debt of slightly more than $2 million and has lost more than 100 members since its pre-recession heyday. A recent appraisal, however, placed the value of the property at $5.5 million.
All three bids would pay off the debt and provide additional reserves to fund improvements to Hawk's Nest, which opened in October 1987 and has operated as an equity-member-owned club since September 1993.
The Moorings Board of Governors initially expressed interest in acquiring Hawk's Nest in early April, primarily because it believes a full-length, championship-caliber layout is needed to remain competitive in the local market for younger executives and retirees who might not be satisfied with the club's 18-hole, par-64 "short course" that spans only 4,434 yards.
The Moorings' $2.5 million bid would be funded by 25 members – selected via lottery – each putting up $100,000 in exchange for an exemption from all club dues for the rest of their lives and the lives of their spouses.