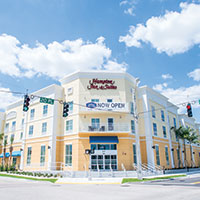 New Hampton Inn off to strong start onVero's Miracle Mile
STORY BY MEG LAUGHLIN (Week of May 14, 2015)

A big U-Haul truck pulled into the parking lot of the brand-new Hampton Inn & Suites across from Miracle Mile in Vero Beach, and three young men jumped out and began unloading the back.
Among the items: Huge leather suitcases – most of them designer. Laptops, earphones and speakers. See-through plastic chests packed with jars of cayenne, coriander, and teabags.
Scenes like this are what have Hampton Inn owners Frank Christy and Keith Kite, both long-time Vero Beach residents, predicting that their new hotel, which opened a few weeks ago, will be a huge success.
"Every room is taken this weekend," Kite said a week ago, pointing out that the young men unloading the U-Haul and their friends in rental cars, not far behind, recently booked 20 rooms for the next six months.
"We are from Dubai training at Flight Safety to become commercial pilots for Emirates Airlines," explained one of the young men.
Add to that 60 more rooms taken by young women playing in the junior college softball tournament at Dodgertown and their families, and 10 more rooms taken by people in town for business meetings, as well as several rooms occupied by people visiting relatives, and the hotel's 90 rooms were all occupied over several weekends.
"We expect to see most of our business coming from three areas: sports tourism, aviation and the hospital," said Christy.
The sports tourism business, they anticipate, will be from events at Dodgertown, as well as golf, tennis and lacrosse competitions. The aviation business will come from students at the flight schools, as well as business meetings at Piper. The hospital business will come from people in town to see loved ones at the hospital and also here for hospital business, they said.
"We'll never get the client who wants a balcony on the ocean or the client who wants to stay near I-95 or the outlet mall. But we do want to be Vero Beach's downtown hotel for businesspeople, tourists, sporting clients and flight trainees," said Kite.
Further, said hotel manager Brenda Celano, the hotel is luxurious without being too expensive.
"Saving $40 to $70 a night can add up to some nice dinners out," said Christy.
In the Miracle Mile shopping center across 6th Avenue from the hotel, restaurant employees said they are just beginning to get business from the occupants of the new hotel.
A TooJay's hostess said two families staying at the Hampton had breakfast there a few days ago. A Cafe Euro server said they had yet to see business from the hotel but were hopeful for the summer. But a Pizza Hut employee said they were seeing a definite upswing in business because of the hotel.
"The guests are coming here for lunch and dinner every day and we're delivering there," she said.
In 2005, Kite and Christy met and began talking about putting a hotel near Miracle Mile. In 2007, they commissioned a feasibility study that showed a growing need for "additional hospitality." But the recession hit, and they waited.
In 2012 a second study showed the time was right: Chamber of Commerce research showed a shortage of rooms. Piper had been sold and had stabilized. Dodgertown activities required more accommodations than were available on the property. The hospital's Duke-affiliated heart center was doing well, and the hospital was about to build a Duke-affiliated cancer center.
"We're proud of this hotel and excited for Vero," said Kite, as he and Christy showed a visitor around their sparkling hotel, which they both call "very Vero."
The lobby has a definite tropical feel with high ceilings, plantation shutters, walls with bas-relief wave patterns and turquoise and lime-green carpeting, as well as paintings of beach scenes.
There are 30 studio king rooms with both a king bed and a pull-out sofa, 30 rooms with two queen beds and 30 rooms with king beds. All have microwaves, fridges, 42-inch flat-screen TVs and the impressive tropical and Vero-centric photography of Christy's artist-wife Mary Lou. 
There are also fitness and business centers, meeting-banquet rooms and a dining area for the free breakfast buffet served to guests every day. Walking outside to the pool area, Kite points to the majestic oak that he insisted be saved.
Then, looking across the hotel parking lot to the old Osceola Magnet School property, which was purchased by Christ Church, Kite and Christy began talking about what the new large church will mean to the hotel: "We love churches," said a smiling Kite. "They mean weddings and funerals with lots of people arriving from out of town, needing a place to stay."