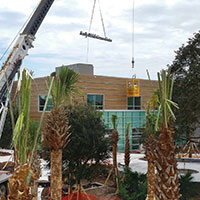 Melanoma expert picked to lead Cancer Center
STORY BY MEG LAUGHLIN
PHOTO: The Scully-Welsh Cancer Center sign being put in place last week.

The Indian River Medical Center, racing to complete the new Scully-Welsh Cancer Center by mid-December, took another major step forward last week with the announcement that an international expert on the diagnosis and treatment of melanoma would become its medical director.
The hiring of Dr. James Grichnik, 54, a dermatologist who since 2011 had directed the melanoma program at the Sylvester Comprehensive Cancer Center at the University of Miami, quickly drew praise from local physicians and members of the Duke Cancer Network, with which the new Scully-Welsh center is affiliated.
"He will be a great asset to this community. His background in molecular and targeted therapy, which is at the forefront of cancer treatment, gives him a great opportunity to turn Scully-Welsh into a center for melanoma treatment," said dermatologist John McDonald, who is director of the Indian River Skin and Cancer Center.
"He is exactly the leader we've been searching for and brings special skills that will be an enormous benefit to our community," said Dr. Michaela Scott, a local oncologist who has treated cancer patients for 40 years.
"The Duke Cancer Network team is thrilled to see Dr. James Grichnik become director of the Scully-Welsh Cancer Center," said Dr. Linda Sutton, director of the Duke Cancer Network. 
"In light of the monumental gifts we received to build the Scully-Welsh Cancer Center, our Board insisted that we find the best possible leader," said Jeff Susi, CEO of IRMC. "I'm pleased we were able to do just that."
"Cancer has been my passion both in the lab and in the clinic," said Grichnik, 54. "The director position is a fantastic opportunity to expand my efforts at this point in my career. It's an exciting time to be in this field because cancer treatment is changing daily. We are moving to more targeted approaches with drugs that interfere with specific molecules that drive cancer growth and we are learning how to better harness the power of our own immune systems to destroy tumors.
"The Scully-Welsh Cancer Center provides us with a unique chance to cure major tumors right here in our own community," Grichnik added.
Oncologist Burton J. Lee, retired chief of the Lymphoma Service at Memorial Sloan-Kettering who lives in Riomar, applauded Grichnik's reputation as a melanoma researcher. "He has apparently found abnormalities in melanoma cells that may lead to quicker and more effective treatment of melanoma," said Lee.
"If he wants to predominantly do research, then he needs a sophisticated laboratory research facility, technician support, and associates who can help with the day and night demands in this field, all of which will require a great deal more money," said Lee.
"His 'day job,' however, is going to be fulfilling the predominant need at this cancer center, which is organizing, budgeting and delivering the extensive, multi-disciplinary care that all cancer patients – many of whom will be indigent – require." 
Grichnik will begin as medical director of Indian River Medical Center's new cancer center in early January. The Scully-Welsh Cancer Center is being built thanks to the generosity of donors to Indian River Medical Center Foundation's Campaign for Excellence in Cancer Care, who have now contributed or pledged $40 million of the campaign's $48 million goal.
A graduate of Washington University in St. Louis, Grichnik got a Ph.D from Baylor University in molecular and cellular biology in 1988 and an MD from Harvard in 1990. He completed an internship at Beth Israel in Boston and a dermatology residency at Duke Medical School, where he then worked for 14 years in the dermatology department as director of diseases affecting skin pigment, before going to Sylvester in Miami.
While at Duke, he started the biotech company DigitalDerm. It is the maker of the commercial product MoleMapsCD, which photographs and stores records of skin at risk for melanoma for comparisons and early treatment.  
He has co-authored more than 75 articles in medical journals, mostly on melanoma and its early detection.