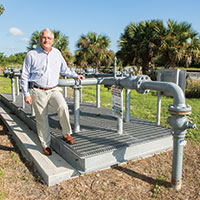 Natural gas coming soon to downtown Vero and the island
STORY BY LISA ZAHNER
PHOTO: Commissioner Tim Zorc at the natural gas gate station.

Now that the City of Vero Beach is tied into Orlando Utilities for bulk power for the next eight years with only about a 2 percent decrease in rates, it may be time for Vero's 34,000 customers to stop mourning the failed sale of the city's utility to Florida Power and Light and start getting proactive about reducing energy costs on their own.
After hearing from several major users of power, including Piper Aircraft, that they're ready to seriously investigate renewable energy sources and natural gas, Indian River County Commissioner Tim Zorc asked his colleagues on the Board for permission to put together an energy forum where interested parties could get all the information they need to get started.
That forum happened last Friday afternoon at the County Administration Complex.
The takeaway: Natural gas is coming soon to downtown Vero and the barrier island, so now is the time to weigh the benefits and costs.
Marc Seagrave, director of regional operations and new business for Florida City Gas, described how the natural gas pipeline network in Indian River County has expanded throughout Fellsmere and western parts of the county. He said the next market Florida City Gas is planning to serve is the business district of the 14th Avenue Downtown Vero Beach corridor with all of its businesses and restaurants plus the airport corridor, and finally the residential market of the barrier island.
Florida City Gas has been operating in Florida since the 1960s and in Indian River County since 1996, but just a few years ago began a three-phase expansion. The first Fellsmere phase is now complete; the second Sebastian phase is almost finished with 50 percent of the commercial customers converted to natural gas, and delivery to unincorporated Indian River County is in progress.
Waste Management's Vero hub at the old Kennedy Groves headquarters on 77th Street and Old Dixie Highway is the first major customer, with a facility to pump compressed natural gas or CNG into its new trash trucks. Phase four, Seagrave said, will be the barrier island and Vero's downtown.
"Downtown Vero is our next targeted area," Seagrave said. "We've got over $15 million invested in Indian River County in the last few years just in pipe ... we'll tie into the expanded system and lay out a distribution system, providing a loop for reliability."
Seagrave said the charge for the actual gas is a pass-through, and Florida City Gas makes its money through a distribution charge. "That distribution charge that we get to keep, we haven't raised it since 2004," he said.
Fracking has made natural gas look much more attractive, he said, plus it's produced domestically, reducing customers' dependence on petroleum products from the politically turbulent Middle East. "Today we're flooded with natural gas," Seagrave said, adding that if customers could rely totally on natural gas instead of electricity, the cost could be about 4 cents per kilowatt, which he noted is "less than half the cost" of FPL, which he said runs about 10 cents per kilowatt.
Seagrave said the United States has an estimated 150-year supply of this energy source, which is cleaner than coal. He said technology in the fracking industry is also improving as demand grows for natural gas as a commodity.
For businesses hoping to convert to natural gas or even thinking about using natural gas to generate their own electric power, several companies offer engineering and finance services. Among those participating in the forum were AGL Resources, Pemco Capital, ConEdison Solutions and FPL/NextEra Energy.
Any of these companies can be contracted to perform studies and to make recommendations to businesses, schools, factories or institutions like hospitals about ways to invest in energy-smart technology for long-term savings and freedom from high or volatile electric rates.
Representatives from ConEdison Solutions based in Tampa touted their history as a reason to choose them. "ConEd has powered New York since 1823, it was founded by Thomas Edison and is the oldest company on the New York Stock Exchange," project manager Craig Fischer said, adding that ConEd Solutions has been working in Florida since 1987 and that its clients have seen $85 million in energy savings over the past three years.
ConEd is currently working with the Indian River County School District to integrate solar panels into the schools, with a plan on tap to help power Vero Beach High School with a field of solar panels that would top covered parking shelters in the student and faculty parking lots. ConEd and companies like it work on contracts of 10 to 30 years to spread the financing of the improvements out over time, presenter Doug Hennen said.
FPL/NextEra Energy representatives said their company has the largest collection of solar energy fields in the world. FPL and NextEra offer services similar to ConEd, focusing on managing energy efficiently, beginning with comprehensive energy audits of clients' current usage and looking at various options for capturing as many savings as possible. External Affairs Manager Bart Gaetjens said FPL and NextEra  collectively serve nearly 5 million customers in 27 states and Canada at rates 30 percent less than the U.S. average.
When electricity is produced remotely, as in Orlando at the Stanton coal plants, and transferred over miles of lines through transformers and substations, nearly 64 percent of the energy can be lost on the way. It's more efficient to produce electricity on-site.
When a company comes in to analyze a client's potential benefit from natural gas electric production or gas conversion, consultants develop what they call a "spark spread" between the cost of electric power and the cost of power once new gas technology is employed. The dollars saved in spark spread are then used to finance the up-front improvements over time. Once the improvements are paid off after a period of time, 7, 10 or 15 years, all savings directly benefit the customer.
Some options available to commercial customers are large turbine generators that can produce five or six megawatts, microturbines, reciprocating engines and fuel cells, which were developed by NASA but are in use commercially today.
Roger Davis of Integrity Cells and Marketing, based in Lakeland, said his company has been working with commercial clients in Japan for many years, and now the technology is moving into the United States market due to rising electric costs. He works with factories, hospitals, hotels and other large users. His systems are standard in McDonald's restaurants all over Europe, he said.
The natural gas generation systems produce power 24 hours a day, seven days a week, creating ready electricity for customers' needs, and pump electricity back onto the grid during slow times or when the business or factory is idle. Through net-metering technology, the customer gets credit for that power to off-set charges for peak demand.