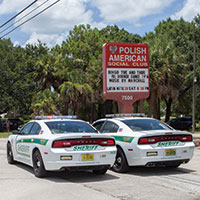 Sheriff's Office opens probe into Polish Club coup
STORY BY MICHELLE GENZ

The Indian River Sheriff's Department has opened an investigation into the actions of the breakaway board of directors of what was once the Polish American Social Club, which used the club's premises to form a new social club without any links to Polish heritage.
Former members claim the six-member board unlawfully disbanded their club, formed a new one and sold the real – said to be worth $1 million – to the new incarnation, the Vero Social Club.
"The focus of my investigation is whether that was done in a manner that constitutes a crime," said Detective Sergeant Tom Raulen, who specializes in fraud-related investigations for the Indian River Sheriff's Office.
Raulen has sent out 140 questionnaires to members of the former club asking whether they had been made aware of or asked to participate in a vote to either dissolve the club or sell the real property. Of the two dozen or so he has received back, none he has reviewed said they were notified of any such vote.
Raulen has contacted Royal Palm Beach attorney Lynne Hampton, who oversaw the dissolution and transfer of property. She was hired last spring as things heated up between past members and the new board of directors. "She contends that the board acted in a legal manner and that any issue would have been civil in nature," says Raulen.
"It's not clearly defined what, if any, crime has occurred," Raulen added. "At some point I will consult with our prosecutor's office."
He is also looking into whether laws allow for the rules of the club to come into play. The Polish American Club's bylaws appear to state broadly that membership must be consulted for significant decisions.
"It's a matter of delving into how non-profit corporations are managed, and the actual power that statutes give the board," said Raulen. "Anything I do would be based on the statute."
To the long-time members, it was a grievous deception to dissolve their club without a vote, to say nothing of transferring title to the land and building.
"They took the club without following the procedures, so that's not right," said Gloria Fleming, a former board member and treasurer who with others made their case to Raulen. "That's clear in the by-laws. It's a membership club and the membership must vote to dissolve the club or sell, and neither was done."
Dissolution paperwork filed with the state and signed by board member Merriellen Gegner reads, "The corporation has no members or members entitled to vote on the dissolution."
"That's totally wrong," says Fleming. "July 1 they gave us an even bigger list of people than in May."
The former members have hired their own attorney, Ryan Scarpa, who has filed a civil suit against the new board to try to recover the club's building and land and to reinstate its members.
A criminal investigation takes the months-long feud to whole new level of concern. Initially when the former members met with Raulen in mid-July, they were unaware of the board's efforts to dissolve the club. Instead, they asked Raulen to investigate the club's finances.
A forensic accountant was hired by the members to review the club's records. "In the very short analysis that he did, there was not enough information to find that a crime had occurred," Raulen said.
The case was essentially closed, then reactivated when members came in with new allegations involving the dissolution of their club, and the sale of the 8-acre property and building on North U.S. One.
Both of those actions took place without a vote of membership. According to a member of the board under investigation, Bob Cuddy, no vote was needed. He claimed state statutes governed corporate dissolution, not club charters.
"It was a board of directors' decision that did not require a membership vote," Cuddy told Vero Beach 32963 last month. He said Hamilton served as legal counsel on the matter.
Reached by phone last weekend, Vero Social Club's president of the board, Blanche DeLauro, refused to comment on the investigation, accusing Vero Beach 32963 of distorting the club's statements in the past. "You turn around whatever we say and make us look like a bunch of idiots," she said.
Attorney Lynne Hampton did not return repeated phone messages.