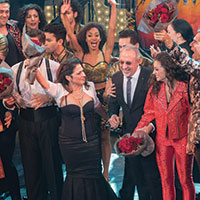 The Estefan musical 'On Your Feet!' debuts on Broadway
STORY BY MICHELLE GENZ

NEW YORK CITY – A near-delirious ovation swept over the cast of Gloria and Emilio Estefan's "On Your Feet!" last week following the official Broadway opening of their new biographical musical.
With headlines the following morning declaring it a welcome bright spot on Broadway, hopes are raised of a major hit – and, with Gloria's luck, a conga line of Tony awards.
Back in Vero, the couple's Costa d'Este hotel has quietly touted the show with a single   lobby signboard, and Gloria and Emilio's cherished oceanfront home north of Windsor has been sanctuary this fall to more sea turtles than Estefans.
The couple has been living out of suitcases all fall in another hotel – New York's Marriott Marquis.
Their upper-floor suite is just an elevator ride away from the newly-renovated 1,600-seat Marquis Theatre. Opened in 1986, a year after Gloria's crossover hit "Conga" launched her career, it is now home to "On Your Feet," the story of that auspicious start.
After a month-long Broadway preview period, and earlier previews in Chicago, reactions point to a long Broadway run.  
"It's been crazy," said a radiant Gloria Estefan, reaching out warmly from the red carpet at last Thursday's premiere to greet a familiar face from Vero Beach 32963.  Asked if she'd like to come home to Vero and rest, she sighed deeply. "Oh it's my favorite place on the planet."
With any luck, it won't be long before she gets back here.
"On Your Feet!" is on its own now, fully formed, the previews tweaking the Chicago show I saw in June into a tight, emotional, relevant, explosively fun evening. Emilio Estefan, brand manager extraordinaire, had it right with this one: If ever there was a vehicle to enhance an already iconic image, "On Your Feet!" is it.
Already reviewers in Chicago and New York have praised the show for deftly keeping its footing on the fine line between feel-good and forced.
Part of what helps that balance is the musical's strong message in today's news cycle: changing relations with Cuba; dual Cuban-American presidential candidates; immigration reform amidst the shifting meaning of "minority;" and the world's response to Syrian refugees – Emilio Estefan's father was Syrian Lebanese.
But that doesn't mean all is politically correct in the play: Much fun is had at the expense of Emilio's stubborn Spanish accent, as reluctant to leave the premises as garlic on a kiss. But to see all the music industry powerhouses on the red carpet Thursday night is to comprehend just how mighty the Estefan sound machine truly is.
In the plotline, Estefan is the rodeo clown dodging Anglo naysayers; Gloria is the bronco rider refusing to be unseated. Some of the musical's best scenes turn on a weaselly record executive who hands Josh Segarra as Emilio his biggest applause line, one that had the two 60-something Cuban-American men on either side of me whooping  gleefully.
"Take a close look at this face," Emilio says, swaggering up to the pintsize executive. "This is what American looks like."  
"American" should also proudly include the spectacular Cuban music and dance that is the backdrop for the story, both on the streets of Gloria's childhood Miami neighborhood and later in her concerts. "On Your Feet" features a band of 25 that includes five original members of Miami Sound Machine, the first hit group to add Latin flavor to American pop, what one musician in the play calls "rice and beans and hamburger."
If creators at first struggled to find a point of narrative tension in the Estefans' contented life – they've been married nearly four decades, these two – it didn't take long to decide to stop midway through: the day a semi smashed into their tour bus on a snowy highway in Pennsylvania.
The foreshadowing of that near-tragedy starts the show, then we quickly flash back to Miami with an explosively musical street scene in Little Havana; Gloria, the young girl forever playing music, is persuaded to put down her laundry and join in.
We quickly sense this childhood was weighed down with family obligation. Gloria's father, jailed in Cuba after the Bay of Pigs, was later in the Army in Vietnam; when he returns, he develops MS. While Gloria's strict mother struggles to earn enough to support them, young Gloria is left to care for her dad and little sister.
Then a young Emilio Estefan invites the teen-age Gloria to sing at his band's rehearsal. Her mother balks – all that matters is schoolwork, she maintains (in real life, Gloria Fajardo, 86, has a Ph.D. in education). But her abuela – her soft-hearted grandmother – can't wait to see what develops. It soon becomes clear that the studious Gloria has the making of a star.
With Emilio pitching her talents, the English-language "Conga" becomes pop music's first true Latin crossover hit. The Estefan's rise continues and they finally play the White House on the night before the snowy crash.
After the dazzling song and dance of the first act, the second act slows to let the horror of the accident sink in: Gloria's mother and Emilio reconcile at Gloria's hospital bedside. A dream sequence spins out during Gloria's nine hours of surgery. Months of grueling physical therapy show Gloria's infinite grit. (She was still doing 400 push-ups a day when I interviewed her eight years later – and felt her implanted 8-inch titanium rods, at her invitation.)
Finally, with a push from Emilio, Gloria triumphs in a solo at the American Music Awards, singing her beautiful ballad "Coming Out of the Dark" live on national television.
Authenticity tempers whatever corniness might plague such a plot line. Intelligence and a grounded personality come through in the performances of both actresses playing Gloria at different stages of her life.
The child Gloria is played so naturally by Alexandria Suarez, you have to wonder if she didn't just skip out of school onto the stage. It was her mother that Gloria saw often in the front row of concerts, remarking that she "looks like my twin," Gloria said in an interview. Alexandria's acting credits include the voice of Backpack on "Dora the Explorer."
Gloria as a teen and older is played by Ana Villafane with the same down to earth-edness. And there are real-life connections to Gloria beyond looks. Villafane went to the same all-girls Catholic high school as Gloria – Our Lady of Lourdes Academy – and she was a mad fan, performing her songs at talent shows and as she told Gloria during a joint interview, when Gloria came back to visit Lourdes, young  Ana was there for an autograph.
"On Your Feet!" is Villafane's professional stage debut. By all accounts (including mine), she knocks it out of the park.
Playing Emilio is Josh Segarra, who grew up in Orlando. He is the son of Puerto Rican pharmacists who are among the 370,000 Puerto Ricans who have moved to the area, the second largest Puerto Rican community in the nation after New York (and destined to impact Vero.)
Segarra, who plays a Chicago cop in the USA Network comedy, "Sirens," made his debut on Broadway in "Lysistrata Jones," a musical about basketball. He got his start with the Orlando Youth Theatre and sang in an a cappella group in high school.  All that helped get into NYU's highly respected Tisch School. Three years after graduation, he got a recurring role on the PBS kids' show, "The Electric Company."
Another key role, that of Gloria's adoring grandmother, is played by Tampa native Alma Cuervo, who has an MFA from the Yale School of Drama. Cuervo scores with her saucy critique of young Emilio's tennis shorts that fit more like hot pants as he makes his first visit to the Fajardo household. The audience howls as he makes his entrance – Segarra is the master of clueless.  As he leaves, Abuela analytically notes, "Bad shorts; nice cul." 
With that sympathetic lustiness, Cuervo adds dimension to the play. So does the elegant Andréa Burns as Gloria's mother. Her disdain for Gloria's dreams is explained in part by her own bitter memories – she was a singer herself in Cuba, we learn, but gave it up to flee to the States with her family.
The seed was planted years ago for this show, when the Estefans were first approached to put their personal story in concert form. We talked about her wanting to branch out when I profiled her for the Miami Herald in 1998.
But it wasn't until three years ago that it was finally announced that Estefan Enterprises Inc. had signed on co-producers Bernie Yuman  and James L. Nederlander for the project. Yuman is a longtime friend; Nederlander owns nine Broadway theaters, including the Marquis, and a piece of the Florida Panthers (the Estefans are minority owners of the Miami Dolphins.)
They brought in Alexander Dinelaris to write the book; he shared an Oscar for co-writing the screenplay for "Birdman." Jerry Mitchell, who directed and choreographed Broadway's "Kinky Boots," would direct. And to choreograph the almost non-stop Cuban dancing: the Colombian-born Sergio Trujillo, choreographer of "Memphis" and "Jersey Boys."
All were on the red carpet last week in the breezeway of the Marquis, as New York dished up November temperatures worthy of a program credit for complementing the tropical sets on stage: a balmy 73 degrees.
Set off by a strapless black mermaid gown, pearl strands, and hibiscus-red lipstick, Gloria's face glowed like moonlight in the glare of flashes from a gauntlet of media outlets including Univision, Entertainment Tonight, A Current Affair and Miami's network affiliates.
Fittingly, she and Emilio were followed by family members. There was Gloria's sister Becky Fajardo, a pediatric trauma nurse, and Emilio's niece Lili Estefan, a popular Univision talk show host.
Daughter Emily Estefan's appearance was preceded by an advance man passing out flyers for her music: a little bit of Papi pushing the talent she got from Mami.
Familiar to many in Vero for her appearances at Waldo's with her Miami-based band, the diminutive doe-eyed singer-songwriter, 20, is still a student at Berklee College of Music. On the red carpet, she proudly pointed out that she was wearing her mother's 1980s olive-drab leather chaps and vest.
Emily shares a credit in the program for a song in the show, "If I Never Got to Tell You."
"I wrote it when I was a freshman in high school," she said. "It didn't have words, and Mom just said 'Save it. You never know.' When she started working on the show, she said, 'Hey, Em, remember that song you wrote?' So I got it out for her and she wrote words to it."
Son Nayib was also there, along with his wife Lara Estefan Coppola (yes, that Coppola, though a lesser- known branch of the clan.) They are parents to Gloria and Emilio's only grandchild, a boy, Sasha, now 3.
Tony Bennett and Frankie Valli were there. So was gossip blogger Perez Hilton. Diane Sawyer made an appearance. Harvey Fierstein joined the large contingent from "Kinky Boots" (he co-wrote the book). Record executive Tony Mottola breezed through with his wife, the Mexican singer Thalia.
Actress Bernadette Peters, who for a number of years had an oceanfront home near the Village Shops in Indian River Shores, shared some laughs before resuming a flawless well-glossed pout for the cameras. She and Gloria became fast friends 15 years ago in Miami and share a love of animals; Gloria supports Peters' dog adoption charity.
But before the stars strolled, another important group gathered in the breezeway: members of the Estefans' household staff, including Sergio Rodriguez, a native of Cuba now living in Sebastian. He has worked for the Estefans more than 25 years. He often lends a hand at Costa d'Este and takes care of the Vero beach house.
"They are the best," said Rodriguez of his bosses, grinning ear to ear with excitement. "The best."