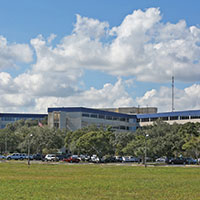 Air conditioning break cost hospital over $1M
STORY BY MEG LAUGHLIN

The September air conditioning system breakdown at Indian River Medical Center – which sent temperatures soaring, forced IRMC to send patients elsewhere, and led to a several-day halt in surgeries and other procedures – wound up costing the hospital $1.5 million, Chief Financial Officer Greg Gardner admitted last week.
Gardner provided the number in explaining to the Hospital District why Indian River Medical Center was unable to cover out of its own funds higher than projected expenses for indigent care unrelated to the air conditioning crisis. 
He said indigent patient numbers for both outpatient and Emergency Department services this past year were higher than the hospital had budgeted, and as a result the hospital needed an extra $429,000 in tax dollars from the District.
While Gardner estimated that $500,000 to $600,000 of the $1.5 million in expenses for the air conditioning crisis would be eventually recovered through insurance reimbursement, he said the hospital was still looking at a million-dollar loss.
The temporary air conditioning fix, which was not a permanent repair, cost $450,000, said the CFO, and a permanent solution will cost an additional $400,000 to $500,000. Also, 72 patients left the hospital for other area hospitals because of the heat and equipment failures, causing a further negative impact of about $550,000, he said.
But Gardner said his request to the District for more money was confined only to indigent care expenses caused by the heavy outpatient and Emergency Department volume.
"The $429,000 is what we would like," said Gardner. "That is the ask."
Hospital District chairman Tom Spackman responded that the District would take a closer look at the numbers and get back to him. 
If the District covers the $429,000 extra requested by the hospital, the total amount given to the hospital in tax money, including the $1.35 million for the Partners childbirth program, will be approximately $ 8.5 million for the fiscal year.