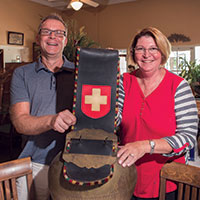 As the Melody fades, French bistro to open
STORY BY MEG LAUGHLIN

The much-loved Melody Inn restaurant has closed its doors in downtown Vero after 11 years of pleasing snowbirds and year-around regulars with a Swiss and French menu that featured such delicacies as escargot Bourguignon and morel mushrooms in a cognac sauce.
"We had a great year and I wanted to end on a high note," said chef-owner Margaret Burri, who began working at the Melody Inn in Miami in 1980 when she was 22, two years after husband-to-be Hans Burri opened the eatery.
The Burris moved from Miami in 2004 when the red brick building that housed their Coral Gables restaurant for 27 years was sold, and reopened in Vero Beach quickly attracting a loyal following.
"But the time has come to figure out some new adventures," said Burri, who has continued to cook and manage the restaurant on her own, almost five years after her husband's death.
What convinced her the time was right was the desire of Stephane Becht – whose contract recently ended as executive chef at the exclusive Windsor Club – to open his own French bistro in Vero.
When commercial real estate agent Billy Moss put Becht in touch with Burri, it didn't take long for her to make a decision. 
"The similarities between Hans' and Stephane's pasts spoke to me," said Burri.  
The two chefs grew up within 100 miles of each other – Hans Burri in Switzerland, Stephane Becht in the Alsace region of France. Before starting his own restaurant, Burri, worked as sous chef and head chef at more than a dozen restaurants in Europe and the Caribbean.
Becht, similarly, worked at more than a dozen restaurants as sous chef and executive chef – including the Pierre hotel in Manhattan, the Delano hotel in Miami Beach as well as hotels in the Caribbean – before embarking on his own.
When Burri opened the Melody Inn in Coral Gables, he was 40. Becht will be opening Bistro Fourchette this month at the age of 49. Like the Melody Inn, Becht's restaurant will be a family affair, with wife Loretta managing the dining room and their teenage daughter helping out on weekends.
In the beginning in Miami, Margaret worked as Hans' assistant, going between kitchen duty and the dining room as needed.
"I had to talk Hans into paying me $5 an hour because he came from the European tradition where an apprentice works for free," said Margaret. "But it worked out in the long run."
Last Monday afternoon, old and new owner worked together in the closed Melody Inn, both dedicated to a smooth transition.
Sitting at a table covered with notebooks and papers, Burri introduced Stephane to purveyors and agents, as Loretta measured windows for bistro curtains.
"Hans and I didn't get help when we opened here, and it took a lot of work to get the right people with the best products in place," said Burri.
"Margaret is doing everything she can to help us," said an appreciative Becht, as he said good-bye to a workers' comp agent and greeted a linen supplier, both brought to the restaurant by Burri.   
Becht plans to keep the same staff and many of the Melody Inn signature dishes on the menu at the same prices. He will add a few new dishes like steak frites and an Alsatian pizza made with creme fraiche and bacon, as well as adding a children's menu.
The wine list will stay the same, as will the Melody Inn specials, including half-priced wines on Tuesday night and the popular fixed price specials. 
"We want a true French Bistro – a family-friendly restaurant with great food and wine that is charming and comfortable for everyone," said Becht, who plans to open in the next three weeks. 
Burri said she is not sure what she'll do now that she is not working long hours running a restaurant and working as head chef.
"I'll probably turn up cooking somewhere in Vero Beach down the road," she said. "But for now, I may even have enough time to meet my neighbors."