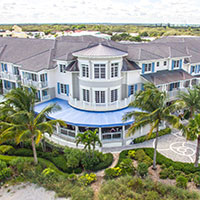 Four Ocean Park condos to be sold at auction
STORY BY STEVEN M. THOMAS

Another high-profile, no-reserve luxury home auction is coming to Vero Nov. 12 when the final four condominiums at the Ocean Park development overlooking Humiston Park and the Atlantic Ocean will be sold to the highest bidders.
The sale is being conducted by Concierge Auctions, with Clark French and Cindy O' Dare of Premier Estate Properties acting as local listing agents, the same team that sold two $10-million-plus homes in the estate section south of town in March.
"We hired Concierge to handle the auction because of their track record in Vero Beach," say Steve Mulvey, president of Flamevine Partners, the group that developed Ocean Park and owns the remaining units. "Sales at Ocean Park have been slower than we expected, but this is not a distress auction. Our intentions are to sell the units at close to asking or above."
On the auction block are the 6,600-square-foot penthouse with a dramatic tower that sits above Citrus Grillhouse, now listed with Premier for $4.5 million (unit 204); a 3,660-square-foot, two-story condo next to the penthouse on the park side listed for $2,050,000 (unit 203); and two three-story, 3,660-square-foot, direct oceanfront townhomes, one listed for $3,050,000, the other for $2,795,000 (units 105 and 108, respectively).
"The on-site bidding will take place in two segments," says Laura Brady, president of Concierge Auctions. "The penthouse will be auctioned by itself and the three other units will be offered in a separate bidder's-choice auction, in which the high bidder can choose whichever of the three they prefer. After that, there will be another bidder's choice round for the remaining two units and then a final round for whichever unit is left."
Brady and French both say auctioning off four properties at single event creates much greater interest and attracts more buyers, and that the bidder's-choice strategy, which was used to sell the big estate houses in March, maximizes competition among bidders and tends to bring higher prices as buyers compete in multiple rounds.
"We think this is going to be a big hit," says French. "We started getting calls as soon as we listed the properties in MLS and we were showing them daily, even before announcing the auction. A lot more people can afford these [than could afford the estate section homes], and we will likely see more bidders.
"A no-reserve auction brings out many more bidders and allows you to find true market value. The market will tell us exactly what the units are worth on Nov. 12. Everybody who comes to something like this hopes they can steal the property they want, and we don't discourage this, but I do think we will get awfully close to the list prices."
"There is an on-site sales office and the properties will be available for preview every day between now and Nov. 11," says Brady. There will be a formal catered preview event on Oct. 22 from 10 a.m. to 2 p.m.
Founded in 2008, Concierge dominates the non-distressed luxury home auction business, with an average sales price of $5 million and a sell-through rate of 90 percent, according to the company. It has been included in the Inc. 5000 list of fastest-growing U.S. companies for the past two years, moving up more than 2,000 spots between 2014 to 2015, from number 3,922 to 1,826.
"We are on track to reach a billion in total sales by the end of this year," says Brady. "We are really good at activating buyers who are excited by the opportunities of an auction like this. Many will be people who are coming to Vero for the first time, buyers looking for a certain lifestyle who are not confined to any one area."
French and O'Dare will be working their client lists at the same time, reaching out to buyers they know are interested in luxury oceanfront property in the $2 million to $4.5-million range.
"It will be a five-week sales process," French says. "During that time there will be a tremendous marketing effort that Concierge will conduct in conjunction with Premier Estate Properties. It will include local, regional, national and international print and digital advertising in publications such as the Wall Street Journal, New York Times, Miami Herald and Palm Beach Post, among many others."
French says he's seen keen interest in the Ocean Park properties from South Florida buyers who are used to an "urban" setting, where they can walk from their homes to bars, restaurants, luxury hotels and upscale shops, a key feature of the condos up for sale.
"To the extent we have urban living in Vero Beach, this is it!" French says.
O'Dare cites the high-quality of design and construction at the project, which was built by Bob McNally and Palm Coast Construction, as another strong selling point.
"They are absolutely beautiful properties," she says. "Bob did a fantastic job."
In fact, the project is one of the most attractive and fully realized on the beach. The developers contributed $1 million to upgrade the adjacent park, and the building itself is a strikingly handsome piece of architecture that blends perfectly into its seaside surroundings. It houses retail shops and the popular Citrus Grillhouse restaurant as well as the 12 luxury homes.
Excellent as the project is, however, the developers' timing could not have been worse. The partners bought the 1.1-acre site in 2006 and tore down the old Crusty's restaurant and other hurricane-damaged buildings. By the time they had luxury homes packed with the finest high-end finishes ready for market in 2010, the real estate downturn was being felt even in the island home market.
Now, with oceanfront inventory at historic lows, little new construction available and a strong sellers market for luxury homes, the timing seems perfect for Mulvey and his partners to close the project out in dramatic fashion.