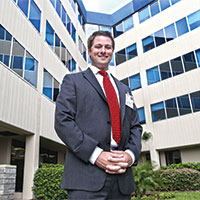 Hospital wars: An exec moves 'down the road'
STORY BY MEG LAUGHLIN
PHOTO: Hospital COO Steve Salyer

A 14-month-old federal lawsuit brought by the parent company of Sebastian River Medical Center against Indian River Medical Center, its chief executive officer and chief operating officer was recently settled for an undisclosed amount.
The depositions, transcripts and documents in the suit provide a fascinating inside look at the maneuvering involved when Indian River hospital hired Sebastian CEO Steve Salyer to become IRMC's chief operating officer, despite a non-compete clause, a non-solicitation clause and a confidentiality clause in his contract with Sebastian.
At the time of his hiring by Indian River Medical Center, Salyer was universally hailed as a top-notch choice. But Health Management Associates, which owns the Sebastian hospital, was not at all happy about its CEO's surprise move to the hospital "15 miles down the road."
In mid-August, 2014, Health Management Associates sued Salyer, along with Indian River CEO Jeff Susi and other Indian River leadership for breach of contract.  The suit alleges that Susi and Indian River hospital leadership aided in the breach.
On March 22, 2014, Salyer, then CEO of the Sebastian hospital, emailed his division president that he was resigning without notice because "grief over my father's death and my obligation to my mother (who has leukemia) ... have made me unable to continue at Sebastian River Medical Center."
Salyer went on to say in his resignation email, which was accepted, that he was so upset that he probably wouldn't be able to work for "a couple of years."
But about three weeks later, Indian River Medical Center announced that Salyer was its new chief operating officer.
At the time, Salyer adamantly insisted to Vero Beach 32963 that his resignation from Sebastian – where he had signed a contract not to work for any competitors within 100 miles for 12 months, not to solicit physicians or employees away from Sebastian if he left, and not to share trade secrets – had nothing to do with his planning to take the new job.
But documents and depositions in the lawsuit suggest otherwise.
They show that while Salyer claimed to be grieving over his father's death and dealing with his mother's illness and unable to work, he was heavily involved in rounds of interviews at Indian River Medical Center, trying to get the COO job. 
In fact, according to depositions, sworn affidavits and other documents, Salyer met with IRMC board chairman Tom Segura in September, 2013, six months before he left Sebastian, and in October, Segura suggested to Susi that he consider Salyer for COO.
"Segura said (in October) that Salyer could be groomed to succeed me," Susi said in a deposition.
"Steve Salyer said he had read that Susi was making nearly $1 million dollars. Mr Salyer noted with frustration that he was making far less than Mr. Susi," current Sebastian CEO Kelly Enriquez said in a sworn affidavit.
In December, 2013, Segura told Salyer that they might get around his 12-month non-compete clause at Sebastian by hiring him as a consultant, according to the lawsuit.
In late December, 2013, Indian River hired a consultant to conduct a national search for a COO and a few weeks later, Indian River CEO Susi called Salyer and told him to deal with the consultant.
Then, a month later, Sebastian hospital's parent company was taken over by Community Health Systems and several deposed executives said Salyer expressed dissatisfaction with the change.
Susi said under oath that Salyer called him in mid-February, 2014, to talk about coming to work as COO at Indian River. Salyer told him about his noncompete contract but said he believed it was "unenforceable." Salyer led him to believe, said Susi, that he had been advised by a lawyer.
Then, about a week later Salyer called Susi again and Susi described Salyer as "outraged, emotional and angry" over what the president of Sebastian's new parent company had said at an orientation meeting in Tennessee, including the remark that "Marines can't run hospitals."
Salyer, a former Marine, said he took great offense and complained to several colleagues about the president's words, according to documents in the case.
(In his own sworn statement, Community Health Systems president Wayne Smith said he did not think he said that about Marines, and did not believe that, having been an Army captain himself.)
After the second call from Salyer on Feb. 22, 2014, Susi emailed the COO search consultant: "I don't want anyone to think we're not going through the proper steps to make the best selection. However, it is difficult to imagine anyone bringing more to the table than Steve. Good discussion with Steve today. Please reach out to Steve ASAP."
On March 21, 2014, a day before he emailed his division supervisor that he had to resign in grief as CEO of Sebastian, Salyer spent most of the day in interviews at IRMC. Susi said in a deposition that on March 21, "everything was lined up (for Salyer as COO) but the start date."
Four days after he started at Indian River as COO on April 17, 2014, Salyer provided confidential spreadsheets on staffing, the Emergency Room and patient volume at Sebastian to financial executives at IRMC, according to several IRMC executives who were deposed.
An email Salyer sent to finance administrator Warren Fuller during his first week at IRMC said: "Warren, try your best to compare the standards."
Attorneys for Indian River took the position after Sebastian and its parent company filed the suit that their allegations were "threadbare," and the suit should be dismissed because the evidence was "too vague" to support the allegations.
Further, at the beginning of the suit, Sebastian's parent company had trouble gathering evidence because Salyer said he had accidentally dropped the thumb drive for his computer and his cell phone in the Sebastian River shortly after leaving the hospital. He also said he or his wife had accidentally thrown away his laptop.
The court approved the hiring of a forensic computer expert to recover the files without the thumb drive, cell phone and computer, and told Salyer he had to produce phone records. Also, IRMC began producing emails in its possession that involved Salyer's work.
They showed emails with the Sebastian confidential spreadsheets, which Susi said were only supplied to help Salyer "get his bearings" – not for the content. The emails, along with depositions, also showed Salyer's efforts to recruit employees and physicians from Sebastian to Indian River, and his hiring of the firms that provided housekeeping and security services at Sebastian.
In her deposition, Enriquez who became Sebastian CEO when Salyer left, said: "Indian River Medical Center had an issue with cleanliness, and (our housekeeping service) was hired ... IRMC had extensive problems with their ER with long wait-times, but since Steven started, that improved. An X-ray technician switched. The nurse-of-the-year switched ... Doctors mentioned that Steven had reached out to (them)."
Information given by several others under oath supported what Enriquez alleged, including that Salyer had talked to her about coming to Indian River as a human resources vice president.
In response, Susi said "Salyer was hired to focus on Indian River Medical Center's ED and operating room, not to recruit employees." Further, said Susi, upon learning of the non-solicitation clause in Salyer's Sebastian contract, Salyer was excluded from meetings where Sebastian recruitment was discussed.  
But as time went on and more evidence was produced by the plaintiffs in the case, Susi appeared to back away from Salyer and asked through attorneys that he and IRMC be dismissed from the case: "Susi and Indian River Medical Center are entitled to summary judgment even if Salyer did everything he was alleged to have done," wrote attorneys for Susi and the hospital.
Nevertheless, documents show that the hospital is paying Salyer's legal bills. 
In a deposition, Susi said he and his board wanted to hire Salyer because of his "energy and enthusiasm," and because "he is very likeable." But, said Susi, "the downside is he doesn't know what he doesn't know and he needs some maturing."
About three weeks ago, a confidential settlement was reached in the case, and the case is expected to be closed in the next few days.  Neither side responded to phone calls seeking comment.